BRICS plays leading role in democratisation of global economic relations - Lavrov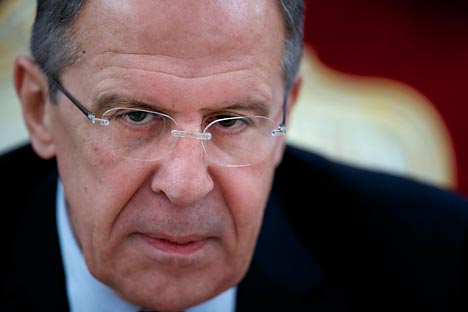 Sergei Lavrov: "One more important dimension in the BRICS activity is that it is one of the two key influential players in the G20." Source: AP
The Russian Foreign minister said the 5-nation grouping was one of the two influential players in the G20.
The BRICS grouping comprising of Brazil, Russia, India, China and South Africa plays a leading role in the fight for democratisation of international financial and economic relations, Russian Foreign Minister Sergei Lavrov said on Monday.
"One more important dimension in the BRICS activity is that it is one of the two key influential players in the G20," he said.
"The G20 is working out common principles for functioning of the world economy and international finances, including the activity of the International Monetary Fund and the World Bank," Lavrov said.
Such serious countries as Indonesia, Mexico and Argentina uphold the BRICS position towards carrying out reforms of international financial system that would show the real balance of forces, he said.
"The West opposes this and seeks to dominate in distributing quotas and voting power in the World Bank although the United States and Western Europe enjoy too many disproportionate voting rights as compared with their economic authority," Lavrov said.
Russia more flexible to opinions of BRICS, CSTO allies
Last week at Seliger, Lavrov took a jab at NATO saying Moscow was ready to tolerate differences of opinion within BRICS and some of the other organisations that it is a member of.
"For example, NATO always votes as a single bloc everywhere. Who are Russia's allies? We have many allies. These are the members of the Collective Security Treaty Organization, our partners on Eurasian integration projects, the Shanghai Cooperation Organization, BRICS. And when we're told that our allies in the CSTO don't always vote together with Russia in unison, then we don't make any type of tragedy from that. As opposed to NATO, where any step in a different direction or any demonstration of a difference of opinion is punished," Lavrov said.
Russia assumes presidency of BRICS this year and will host the 2015 BRICS summit in Ufa. Although the grouping was started primarily for economic cooperation, its leaders have made political statements at annual summits. The grouping refused to condemn the reintegration of Crimea with the Russian Federation. It also took a strong stand when Australian authorities hinted that Russia would not be allowed to take part in this year's G20 summit that will be held in Brisbane. The hosts are still making attempts to exclude Russia, something that the other BRICS members have termed unacceptable.
Materials from Itar-Tass and RIA Novosti.
All rights reserved by Rossiyskaya Gazeta.