Russia's turn towards India, China not sanction driven - Dmitry Medvedev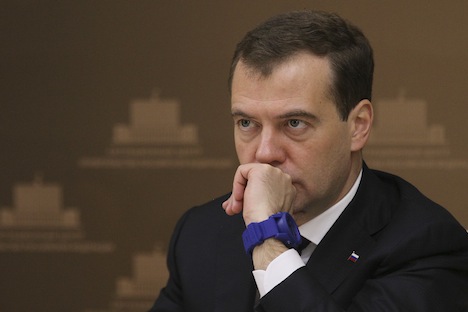 Medvedev said that certain Western airlines could go bankrupt if they are banned from using Russia's airspace. Source: RIA Novosti
The Russian Prime Minister also said the country could close its airspace in response to new Western sanctions against Moscow in the energy or finance sector.
Russia's turn to countries like India and China is an overdue measure driven not by Western sanctions but the need to diversify commodity flows, Russian Prime Minister Medvedev told Vedomosti in an interview.
"We should trade and receive investment, work with China, India, Vietnam and other players in the Asia-Pacific region, " Medvedev told the newspaper, adding that he sees no major problems if reasonable decisions are taken.
"Russia's trade with China currently stands at around $100 billion, while Russian trade with Europe is $450 billion. This is practically half of Russia's total trade. It is evident that we should be actively present in the Asia-Pacific region," he said.
Response to new sanctions
Medvedev told Vedomosti that Russia could close its airspace in response to new Western sanctions against Moscow in the energy or finance sector.
"It is them [the West], who should be asked whether there will be new sanctions. But if there are sanctions, linked with energy, [or] further restrictions on our finance sector, we will have to respond asymmetrically. For instance, [with] restrictions in transport area. We act on the premise of friendly relations with our partners, and this is why the sky above Russia is open for flights. But if we are restricted, we will have to answer," Medvedev said.
The prime minister said that certain Western airlines could go bankrupt if they are banned from using Russia's airspace.
"But this is a bad option. I just would like our partners to realize it at a certain moment. Especially, [considering the fact] that the sanctions do not help to establish peace in Ukraine. They miss [beside the mark], and an absolute majority of the politicians understand it. There are just an inertness of thinking and, unfortunately, the will to use force in international affairs," Medvedev stressed.
Onus on Ukraine leadership to solve conflict
Speaking on the Ukrainian conflict, he said there are chances that it will be resolved if the Ukrainian leadership has the will to implement proposals recently put forward by Russia.
On September 3, Putin outlined a seven-point plan for settling the crisis in Ukraine, calling on Kiev to withdraw troops from southeastern regions of the country and the militia to cease its military advances. The plan also includes proposals for an international monitoring force, the establishment of a humanitarian corridor, a ban on the use of combat aircraft over urban areas, an exchange of prisoners in an "all for all" formula and direct access for workers to repair destroyed infrastructure in the war-ravaged areas.
"Both representatives of the adversary and the militia have accepted this plan with certain reservations. So now a delicate work should be underway aimed at preserving peace. I hope this will be a successful effort," Medvedev said.
A number of key Russian oil and defense industry companies and banks could become subject to a new round of economic sanctions due to be imposed by Brussels Tuesday, The Wall Street Journal reported Sunday, citing to EU documents.
Rosneft, Gazpromneft and Transneft are among the oil companies included in the sanction list The Wall Street Journal said it examined.
They will reportedly be banned from raising funds with a maturity period exceeding 30 days. The same restriction will be imposed on five Russian state-controlled banks, including Sberbank and VTB Bank, already forbidden from raising loans in European Union member states for longer than 90 days, the newspaper said.
In late July, the European Union and the United States imposed restrictions against Russia's oil and banking sectors over Moscow's stance in the Ukrainian internal conflict. In response, Russia banned certain food product imports from nations which introduced sanctions on Russia.
First published by RIA Novosti.
All rights reserved by Rossiyskaya Gazeta.