Combined influence of India and Russia to grow in Asia-Pacific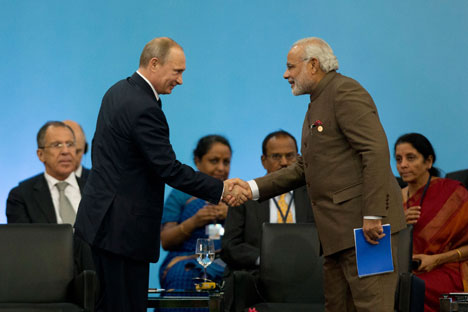 India and Russia can evolve as a balancer in the Asia-Pacific. Source: AP
The region, currently under-focused due to crises in the Middle East and Ukraine, is a potential hotbed of geopolitical conflicts in coming years.
A peaceful, stable and economically vibrant Asia-Pacific region augurs well for Russian and Indian interests. When it comes to China's differences with its neighbours on islands in the South China Sea, India and Russia would prefer a peaceful settlement of disputes, and an evolution of a multilateral framework with China as a key player for resolution of conflicts.
Both New Delhi and Moscow enjoy goodwill of the countries in the region. Countries apprehensive of threat to their territorial integrity and sovereignty have sought their cooperation. Vietnam and Indonesia have expressed interest in buying the jointly developed BrahMos missile to buttress their defence. Russia is a key supplier of defence equipments to the region, where India has also recently increased defence cooperation. Indian and Vietnamese signed an agreement to explore oil in 2013, and further during the recent visit of President Pranab Mukherjee signed a letter of intent to explore oil in another location. India can benefit from Russia's expertise in exploring oil in the region.
In the increasing globalized and multipolar world, the old notions of rivalry have transformed into a hard headed pragmatic assessment of costs and benefits of a particular move. While China is India's largest trading partner, the prospects of which is likely to grow with the visit of Chinese President Xi Jinping to India, India's defence cooperation with Vietnam, or Russia's supplying kilo class submarines to it, may not necessarily offset the balance of relations between the three countries. As China's close partnership with Pakistan has not created obstacles for it in developing closer relations with its Pakistan's rival India, similarly India's and Russia's close cooperation with Vietnam and other Asia-Pacific countries may not offset their relations with China.
This is what balance of power theory in international politics suggests: nations balance each other's geopolitical ambitions whether individually or in groups to avoid wars and to promote interests. India and Russia, which are strategic partners, are suited well to balance dominant geopolitical ambitions of other powers in the Asia-Pacific. India's cooperation with China amidst differences, and Russia's increasing relations with China and other countries in the Asia-Pacific and related problems can be better addressed collectively by India and Russia than separately.
Besides China, the other geopolitically ambitious power in the Asia-Pacific is the U.S. In recent years, Washington has expressed its desire to play a bigger role, possibly to counter the rising aspirations of China. And one of the moves recently mooted in this direction is to woo India.
Indo-U.S. relations have not been very encouraging in recent months. America has to deal with a leader to whom it denied visa for about ten years. The uneasy relations are also reflected in the fact that there is no U.S. Ambassador in India since March. There are ideas roaming about how to boost relations, including inviting India to join the Trans-Pacific Partnership, in which the U.S. and Australia and some other Asia-Pacific countries are members.
Juxtapose this to China's invitation to India to play a larger role in Asia Pacific Economic Cooperation, in which Russia is also a member. China's close relations with India and Russia, with increasing economic cooperation between the three, may develop a front to balance the geopolitical manoeuvres of the U.S., which may not always coincide with the interests of these countries.
During the Conference on Interaction and Confidence Building Measures in Asia in May this year, Russian President Vladimir Putin emphasized on the need of a security architecture in Asia-Pacific. According to him, "The region requires the security architecture which would guarantee equal interaction, a true balance of forces and a harmony of interests". Putin also harped on an idea of 'indivisible security', implying security can no more be defined in the terms of interests of a particular nation or a group of nations. Insecurity in one part of the world affects other parts of the world. The elements of this architecture as laid out by Putin are: harmony of interests; equal interaction; and balance of forces. India in its foreign policy has emphasized on these elements. The principles of peaceful coexistence, or Panchsheel, as adopted by India reflected these elements.
Putin during his speech emphasized that the future of Asia-Pacific will depend on a balance of mechanisms of bilateral and multi-party diplomacy. In the context of multi-party diplomacy, India and Russia are already involved in many multilateral forums like RIC, BRICS and G20. India's inclusion in APEC will further strengthen the multiparty diplomacy. Russia is supportive of India's candidature, and recently China has expressed its willingness to consider India's candidature. India's Prime Minister, Narendra Modi will most likely attend the APEC summit in November. It seems incongruent that India is not part of this multilateral body, which consists of 21 members including as distant as Peru and as small as Brunei. India is the third largest economy in Asia and one of the fast growing economies. India's inclusion in the body will strengthen multilateralism, and balance geopolitical ambition by promoting multiparty diplomacy and harmony of interests.
In recent years India and Russia have increasingly staked their claims in the Asia Pacific. In July, Russian Foreign Minister, Sergei Lavrov stated, "The Asia-Pacific region is among Russia's foreign policy priorities." India's Foreign Minister Sushma Swaraj emphasized, in the context of India's Look East Policy, "Act, not just look, East."
India and Russia can evolve as a balancer in the Asia-Pacific. India under Modi has not hidden its ambition to play a bigger role in Asia-Pacific. Russia's superior military capabilities and its strategic partnership can come to India's aid in promoting bilateral interests and in balancing other powers' ambitions in a multilateral framework.
Dr. Debidatta Aurobinda Mahapatra is an Indian commentator. His areas of interests include conflict, terrorism, peace and development, South Asia, and strategic aspects of Eurasian politics.
All rights reserved by Rossiyskaya Gazeta.