Sanctions not affecting ties with India - United Shipbuilding Corporation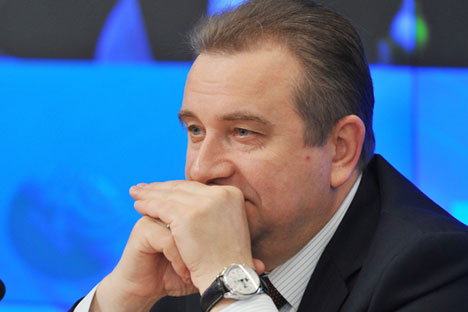 Alexey Rakhmanov, president of the United Shipbuilding Corporation. Source: Sergey Kuznecov / RIA Novosti
The sanctions imposed by the U.S. and EU will not hamper cooperation with India, Vietnam and South American countries, the Russian shipbuilding company's president said.
Western sanctions are not hampering the company's military and technical cooperation with its traditional partners such as India, Russian major United Shipbuilding Corporation's president Alexey Rakhmanov said on Wednesday.
Besides India, Russia's main traditional partners in the military and technical sector are former Soviet republics, Vietnam and China, as well as the countries that do not support the West's sanctions - Algeria and South America countries.
"All the earlier reached contracts with them are being fulfilled, and there have been no refusal cases," Rakhmanov added. Despite the sanctions, a range of countries, which earlier bought Russian equipment, have shown interest towards the products of the United Shipbuilding Corporation at the international exhibitions, he said.
The head of the Federal Service for Military-Technical Cooperation, Alexander Fomin, said in late March that Russia could expand the supplies of military products to Latin American countries, taking into account the growing interest of the potential partners.
In mid-July, the BRICS group that consists of Brazil, Russia, India, China and South Africa condemned the Western sanctions against Russia saying this comes "in violation of international law and universally recognized norms of international relations."
"Some inconvenience"
Western sanctions do pose "some inconvenience," but not problems Rakhmaniov said. Sanctions resulted in announcement by a Finnish bank to close accounts of a Finnish branch of the corporation.
"Payments in US dollars are impossible for us today, and that actually creates some inconvenience," Rakhmanov said, adding that instead of dollars the corporation uses euro and other foreign currencies.
Meanwhile, American Express bank cards were annulled for two managers of the corporation, the corporation's head said. The United Shipbuilding Corporation does not have any other problems due to sanctions, Rakhmanov noted.
The state-owned company is involved in 80 percent of Russian shipbuilding projects. Its civil shipbuilding projects include the construction of oil rigs, shelf exploration equipment and ice-class vessels used for Arctic exploration.
Russian Deputy Prime Minister Dmitry Rogozin suggested that the United States imposed sanctions against the company because Russian military shipbuilding had become a problem for countries hostile to Russia.
Based on article published by Itar-Tass and RIA Novosti.
All rights reserved by Rossiyskaya Gazeta.