New Delhi to host IRIGC meeting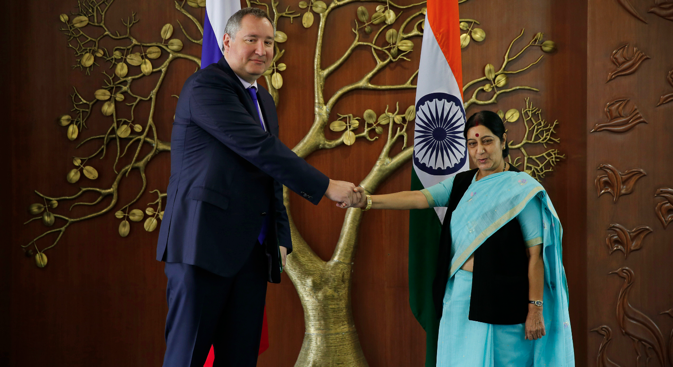 Russian Deputy Prime Minister Dmitry Rogozin and Indian Foreign Minister Sushma Swaraj, pose for the media before their meeting in New Delhi, June 18, 2014. Source: AP
The meeting to finalise the 15th annual India-Russia bilateral summit in December will be co-chaired by Dmitri Rogozin and Sushma Swaraj.
New Delhi will host the India-Russia Inter-Governmental Commission on Trade, Economic, Scientific, Technological and Cultural Cooperation (IRIGC-TEC) meeting on Wednesday, November 5. The preparatory meeting for the 15th annual India-Russian bilateral summit will be co-chaired by Russian Deputy Prime Minister Dmitri Rogozin and Indian External Affairs Minister Sushma Swaraj.
The two sides are expected to finalize the details of the joint "economic vision" package that will be unveiled when Vladimir Putin visits India for the summit in December. They are expected to follow through on issues that were discussed last week at the second session of the Russian-Indian Working Group on Priority Investment Projects.
Sources close to the situation tell RIR that both Putin and Modi are eager to present deliverables from the summit meeting in December and are keen to announce important breakthroughs. "There is no point in a number of MoUs that are signed and left on paper," a source close to the Indian Ministry of External Affairs said. Russian and Indian diplomats have been working on the details of the "economic vision," and have remained tight-lipped on the details.
There have been some leaks to the media, such as a plan for Russia to act as a payment intermediary for oil trade between India and Iran.
Last week, Alexey Likhachev, Russia's Deputy Minister of Economic Development told RIR that Moscow was keen to participate in Narendra Modi's 'Make in India' initiative. He also expressed Sistema's interest in the 'smart cities' concept and mentioned Russia's concrete proposals for the Delhi Mumbai Industrial Corridor.
The IRIGC is the main institutional mechanism supervising economic cooperation between India and Russia. It integrates six working groups on economic and trade cooperation, mines and metallurgy, energy, tourism and culture, science and technology and information technology.
There are two Inter-Governmental Commissions between India and Russia - one on Trade, Economic, Scientific, Technological and Cultural Cooperation, co-chaired by Rogozin and Swaraj.
The other IRIGC is on Military Technical Cooperation co-chaired by the two Defence Ministers. The meeting with Russian Defence Minister Sergey Shoygu and his Indian counterpart Arun Jaitley will focus on the fifth generation fighter aircraft and Russian joint production of weapons in India.
Vladimir Putin is expected in India for the annual summit in the first week of December. The official dates and programme have not been announced yet.
All rights reserved by Rossiyskaya Gazeta.