Need for "bi-culturalism" in Ukraine – Lokesh Chandra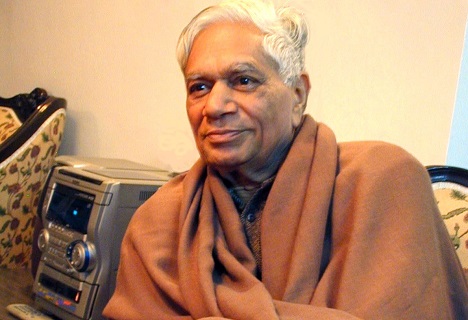 Lokesh Chandra: "Our relations with Russia are more important than going into bilateral complications." Source: Eve18 / wikipedia
The eminent academician, who was recently appointed the head of the Indian Council of Cultural Relations, says those living in eastern Ukraine should follow Russian culture.
Ukraine has a divided culture and the Russian-speaking parts of the country must follow Russia, Professor Lokesh Chandra, newly appointed President of the Indian Council for Cultural Relations (ICCR), told RIA Novosti.
"Ukraine does not have a single culture, certain elements are pro-Russian, others are purely Ukrainian. So this bi-culturalism has also its role to play," Chandra, who was awarded the Pushkin Medal this year, said.
"The Russian part of Ukraine has to go with Russia. There, going with Russia won't harm in any way. But the whole of Ukraine may not be willing to go with Russia," he added.
Ukraine's predominantly Russian-speaking eastern regions have in recent months been suffering from a military operation launched by Kiev forces in April to suppress the region's independence supporters.
According to the ICCR president, India is not very concerned by the crisis in Ukraine and would rather focus on strengthening its relations with Russia.
"Let's see when the Russian president is here and what happens during the talks and how we look at the whole situation in Ukraine. I don't think India is very much concerned with the Ukrainian problem. Our relations with Russia are more important than going into bilateral complications," Chandra told RIA Novosti.
"Our relations with Russia all along have been cordial and that will continue. We will take some steps so that they become deeper and stronger. We can act in more areas than today. We are going for a major program of development, first time in India to be activated, so that the relations between India and Russia will grow in a major way," he added.
The 87-year-old academician was appointed as the new ICCR chief last week.
Chandra, who is a Russophile, has been the Chairman of the Indian Council for Historical Research and Vice President of ICCR. He was also a member of the Indian Parliament's upper house in 1974-80 and 1980-86.
He was awarded the prestigious Padma Bhushan Indian national award in 2006 for his contributions to academic life and public discourse.
India and Russia are planning to increase cultural and academic exchanges with a MoU to be signed when Vladimir Putin visits India for the bilateral summit in December.
First published by RIA Novosti.
All rights reserved by Rossiyskaya Gazeta.