Moscow stirs up its Asian politics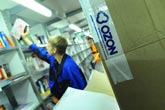 Dmitry Medvedev in Myanmar for the East Asia Summit. Source: Reuters
In the Asia-Pacific Region, Russia would like to create a balanced energy market, free trade zone and a regional security system. Some of the supporting documents could be signed as soon as next year
At last week's East Asia Summit in Myanmar, Russian Prime Minister Dmitry Medvedev spoke about the need to create a balanced energy market in the Asia-Pacific region. "Recent major contracts on increasing Russia's gas supplies to China are a part of natural changes on the map of hydrocarbon exports," he told TASS. "We are ready to consider energy interests of other countries as well. At the same time our goal is not only to reach geographical expansion and to ensure stability of supplies, but also to increase electricity trade, develop alternative energy sources and realize infrastructure projects."
He also stressed that Russia intends to spur regional economic integration and the development of preferential trade agreements which will help to reduce trade barriers. "We are also considering other projects, including the creation of a comprehensive regional economic partnership and Pacific Partnership," Medvedev said.
According to the Prime Minister, the agreement on a free trade zone between the countries of the Customs Union (Russia, Belarus, Kazakhstan) and Vietnam will be signed as soon as next year. Subsequently, this document will serve as a sample for agreements with other Asia Pacific countries.
Rajiv Biswas, Asia-Pacific Chief Economist, IHS, believes that in 2014 relations between Russia and Asia have improved significantly in coincidence with worsening of the relations with the US and EU. Russian-Chinese relations have strengthened considerably as a result of several major energy deals. From Russia's point of view, China is an important market, as the Chinese economy is predicted to become the largest economy in the world by 2025, overtaking the US. "China's key priority is energy security, and Russia is a major source of oil and gas for the fast-growing Chinese economy. Russia's bilateral relations with the other BRIC economies such as India are also strong. India's demand for energy is expected to grow significantly over the next 20 years, and Russia has agreed to provide substantial supplies of LNG to India," Biswas said.
Economic growth is impossible without security
Another issue of utmost importance that the Russian Prime Minister talked about during the meeting in Naypyidaw was regional security. He mentioned the increase of terrorist threats, the proliferation of weapons of mass destruction and the regional conflicts. According to Medvedev, by the time of the next year's summit in Malaysia, "a consolidated concept of the future regional security system based on the initiatives of Russia, China, India and Indonesia could be prepared." Russia has already submitted a related draft action plan.
According to the head of the Centre for Military Forecasting Anatoly Tsyganok, a regional security system may include three main vectors. "The first one is the creation of defense centres. Russia had previously offered NATO to create regional defence centres (in Europe and in the US), but it has never been realized. In Russia, such a centre could be established in the Far East (Khabarovsk, Vladivostok)." According to Tsyganok, China and India, which possess missile defence systems, also have the possibility to create such centres. "The second, and very vital vector, is fighting piracy," he said. The third important issue that requires consolidated efforts is struggling against jihadists in the Middle East.
All rights reserved by Rossiyskaya Gazeta.