Moscow-Tehran nuclear ties receive a boost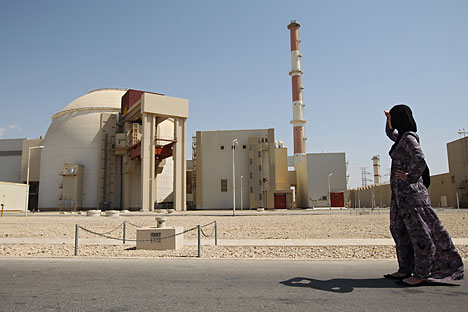 The Bushehr Nuclear Power Plant. Source: ValeriyMelnikov RIA Novosti
Over the next few decade, Iran may acquire at least 10 GW of nuclear power capacity, including the already operational first power unit at Bushehr
Russia and Iran have reached another agreement on serious nuclear cooperation, having signed several documents in November that potentially envisage the construction of eight nuclear power units and a specific contract for the construction of two power units at the Bushehr nuclear power plant. Overall, it is one of the biggest deals to be signed on the world nuclear market in recent years, which will not only generate massive profits for Rosatom but will also strengthen Russia's positions in the Middle East.
The cost of the whole package of deals, given that the price of building one nuclear power unit on the world market varies around $5-7 billion, is estimated at tens of billions of dollars. Yet, what matters in this case is not so much the amount as the fact that Iran will be paying for the new power units with real money.
According to preliminary estimates, thanks to cooperation with Rosatom, over the next few decades Iran may acquire at least 10 GW of nuclear power capacity, including the already operational first power unit at its first nuclear power plant. As a reference point, Russia currently operates 25 GW of nuclear power capacity. In effect, Moscow and Tehran have sent a clear signal to the international community: despite a difficult political situation, the two countries are developing and are moving forward. The construction of new power generation capacities could make Iran an exporter of electricity to Persian Gulf countries, where there is a demand.
The US does not object to nuclear cooperation between Russia and Iran, Department of State spokesperson Jen Psaki said, adding that there are no UN Security Council resolutions banning civilian nuclear cooperation. She specifically stressed that the Russian-Iranian deal does not run counter to the 5+1 group's talks with Tehran.
The whole project for the construction of new nuclear power units in Iran, including equipment and fuel supplies, will be under IAEA guarantees and fully comply with the regime of non-proliferation of nuclear materials, as was the case with the construction of the first power unit at the Bushehr plant.
Long term cooperation
There is nothing strange in nuclear cooperation between Russia and Iran. The thing is that when decades ago the two countries signed agreements on peaceful nuclear cooperation, those documents envisaged the construction of not one but a series of nuclear reactors. Furthermore, the Bushehr nuclear plant, possibly the nuclear industry's longest-running construction project, which was started by the Germans 40 years ago, was completed by the Russians. "No one else in the world had done it before. We took a plant that the Germans began building more than 30 years ago," Rosatom head Sergei Kiriyenko said. "It was simply abandoned. When our experts first started working at Bushehr, there was a hole in the dome from a missile hit… No one other than Russian specialists would have coped with it," he added.
So, what specifically will Russia get out of this deal? It is entering a new foreign market of nuclear machine engineering. Equipment for the new power units will be made by Russian companies, which will provide Russian industrial facilities with work for years to come. Iran's trust in Western countries and even in some Asian countries has been undermined by the embargo, which is why Tehran will be buying all the main equipment in Russia. In addition, one should not forget that nine power units, including Bushehr-1, amount to a serious fuel market. Iran will be purchasing Russian nuclear fuel, which means a constant inflow of revenues, also estimated in tens of billions of dollars.
The success of the first Iranian nuclear power project has significantly strengthened trust between the two countries. It is a good foundation to build on since the whole world is waiting for the sanctions against Iran to be lifted. Numerous businesspeople from all over the world are now coming to Tehran to secure a spot for themselves in Iran's future international projects. Very soon, Russia will have to deal with tough competition in Iran, all the more so since in terms of high-tech or investment, Moscow will be in no position to compete with China, Japan, and Europe. That is why the fact that we have already proven ourselves as reliable partners is a very important element of strengthening our presence in the Middle Eastern country.
Iran, having signed those agreements in Moscow, is getting an opportunity to diversify its energy policy, to supply more oil and gas to the world market and therefore to receive more profit. In addition, thanks to this nuclear cooperation, Iran will get several generations of highly-qualified and educated specialists, thousands of jobs, and new technologies for developing its industry. The new deal in fact creates a mutual interdependence between the two countries, both economically and geopolitically. Iran will have a constant demand for Russian nuclear technologies and nuclear fuel. While Russia very much needs Iranian oil and gas. Iran has enormous oil reserves, the world's second biggest amount, whereas Russia is only the seventh biggest country in terms of oil reserves.
The Iranians are convinced that the memorandum signed with Russia for possible future joint production of nuclear fuel is instrumental to making progress in the talks between Tehran and the 5+1 group of international intermediaries. "The signing of the memorandum to study the possibility of future joint production of fuel shows that the Russian side wants to preserve its constructive role in Iran's nuclear dossier and to promote its cooperation with Iran in a way that would contribute to the negotiation process between the 5+1 group and Iran and to support this process," said Iranian ambassador to Moscow Mehdi Sanai.
All rights reserved by Rossiyskaya Gazeta.