BRICS look to start New Development Bank by 2016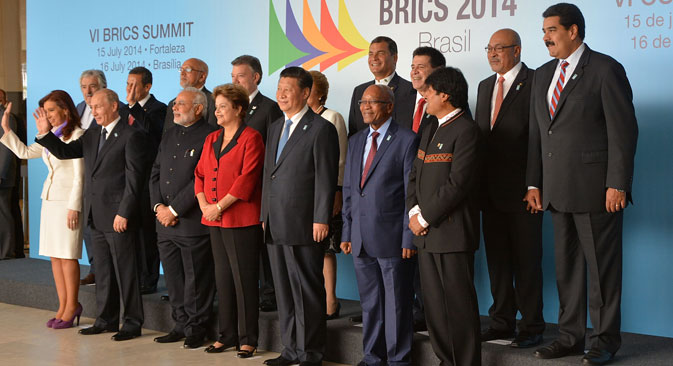 The agreement on a BRICS Bank was the main achievement of the 2015 summit.Source: Getty Images/Fotobank
The Governor of the Reserve Bank of India Raghuram Rajan may become the president of the BRICS bank, which will be based in Shanghai
The BRICS grouping is looking to operationalise the New Development Bank by 2016, with India and China being the key drivers for progress on the institution.
At an informal meeting in Brisbane, Australia last week before the G20 Summit, Indian Prime Minister Narendra Modi called for 2016 to be target for the bank to start operations. "We hope to ratify the agreement by the end of the year," he said. "We would soon nominate our candidate for the post of the presidency."
China has chosen a site for the future Shanghai headquarters of the bank, according to reports from the Chinese media.
"BRICS countries represent a new and rising power, and they are playing an increasingly important role in the international economy," China's Vice Finance Minister Zhu Guangyao told reporters in Brisbane on the sidelines of the G20 summit.
He called on the New Development Bank to be set up in a speedy manner. "All share the view that they should speed up the process to have it completed as quickly as possible," Zhu said "And each country will identify feasible projects for the bank as quickly as possible, so that at the moment the bank is launched it will be able to immediately carry out processes."
First president
The Hindu, citing sources said that Raghuram Rajan, the Governor of the Reserve Bank of India is on a shortlist to become the first president of the BRICS bank. India will hold the presidency of the bank for the first six years.
Rajan was appointed to his current post last year when the Indian Rupee was almost on a freefall and touching 68 to a dollar. The currency stabilised and appreciated within the next few weeks and has been trading around 60 to 62 to a dollar since Rajan's appointment. The governor is seen one of the key reformers in India and the government may be reluctant to lose him.
A Reserve Bank of India official declined to comment on the reports.
The New Development Bank is seen as an alternative to the Bretton Woods institutions that dominate global finance and are controlled by Western governments. Russia is also believe to be keen to get the $50 billion bank rolling.
All rights reserved by Rossiyskaya Gazeta.