Tourism becoming casualty of Moscow-Doha tensions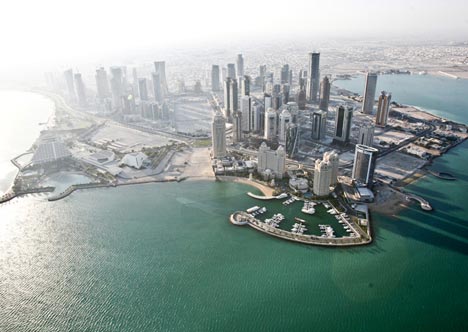 Many Russian tourists like to spend a few days in Doha. Source: http://www.qatartourism.gov.qa
Qatar is increasingly denying tourist visas to Russian citizens and tour groups. Some experts believe that this is on account of differences between Moscow and Doha on Syria and the increasing competition between the energy giants in the gas market
The authorities in Qatar are ever increasingly denying visas to Russian citizens, Kommersant has learned. As a result, tour operators have already had to change or reformat several group tours in the region. Until recently, Qatar was considered the ideal transit point for Russians travelling to Asia and Africa. According to experts, the problem tourists have been facing may be a reflection of tensions between Doha and Moscow – mainly due to the Syrian conflict and competition in the gas market.
Representatives from several tourist agencies told Kommersant that the authorities in the emirate are denying visas to both individual Russians and whole groups. "Our group was supposed to go on a tour of the Persian Gulf countries and one of the destinations was Qatar," says Marina Yegupova, Director General of Globus-Tour in St. Petersburg. "No one received a visa. Three were denied and six were not given an answer for a month even though according to regulations the documents must be reviewed within 10-12 business days. No explanations were given." She says her partners in Qatar have unofficially said that tourists have "become the victims of political complications between our countries."
A reputed Moscow tourist agency which sends its clients via Qatar to the Maldives and Seychelles confirmed to Kommersant that the Qatar Embassy has been considered "unreliable with regard to visas" for some time. Many tourists preferred to stay a few days in Doha either on the way there or the way back. Now, it appears, this practice will end. Due to the refusals to grant visas, several tour operators have already revisited their programs and now recommend that tourists take a stopover in another destination like Dubai, Abu Dhabi or Istanbul.
Qatar Airways may end up the real victim of the unofficial visa restrictions imposed on Russians by the Qatar authorities. The airline operates two flights a day to Moscow, and offers connections to several parts of Asia and Africa.
Diplomatic rebuttal
A diplomat at the Russian Embassy in Doha says he does not agree with the "political version" of the visa problems. "Problems with visas have arisen not only for Russians but also for the citizens of other states," he says. "For example, I know of cases where visas were refused to the family members of citizens of India and Pakistan who are working here. It is possible that the authorities in the emirate are trying to limit labour migration in this way."
The diplomat also says the relationship between Moscow and Doha are improving. "As far as Qatar-Russian relations are concerned, we have seen a positive dynamic lately. Negotiations are being held over a number of projects. In addition Qatar invested $2 billion in the Russian economy this year," he says.
Alexander Shishikin, a Russian expert on the Middle East who lives in the UAE, disagrees with the diplomat. "The opposition between Russia and Qatar is happening in several planes at once," he explained. "First, there is the Syrian conflict. Qatar has always been one of the countries that resolutely sought the removal of Bashar Al Assad," Shishikin says. "In addition, Doha finances opposition groups there, including very radical ones. Second, we are competing fiercely with Qatar in the gas market. For example, the recently signed massive-scale gas contract between Moscow and Beijing was sorely received – they had counted on supplying their LNG to China.
"All of these conflicts create a challenging background for bilateral relations, which sometimes manifests itself in the most unanticipated forms – for example in the crackdown on obtaining visas."
First published in Russian by Kommersant
All rights reserved by Rossiyskaya Gazeta.