Vladimir Putin may address Indian houses of parliament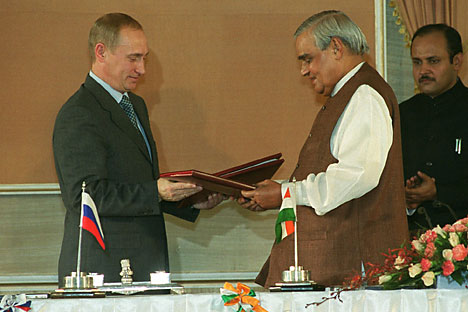 Vladimir Putin with Atal Bihari Vajpayee in 2000. Source. AP
The Russian President last addressed the Lok Sabha and Rajya Sabha in 2000 when he signed the strategic partnership declaration with Atal Bihari Vajpayee
Vladimir Putin may address a joint session of both houses of the Indian parliament during his visit to New Delhi for the 15th annual Indo-Russian summit, the Hindustan Times reported on Wednesday.
The Russian President, who is most likely expected in India on December 11, will not be visiting the southern Indian town of Kudankulam, which hosts a Rosatom-built nuclear power plant, "on account of logistical issues," sources told the paper. Other media reports have indicated that Putin may briefly attend the World Diamond Congress, which will be held in New Delhi on December 11-12.
The exact itinerary of Putin's visit to India has not been finalized but diplomatic sources have said off the record that the Russian President may only be in the country for a day. "If you notice, for bilateral engagements anywhere, he has cut down the non-business aspects," a source said, adding that Putin will be visiting another important strategic partner, Turkey, for just one day. This is in contrast to Chinese President Xi Jinping, who has made public diplomacy an essential part of his bilateral visits.
Maiden address to the Indian parliament
In 2000, when Putin made his maiden visit to India, he visited Mumbai before his meetings with then-Prime Minister Atal Bihari Vajpayee. During that visit when the two leaders signed the strategic partnership declaration that helped revive strong diplomatic ties, Putin addressed a joint session of the Lok Sabha (lower house of the Indian parliament) and Rajya Sabha (upper house).
When Putin went to address the Indian parliament in 2000, he was led into the building in a ceremonial procession by then-Vice President Krishan Kant, Vajpayee and the Lok Sabha Speaker. According to a UNI report from 2000, Putin was virtually mobbed by legislators eager to shake hands with him. "Soon after his arrival in parliament to deliver his address, Putin went around the first row of seats and shook hands with former president R Venkataraman and former prime ministers I K Gujral and Chandra Shekhar," the news agency had reported.
During his speech, Putin said Russia wanted to see India as a prosperous country and a major factor in contributing towards global stability. He also said the same organisations that were creating problems in the Indian state of Jammu and Kashmir were behind problems in Chechnya and other parts of the Russian Caucasus.
All rights reserved by Rossiyskaya Gazeta.