Vladimir Putin has packed agenda in Delhi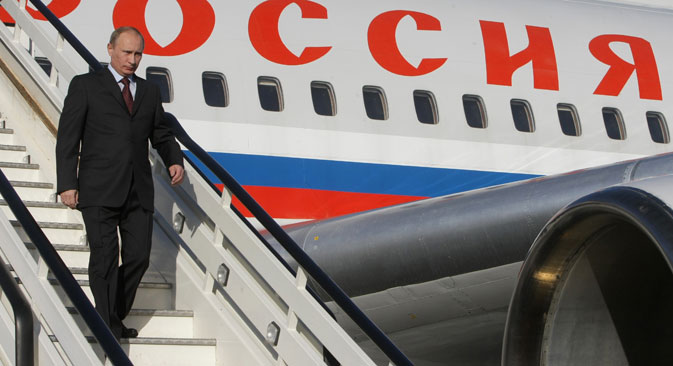 Vladimir Putin plans to land at the Palam Air Force base in New Delhi this evening. Source: Alexey Nikolsky / RIA Novosti
The Russian President is due to arrive at 22:45 Delhi time and will stay in the Indian capital for about 23 hours. The visit culminates with a meeting with Indian President Pranab Mukherjee.
Vladimir Putin, who is visiting India for the 15th annual Indo-Russian Bilateral Summit will arrive this evening at the Palam Air Force base in New Delhi, the Indian Ministry of External Affairs said in a press note.
The summit will commence on Thursday, December 11, at 11:30 am at the Hyderabad House when Putin meets Indian Prime Minister Narendra Modi. In 2012, the venue had to be shifted as the streets of the Indian capital were full of angry young protestors who demanded justice for the victim of an infamous gang rape and murder. Incidentally, the Indian capital is witnessing protests on a smaller scale over another rape, this time by a taxi driver of U.S.-based Uber.
At 2 pm, at the Hyderabad House, delegation level talks will be held, following which, the official agreements will be announced. Reports indicate that anything between 10 and 18 bilateral agreements will be signed between the two countries.
Putin will then meet India's leading industrialists for a session that explores increasing trade between the countries. The two countries are expected to reiterate their bilateral trade target of $20 billion over the next five years.
The Russian President will then inaugurate the World Diamond Conference at the Vigyan Bhavan. The conference, which is being hosted in Delhi for the first time, will be a watershed event for Russian diamond giant Alrosa, which will enter into major partnerships with Indian companies.
At 19:30, Putin will meet his Indian counterpart Pranab Mukherjee at the Rashtrapati Bhavan. He is expected to leave Delhi at 22:00. It was initially believed that the Russian President would address a joint session of the Indian parliament, but time constraints are believed to have come in the way.
All rights reserved by Rossiyskaya Gazeta.