Putin met with journalists for annual press conference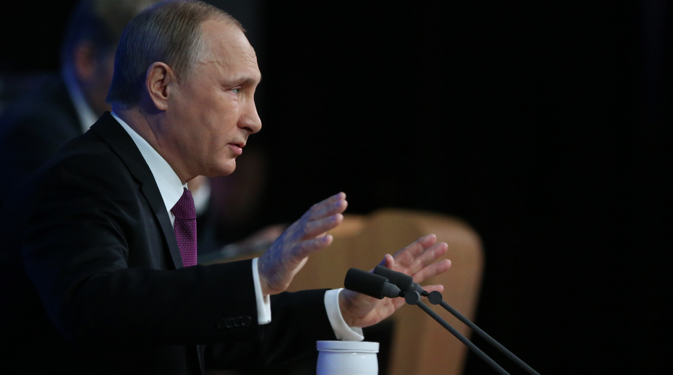 Russian President Vladimir Putin is giving his tenth annual press conference on Thursday. Source: Konstantin Zavarzhin / RG
RIR presents highlights from the Russian president's annual Q&A.
On Dec. 18, Russian President Vladimir Putin held his annual press conference with journalists from across Russia as well as representatives of the foreign press. Putin answered a number of wide-ranging questions about the country's economic situation, the conflict with Ukraine and Russia's relationship with China as well as about more local issues.
Here are some of the highlights of Putin's comments.
On the economy
"External factors are the leading cause of economic troubles".
"Central bank is - all in all - taking the right measures to address the ruble's fall".
"Getting out of this situation is inevitable: world economy will grow and our economy will come out of this in two years at most".
"We need to create favorable conditions for business, tax holidays, loans for small business and boost the regions...and work."
"We need to use this situation to boost domestic industries and diversify".
"The economic crisis is not a consequence of the accession of Crimea."
"No plans to introduce capital controls - "artificial limitations" - on currency trading."
On foreign policy
"We were guaranteed no expansion; what is NATO doing now? Our partners didn't stop building walls, decided they were victors."
"Russia's tough stance on crisis situations should make it clear to our partners that we must build a common security space."
On China and the "pivot to Asia"
"Russia turns to the east, the United States turns to the east due to the growth of those markets and their demand for energy."
"No cheaper or more reliable gas supplies than from Russia."
On Crimea and the situation with Ukraine
"As for troops: all people who want to take action did so on their own initiative. They are not mercenaries since they are not paid."
"Part of the country didn't agree with the armed coup in Kiev, but instead of dialogue there was force."
"The crisis should be solved by using politics, not pressure. We'll keep helping, but must stick to international law."
"If Ukraine wants to restore peace and territorial integrity, it must respect the people who live in certain regions of the country, carry out a political dialogue with them. I am confident Ukraine's President Petro Poroshenko sincerely wants to resolve this conflict, but he is not alone in that."
On domestic politics
"I don't regret pardoning Khodorkovsky, I made the right decision"
"There is no foundation more solid and vital than that of the Russian people, they feel we act in interest of Russian citizens."
On the Olympics
"We achieved more than we had hoped for. We won, thanks to our Olympians and Paralympians."
"If we want our people to stand in line not for vodka, but for figure skating we need to invest in necessary facilities."
On Fifth Columnists
"There is no scientific definition where the opposition ends and fifth columnists begin"
"A dissident is tough and fights for his country until the end, but fifth columnists are instruments of other countries."
All rights reserved by Rossiyskaya Gazeta.