Russians in the Far East cautious, but open to deeper ties with China and Japan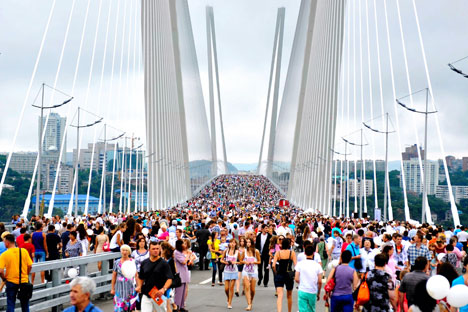 Far East: so Russian but so Asian. Source: Getty Images / Fotobank
As Russia makes a "pivot" to Asia, the residents of its Far Eastern regions are skeptical, but optimistic.
When Russia hosted the 2012 APEC Summit in the Pacific city of Vladivostok, the idea was to boost the integration of the Russian Far East with the economic powerhouses of northern Asia. Although they maintain a distinctly Russian/Soviet heritage, the major cities of the Russian Far East are geographically much closer to Beijing, Tokyo and Seoul than they are to Moscow. While Russia's "pivot" towards Asia is greeted enthusiastically nationwide, the residents of its Far Eastern regions tend to be more cautious and in some cases wary of their neighbors, particularly China.
Recent research has shown that in the light of recent global developments, a growing number of Russians have a positive view towards China. According to a September poll conducted in 130 cities and 42 regions across Russia by the All-Russia Center for Public Opinion (VTsIOM), 51 percent of Russians see China as Russia's main geo-political ally, up from 23 percent in 2008.
"As someone living just 32 kilometers away from China, I am not sure what to make of these polls," said Ekaterina Leontieva, a resident of Khabarovsk. "We always believed that the Chinese were looking to takeover these parts of Russia and I don't think they are really happy with what they were given when a border settlement was made." In 2004, Vladimir Putin agreed to hand over Tarabarov Island and half of the Bolshoi Ussuriski Island on the Amur River to China as a final settlement of the Sino-Russian border dispute. "They claimed so much land in the Far East was theirs, including Vladivostok. I won't be surprised if there were such claims in the future," Leontieva said.
The Chinese demographic invasion theory is still popular in the Russian Far East, although officials rarely talk about it given the growing ties between Moscow and Beijing. Around 38 million people live in the Chinese province of Heilongjiang, which is on the other side of Amur. The Russian Far East has a combined population of around 6 million. The markets of Khabarovsk were dominated by Chinese immigrants until a 2007 law banned foreign citizens from working in outdoor markets. The city administration now uses Chinese labor and a lot of the reconstruction work in wake of last year's flood was done by Chinese guest workers.
"I'd be happy to hire Chinese workers, if it wasn't so difficult with the bureaucracy of visas and work permits," said Pavel Gnetov, who runs a car workshop in Khabarovsk. "They're hard working and don't drink and have no social connections and distractions here." Ten years ago, then-governor Viktor Ishayev even tried to ensure that Chinese citizens could not get Russian citizenship by marriage.
Anna Goncharova, a China specialist, who lived in Beijing for three years, puts the attitudes prevalent in the Russian Far East into perspective. "People in Central Russia see images of modern Shanghai and elegant Beijing…In Khabarovsk, what most of us have seen are poor areas in northeastern China," she said. "Life on the Russian side of the Amur would be a step up for the poorer Chinese than staying in their country." She added that China is developing at a rapid pace and that it would be in Russia's interests to invite the Chinese to jointly develop the border areas.
Cultural fascination trumps territorial dispute with Japan
It wasn't until the early part of the last decade that Japan even recognized the southern half of Sakhalin Island as a part of Russia. The fall of communism brought several Japanese entrepreneurs to the island and Japanese food became popular in Sakhalin long before it was trendy in Moscow. Japanese citizens have also been well-integrated into society. The owner of Furusato, the oldest and most popular Japanese restaurant in Sakhalin, Yutaka Miyanishi was awarded the title of "honorary citizen of Yuzhno-Sakhalinsk."
"Japan is our closest neighbor and since it is an ancient civilization, there is a lot we can learn from them," said Viktor Kournikov, who worked with Japanese television channel NHK on a few projects. The southern half of Sakhalin, which was under Japanese rule from 1905 to 1945, is dotted with monuments from the days it was known as Karafuto. The island, which is connected by a ferry service from Hokkaido, in the warmer months, receives a lot of Japanese tourists. Many make a sentimental visit to a place where their parents or grandparents lived.
Russia and Japan are still technically in a state of war since they never signed a World War II peace treaty, but that has not come in the way of cultural interaction. "Japanese is the most popular foreign language here after English," said Tamara Chikova, a professor at Sakhalin State University. "It is quite fashionable to learn the language and there are many exchange programs and scholarships available in the country."
According to a poll taken by the Analytical Levada Center in 2013, 67 percent of Russians said they viewed Japan mostly positively of the Asian countries. Chikova says in Sakhalin the numbers fluctuate when talk of the territorial dispute between the countries comes up. Japan insists on Russia returning the Southern Kuril Islands of Kunashir, Iturup, Shikotan and the Habomai Archipelago as a precondition for a World War II Peace Treaty.
In 2004, when Russian Foreign Minister Sergei Lavrov offered Shikotan and Habomai to Japan, there were protests from Cossacks and local citizens groups. This offer came after China and Russia settled their boundary dispute, but was rejected by Japan, where the so-called Northern Territories issue is emotive.
Customs officers on the island are known for seizing guidebooks and maps that don't show all the Kuril Islands as Russian territory. "We want friendship with Japan, but there is no question of returning the islands to Japan," said Dmitry Lekhnov, a former resident of Kunashir. "Japan sided with Nazi Germany in the war and we should not forgive them for that."
Chikova says that Japan's siding with the West over the crisis in Ukraine has been noticed in Sakhalin, but there is no strong anti-Japanese sentiment. "You have to understand that there is greater respect for Japan than China among the people, but that has to do with the fact that the Japanese are richer and have a much higher standard of living than the Chinese," she added.
All rights reserved by Rossiyskaya Gazeta.