Obama's visit to India no threat to Russia-India ties: Volkhonsky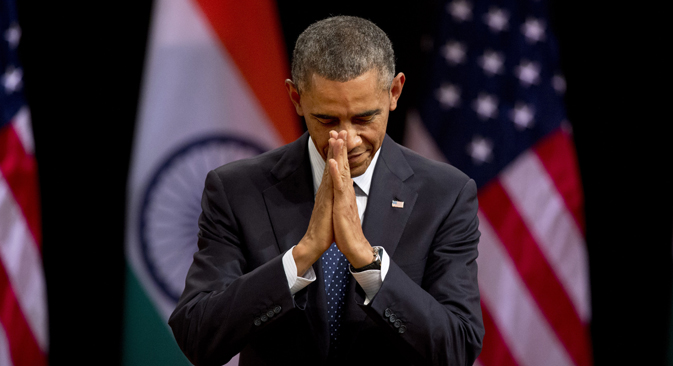 Obama is on a state visit to India from January 25 to 27. Source: AP
US President Barack Obama's visit to India has created much hype in New Delhi, but the growing India-US relations do not pose threat to Russia's position as India's preeminent strategic partner, says Boris Volkhonsky, Head of the Asia Sector of the Asia and Middle East Center at the Russian Institute of Strategic Studies.
US President Barack Obama's visit to India can't be called a breakthrough in bilateral relations, and poses no threat to the strategic partnership between New Delhi and Moscow, says Boris Volkhonsky, Head of the Asia Sector of the Asia and Middle East Center at the Russian Institute of Strategic Studies.
"Here there can be no talk about a breakthrough, nor even an attempt to "buy" cooperation. India is simply working on developing good relations with all countries. This is one example of how a country can develop relationships in a non-confrontational manner with any other country – as they used to say earlier, with different socio-economic systems," Volkhonsky told Ria Novosti.
Obama is on a state visit to India from January 25 to 27. He was India's guest of honour at the Republic Day parade in New Delhi. Obama and India's Prime Minister Narendra Modi held talks during which an agreement was reached on cooperation in the sphere of civil nuclear energy cooperation. The two sides also renewed their framework agreement on military-technical cooperation for an additional 10 years.
"Almost all world leaders have been invited for the Republic Day celebrations, including from the USSR, but until now, the American president had not attended these ceremonies. Therefore, based on the principle of rotation, this time Obama was invited," says Volkhonsky.
Problems between Washington and New Delhi
According to experts, the Indian-US relations are now bedeviled by a host of problems, in particular, the American refusal to let Indian manufacturers of cheap "generic" drugs enter the US pharmaceutical market. Another sticky point is the US' new immigration regime, which has made visas more costly for Indian IT professionals. "Another issue is that before Narendra Modi became the prime minister of India, the US made ​​every effort to prevent him from coming to power. A propaganda campaign was pursued, and some NGOs, working in India, were providing assistance to the Indian opposition. Moreover, from 2005 to the end of 2013, Modi was blacklisted, not being allowed to travel to the United States," added Volkhonsky.
In Volkhonsky's assessment, the US is just trying to charm Modi with these overtures. Modi's visit to the United States in September 2014, and Obama's reciprocal visit – all this, according to Volkhonsky, is an attempt by the US to "make amends for past slights".
A military alliance is impossible
Relations between New Delhi and Washington are viewed critically in India itself, says the expert. "It is no coincidence that Obama was met not only by officials, but also by demonstrators carrying placards saying "Hands off India", who believe that the American leader's policies violate other countries' sovereignty," said the expert.
According to the expert, a military alliance between India and the US is not possible today "primarily because of the position of US in this matter", but we are talking here about military-technical cooperation. "In this area, the United States and Russia are obvious competitors, but no one can claim that the Russian-Indian strategic partnership may be at risk," says Volkhonsky.
Over the past three years, the US has supplied India with weapons worth 326 billion rupees ($5.4 billion), for the first time surpassing Russia, which supplied 253 billion rupees ($4.2 billion) in military products. In total, the volume of military-technical cooperation, through joint-projects, between Russia and India continues to outpace that of the Americans. This includes licensed production in India of Russian military equipment, as well as service contracts for weapons supplied to India. As of today, India and the US have no joint-projects in the defence sector.
First published in Russian by RIA Novosti.
All rights reserved by Rossiyskaya Gazeta.