BRICS focus on Youth Movement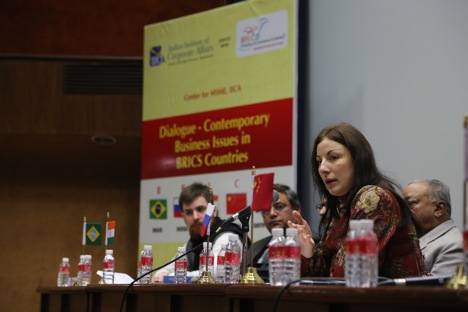 Tatiana Seliverstova, head of the Department of International Cooperation and Innovation Activity of the Russian Union of Youth. Source: Alessandro Belli
The first BRICS International Youth Forum ended in New Delhi recently. In this conversation with RIR, Tatiana Seliverstova, head of the Department of International Cooperation and Innovation Activity of the Russian Union of Youth, spoke about the final resolution of the meeting, mobilizing the youth of emerging countries and on establishing intra-BRICS student exchanges.
Tell us about the resolution, which was passed at the end of the forum.
We agreed to set up, in each of the BRICS countries, the so-called "youth sections". They will consist of groups of five people each, who will be responsible for development of the youth directions of BRICS – keep in touch with us, and organise events.
In addition, we plan to develop multilateral cooperation in the educational sphere. We want to increase the amount of student exchanges between universities of the BRICS countries, based on our extensive experience of student exchanges between Russia and China. This is just the task that the "youth sections" will be working on, by establishing contacts on this issue with the government bodies and the educational institutions themselves, seeking cooperation with them.
In addition, we have developed an action plan for the near future. We will be holding a BRICS Youth Forum in Ufa at about the same time as the BRICS Summit. In addition, a BRICS Youth Innovation Forum will be held in Moscow in October, and then in November, there will be the BRICS Youth Forum in Johannesburg (South Africa).
We also agreed with the All-China Youth Federation to hold an extended BRICS Youth Forum in Beijing in 2016.
In your speech at the forum, you announced the creation of something like an Innovation Fund. What exactly is this Innovation Fund going to do?
This would be a Fund to support youth entrepreneurial startup initiatives. We want to create some sort of a database – a website with a communications platform, in which the "youth sections" will collect information about projects that need investments, promotion, or additional information.
This will be the practical component of our cooperation.
Are you planning to combine all youth initiatives into a single unit?
We plan to create a BRICS Youth Movement brand. We will then hold all our events under this brand.
Will this be an organisation?
No. We will not be registering it, say, as a company. Initially, the project will need to get approval from the Ministry of Foreign Affairs of our respective countries. This will be our own youth movement. It will be called the BRICS Youth Forum. The names of our contact persons will be posted on the website. These people will always be available to answer questions. The website should be launched very soon, and will contain all the necessary information as well as a "how to use" section.
Who will be representing India?
Our partner, the International Federation of Indo-Russian Youth Clubs, and its president Purnima Anand. In the future, we will not be limited just to this organisation.
In Russia, it will be our organisation – the Russian Union of Youth. In China, this will be the All-China Youth Federation.
Our forum will not be just a "get-together" for the elites, but a platform open to everyone, to all who really wish to work in this field. We must create an environment in which young people can reach their potential, and translate their ideas into action.
When do you expect to have the details finalised with the authorities?
Sometime during the month.
What did you talk about with representatives of the Indian Ministry of Youth Affairs and Sports? Did you manage to win their support?
We have reached a preliminary agreement to hold the first Russian-Indian Youth Forum at the end of March. During this event, we will sign at least five agreements with youth organisations, and with two educational institutions – the Indian Institute of Technology (IIT), Delhi and Jawaharlal Nehru University (JNU), and with the Ministry of Youth Affairs and Sports.
The documents will include agreements on student exchanges, and the opening of educational laboratories. The agenda of the forum will include education, business, as well as culture and tourism.
All rights reserved by Rossiyskaya Gazeta.