What does Lavrov's Munich speech mean for the Ukraine crisis?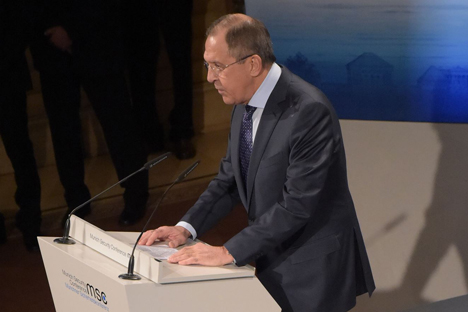 Russian Foreign Minister Sergei Lavrov delivers his speech in Munich. Source: Eduard Pessov / MFA Russia
The Russian foreign minister's speech at the Munich Security Conference on Feb. 7 has been described by Russian experts as "tough" and "predictable." According to them, Russia has drawn a line as regards the Ukrainian crisis and is now waiting for decisive action from Europe.
Coming shortly after fresh attempts to resolve the conflict in eastern Ukraine, the 51st Munich Security Conference on Feb. 7 saw the agenda dominated by the Ukrainian crisis, with a hard-hitting speech by Russian Foreign Minister Sergei Lavrov provoking much debate among Western elites.
While the outcomes of the Feb. 6 emergency meeting in Moscow between Russian President Vladimir Putin, German Chancellor Angela Merkel and French President Francois Hollande still remain unclear, speaking in Munich, Lavrov concluded that "partnership between Russia and the EU has failed a stress test."
The Russian foreign minister went on to make numerous further references to European security and the conflict in Ukraine, none of which were in any way optimistic.
Lavrov'smessage
According to Dmitry Danilov, head of the European security section at the Russian Academy of Sciences' Institute of Europe, Lavrov's speech at the Munich conference marks a watershed for the West. Russia, says Danilov, has no intention of revising in principle its position on Ukraine and the West should "accept this reality."
Diplomatic efforts, specifically the so-called Normandy format (four-way talks involving representatives of Russia, Ukraine, Germany and France), "have hit a dead-end," according to Danilov, and in his view Lavrov is now offering the West what amounts to "a clever hint as to how to save face and interact with Kiev and, primarily, with Russia."
However, few observers believe that this is a likely outcome, with many warning that the confrontation over Ukraine is set to continue, such as Andrei Suzdaltsev, deputy head of the department of the world economy and politics at the Higher School of Economics in Moscow.
In his opinion, Europe is still far from starting to act without agreement and approval from the U.S., which is opposed to softening its rhetoric toward Russia. Contrary to views expressed by other pundits, Suzdaltsev does not anticipate that a serious rift will develop between Europe and Washington over Russia. "Russia's position in Ukraine is not a priority for Europe now," he says.
Suzdaltsev's view is echoed by the director of the International Institute of Humanitarian and Political Studies, Vyacheslav Igrunov. "Washington is likely to take Lavrov's Munich speech as a further challenge," says Igrunov. However, this "is certain to influence Europe, which has a better understanding of the situation in Russia and which will start discussing it with America."
Change of rhetoric?
All experts polled by RIR agree that in terms of its tone, the Russian foreign minister's speech in Munich was particularly tough. Having said that, they point out that Lavrov did not say anything drastically new.
"His speech was quite systemic, Russia is acting consistently," says Dmitry Orlov, head of the Agency of Political and Economic Communications, pointing out that Russia has long rejected attempts by the West to isolate it or to reduce its say in resolving international issues and "Lavrov showed that there are various, including some rather tough, arguments for a dialogue on Ukraine and other issues."
"Such tough rhetoric was predictable and justified," says Vyacheslav Igrunov. "The positions have been established and players at international talks no longer hear ordinary arguments."
Dmitry Danilov, meanwhile, acknowledges that while German Chancellor Angela Merkel's address to the Munich conference represented an attempt to somehow soften the West's extremely critical position towards Russia, the Kremlin was awaiting more substantial action.
"This may be a certain signal," but Moscow and Lavrov showed that they are now waiting for a completely different approach, says Danilov. They are waiting "not for a softening in diplomatic rhetoric but for real actions that could contribute to reaching a compromise."
All rights reserved by Rossiyskaya Gazeta.