Russia for dialogue between India and Pakistan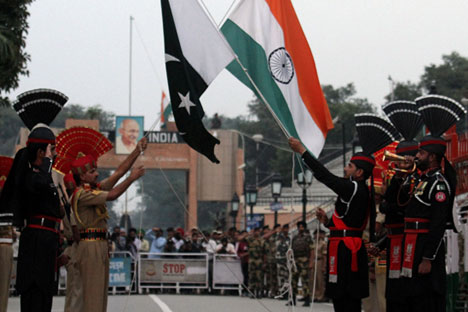 Although the India-Pakistan dialogue process is currently in a fragile shape, any positive development, howsoever minor, needs to be welcomed. Source: AP
A healthy triangular relationship between India, Russia and Pakistan may prove mutually beneficial.
Russian Ambassador to Pakistan, Alexey Dedov, welcomed recent developments in India-Pakistan relations, including the visit of India's Foreign Secretary Subrahmanyam Jaishankar to Islamabad, and said, "this process (of dialogue) needs continuation in practical terms".
Although the India-Pakistan dialogue process is currently in a fragile shape, any positive development, howsoever minor, needs to be welcomed. As India-Pakistan relations are subject to more uncertainties than certainties, with a history of conflict and animosity, a positive development such as the visit of the foreign secretary generates optimism and strengthens the peace constituency in the subcontinent.
The statement of the Russian Ambassador reflects this optimism. It also reflects Russia's renewed interest in South Asia, in cultivating relations with the rivals, India and Pakistan. It may appear a difficult task to cultivate relations with both the countries on an even keel, but to quote the famous aphorism, 'politics is the art of possible'. It may be in the range of possibility that Russia develops strong relations with India and Pakistan for mutual advantage and for peace in South Asia.
Russia, which is a traditional partner of India, is interested in developing relations with Pakistan. Russian Defence Minister Sergei Shoigu visited Pakistan in November last year to boost bilateral relations. During the visit, both countries signed an energy deal. There are also talks on cooperation between the two countries on augmenting capacity of the Pakistan Steel Mills and on supply of army helicopters.
Russia has increasingly invested in its South Asian pivot in recent years. Developing good relations with both the South Asian rivals however, is a difficult task, and can only be possible when both neighbours develop better relations between themselves. This can be possible only through dialogue.
Russia is cognizant of the intricacies of South Asian politics and rivalries, and has trod a cautious path. It has emphasized that its relations with Pakistan will not be crafted at the cost of its traditional partner, India. Pakistan, as pointed out by the Ambassador, is a strategically important country and its location, adjacent to the Islamic world of the Middle East, Afghanistan and Central Asia, and China, make it a crucial geopolitical factor in addressing issues of religious extremism and terrorism, and issues of peace and stability in Eurasia, in which India and Russia are key stakeholders.
A healthy triangular relationship between India, Russia and Pakistan may prove mutually beneficial. Russia has played a key role in the Shanghai Cooperation Organization (SCO), and in the inclusion of new members. It has supported the inclusion of new members like India and Pakistan. During the next meeting of the organization, India and Pakistan will likely be made full members. SCO, which includes countries from Central Asia, and China and Russia, is considered a major security anchor in the Eurasian region. Inclusion of India and Pakistan will strengthen the organization and its reach. There is already a strategic triangle between India, Russia and China and, combining this triangle with a new triangle of India, Russia and Pakistan, the dividends for peace and stability and regional economic development will outweigh possible negative outcomes. Added to these triangles, initiatives like the New Silk Road, and pipeline projects straddling Eurasia, or corridor projects linking Russia and India through Eurasia, an increasing understanding and friendship between India and Pakistan will be beneficial not only for India and Pakistan, but for peace and stability in Afghanistan, and for all countries of the region.
Hence, Russia's emphasis on dialogue between the two neighbours needs to be welcomed. In 1966, the Soviet Union had played a key role in brokering peace between India and Pakistan in the aftermath of the 1965 war. Then Indian Prime Minister, Lal Bahadur Shastri and Pakistani President, Ayub Khan, were brought together by the Soviet Prime Minister, Alexei Kosygin in Tashkent. The Tashkent agreement restored peace in the subcontinent and restrained both countries from using force against each other.
In the post-cold war changed circumstances, Russia may not be able to play the Soviet role. However, stressing the importance of dialogue, and need for continuation of dialogue in practical terms can be considered as friendly counsel by India and Pakistan.
It is true that much of terrorism and extremism could not be possible without safe havens in parts of Pakistan and Afghanistan. But the larger question remains – can Pakistan be kept isolated while countries struggling to cope with terrorism fight the menace?
Russia's Ambassador argued that Pakistan can be part of the solution in fighting terrorism. This is possible only through a framework of cooperation. In this context, India and Russia can use their relations with Pakistan and persuade it to join a comprehensive framework to fight terrorism, whether in Afghanistan or in troubled areas elsewhere. The Russian Ambassador's observations hold promise, while recognizing the challenges. The promises are certainly many. A peaceful, stable and more integrated Eurasia is one of them.
Dr. Debidatta Aurobinda Mahapatra is an Indian commentator. His areas of interests include conflict, terrorism, peace and development, South Asia, and strategic aspects of Eurasian politics.
All rights reserved by Rossiyskaya Gazeta.