Hiroshima, Nagasaki bombings "crime against humanity" - Naryshkin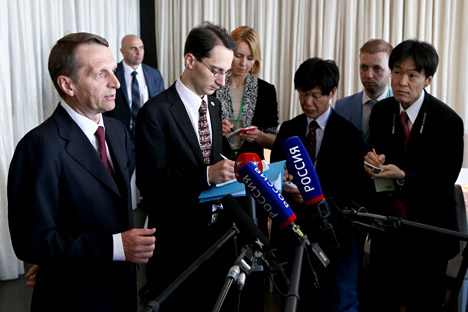 Sergei Naryshkin (left) taking to journalists at the Russian-Japanese Forum on Cooperation in Business, Technology and Culture in Tokyo. Source: Konstantin Zavrazhin / RG
The speaker of Russia's lower house of parliament believes that there are good prospects for the development of bilateral relations with Japan.
The nuclear bombings of Hiroshima and Nagasaki at the end of World War II were "a crime against humanity, which still has not been correctly assessed," Sergei Naryshkin, speaker of the Russian lower of parliament said at the third annual Russian–Japanese Forum on Cooperation in Business, Technology and Culture in Tokyo.
"Many funeral and memorial events will be held in Japan in the beginning of August, which would be 70 years after these barbaric and inhumane bombings took place. We in Russia will grieve along with our Japanese friends," he added.
The atomic bombs dropped by the United States on the Japanese cities of Hiroshima and Nagasaki claimed the lives of at least 130,000 people. The bombings were the only time in the history of warfare that nuclear weapons were used.
Russia-Japan relations
Naryshkin dedicated his speech at the forum, organized by Russian daily Rossiyskaya Gazeta and Japanese newspaper Mainichi, to Russian-Japanese relations. He called 2014 "an extremely difficult" year for Russia-Japan ties.
He said the two countries "have good potential for increasing cooperation," but "certain factors, which are not directly tied to Russian-Japanese relations, are impeding this."
Naryshkin also said that "the multifaceted bilateral interaction between the countries" is based on "a constant dialogue between our leaders," implying that Moscow is preparing Vladimir Putin's visit to Japan, yet is waiting for "Tokyo to determine its agenda." Putin feels "the ball is in Japan's court now," Naryshkin added.
The article is abridged. Read the full version at Asia.RBTH.com.
All rights reserved by Rossiyskaya Gazeta.