RIC coordination needed for Afghan stability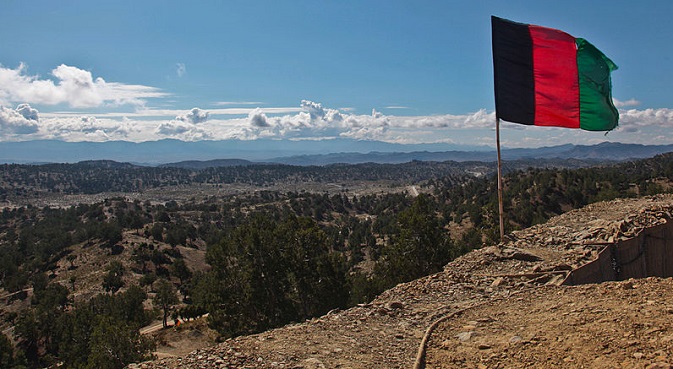 The politics surrounding Afghanistan has variously been called the Great Game, the new Great Game and grand chess board. Source: wikipedia.org
Officials from Russia, India and China (RIC) met in New Delhi recently to deliberate on the Afghanistan peace process. As close neighbours of Afghanistan, the RIC's main objective is to ensure peaceful reconciliation and economic reconstruction of Afghanistan and play a constructive role to bring peace and stability to the war-ravaged country.
Officials from Russia, India and China (RIC) met in New Delhi last week to deliberate on the Afghanistan peace process.
Commenting on the meeting, the Chinese foreign ministry spokesperson said, "The three countries have agreed that the situation in Afghanistan is closely connected with regional security and stability. As close neighbours of Afghanistan, the three countries support peaceful reconciliation and economic reconstruction of Afghanistan and would like to play a constructive role."
The statement outlines RIC's three major objectives in Afghanistan; regional security and stability, peaceful resolution of conflict, and economic reconstruction. These objectives are closely interlinked.
Developments in recent weeks indicate the complexity of the situation.
Representatives from the Afghan Taliban, which declared allegiance to the Islamic State, met Afghan officials in Urumqi, capital of terrorism-wracked Xinjiang province, in the presence of Chinese and Pakistani officials. Also in May, the Pak Prime Minister and Army Chief visited Kabul, and the two countries signed a security deal, soon after which four Indians were killed in a targeted attack in Kabul.
When Afghan President, Ashraf Ghani visited New Delhi at the end of April, Indian Prime Minister Narendra Modi characterized bilateral relations as a "timeless link of human hearts". In this tangled geopolitical scenario, coordination between RIC countries will be crucial.
As key players in the regional matrix, RIC countries have much to gain from coordination than from confrontation. India and China differ about how best to stabilize the region. India has reservations about China facilitating talks between Afghan officials and the Taliban. China's comprehensive partnership with Pakistan and its Silk Road initiative are popular in Pakistan, but India is far from enthusiastic. India is concerned about increasing attacks on India's officials and assets in Afghanistan, intensified after the new dispensation came to power in Kabul last year. Unlike India, China's increasing bonhomie with Pakistan puts it in an advantageous position. Russia can emerge a balancer of interests between India and China in Afghanistan. Apparently Russia does not have a clash of interests with either India or China.
Another forum in this context is the Shanghai Cooperation Organisation (SCO), in which Russia and China are key players. Aimed primarily at ensuring security in the Eurasian region, the SCO is likely to admit India, currently an observer, as a permanent member this year. India's inclusion will witness the presence of all RIC members in the grouping. The SCO has periodically declared its intent to combat terrorist forces in Afghanistan and the Eurasian region, and conducts joint military exercises to that end.
While China's geographical proximity to Afghanistan provides it leverage, and also generates trouble in the form of extremist violence in Xinjiang, Russia and India do not share boundaries with Afghanistan, making them rely on neighbouring countries.
Russia has strategic depth in Central Asia, and provided NATO forces transit rights to Afghanistan. The recent closure of transit facilities would provide Russia leverage to play a bigger role in Afghanistan. India lacks land access to Afghanistan. It has searched for alternatives routes, through Iran.
As NATO influence declines in Afghanistan, and as the Islamic State and the Taliban increase their influence, the role of RIC will be more crucial to ensure peace and stability. For coordination among the three countries, it is essential that India and China develop mutual understanding to work in Afghanistan. Perhaps Russia can play a constructive role to bring the two countries together. Official talks between the three countries last week is a necessary step in this regard. These talks should be frequent.
A possible move by China to estrange India from Afghanistan in collusion with Pakistan may not be welcomed by Russia. Russia will be more interested to develop a mutually beneficial framework between the three countries. Projects like the North South transport corridor, or TAPI pipeline would be possible only when differences are resolved not only between the three countries, but also between neighbours.
The politics surrounding Afghanistan has variously been called the Great Game, the new Great Game and grand chess board. These terms reflect the complicated politics and clash of powers for leverage in the strategically important country. In the past, brinkmanship mostly guided the politics in the region, which actually worsened the situation.
The RIC could develop a harmonious and mutually advantageous framework for peace, stability and economic development in Afghanistan.
Dr. Debidatta Aurobinda Mahapatra is an Indian commentator. His areas of interests include conflict, terrorism, peace and development, South Asia, and strategic aspects of Eurasian politics.
All rights reserved by Rossiyskaya Gazeta.