Why Russia protects North Korea from the West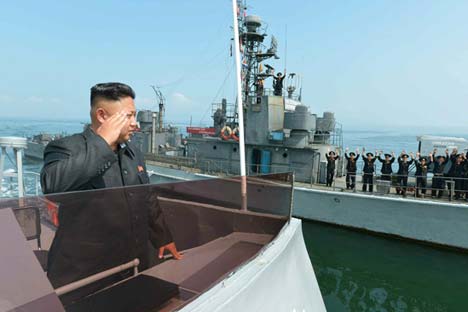 Russia benefits by developing a special relationship with North Korea, because it would give her a trump card in bargaining with the United States, and the ability to demand concessions from Washington in other areas of foreign policy.
When asked about the situation surrounding the resumption of six-party negotiations related to the North Korean nuclear program, Special Envoy Grigory Logvinov told RIA Novosti that Moscow would not permit any "conspiracies" against Pyongyang. "The statements about increased pressure and duress are counterproductive, and cannot lead to anything positive," Loginov said
In May, high-ranking diplomats from the U.S., Japan and South Korea held a meeting in Seoul where they agreed to increase pressure and sanctions against North Korea in order to bring Pyongyang back to the negotiating table
Going by Logvinov's statements, it is fair to assume that Russian diplomats believe that steps to strengthen mutual trust and "reduce the level of military activity" would be a better option than increased pressure and sanctions.
Regime change instead of disarmament
Analysts, meanwhile, are skeptical about the prospects for the resumption of six-party talks. They observe the difference in the approaches of the parties to the negotiation process.
"For the U.S. and its allies, negotiation is a tool aimed at pressuring North Korea to disarm, and change the country's regime," says Konstantin Asmolov, a leading researcher at the Center for Korean Studies of the Institute of Far Eastern Studies. "For North Korea, they are a way of receiving limited legitimacy of its nuclear status."
Asmolov adds, "The negotiations took place as long as there was a certain group of countries aimed at forcing the opposite sides towards consensus – Russia, China and South Korea." The researcher says these countries had leverage on Washington and Pyongyang. "However, after the victory of the conservatives in Seoul, South Korea moved to the camp of Americans, and the negotiations came to a complete standstill."
Now, there is a situation where Moscow can double or even triple its resources to stimulate the North Korean talks. "Intensifying the negotiating process about the North Korean program is extremely important to Russia," says Gevorg Mirzayan, a researcher at the Institute of USA and Canada.
Mirzayan believes that Moscow wants to use the negotiating process to strengthen its position in the region, especially in terms of relations with South Korea and Japan. "Without close relations with these countries, it is strategically disadvantageous for the Kremlin's 'Turn East,' policy, which can become overly dependent on China."
The article is abridged. Read the full version at Asia.RBTH.com.

All rights reserved by Rossiyskaya Gazeta.