Why Russia will not return the Southern Kurils to Japan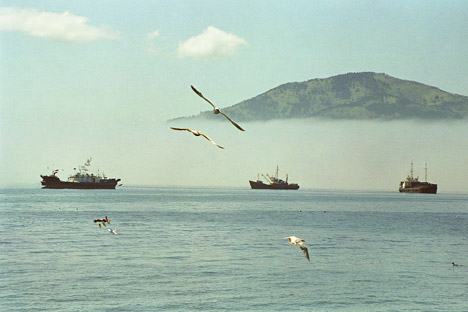 Kuril Islands. Source: Sergei Krivosheyev/RIA Novosti
Besides emotive issues and natural resources, the Southern Kuril Island chain holds immense strategic value and is one of Russia's main naval gateways to the Pacific Ocean.
Japanese Prime Minister Shinzo Abe recently invited Russian President Vladimir Putin to visit Japan for an official visit, where the countries could look at resolving a 70-year old territorial dispute.
Japan and Russia are still in a technical state of war, since the countries have not yet signed a World War II peace treaty. The bone of contention between the Asia-Pacific neighbors is a chain of islands between Russia's Sakhalin and Japan's Hokkaido.
The Southern Kuril Islands, which comprise of Iturup, Kunashir, Shikotan and the Habomai Archipelago, were first colonized by Japan in the 19th century. They came under the Soviet Union's control at the closing stages of the Second World War, when Imperial Japan was evicted from southern Sakhalin.
Japan claims sovereignty over the islands, calling them the Northern Territories. Since the 1960s, Moscow has shown a degree of willingness to compromise with Tokyo by offering Shikotan and Habomai but Japan has been unrelenting in its demands for the return of the entire chain.
An emotive issue in both countries
When Japan was evicted from the Southern Kuril Islands in 1945, 17,000 Japanese citizens were deported from the chain. Many of these people are still alive and reside in Hokkaido. "It would be political suicide for any government in Tokyo to compromise on the Northern Territories," says Shigeo Tanaka, a political analyst based in the Japanese city of Sapporo. "The association of former Northern Territory residents has great political lobbying power and sympathy."
Anytime a country talks about transferring territory, there is bound to be a section of the public that would be unhappy. In 2004, when Russia transferred Tarabarov Island and half of the Bolshoi Ussuriski Island on the Amur River to China as a final settlement of the border dispute, there were protests in many parts of the Russian Far East.
Tamara Chikova, a professor at the Sakhalin State University believes that a transfer of Shikotan and the Habomai archipelago (an offer made by different Russian governments) would trigger strong protests. "The logic of the nationalistic groups is that Russia should not return land seized from a country that allied itself with Nazi Germany," she says. "Would Russia return Kaliningrad to the Germans," she asks rhetorically.
Tanaka says such a proposal would also be unacceptable for Japan since it insists on the return of Kunashir and Iturup. "Japan already believes it compromised by accepting Russian sovereignty over the southern half of Sakhalin Island, which was legally a part of Japan since the 1904-5 war," he adds.
The article is abridged. Read the full version at Asia.RBTH.com.
All rights reserved by Rossiyskaya Gazeta.