Western sanctions push Russia to look east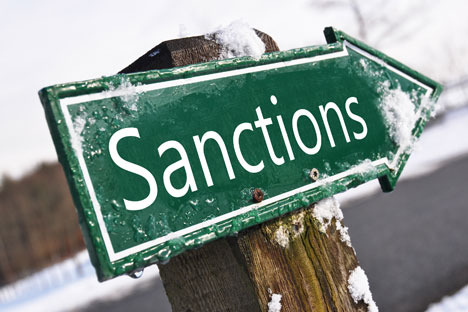 The sanctions imposed by the EU will cost Europe 100 billions euros and endanger over two million jobs. Source: Shutterstock
There are favourable signs that Russia has overcome most negative effects of western-imposed sanctions, with import substitution, increased productivity and an increase in self-reliance. Western sanctions have also pushed Russia to look east, primarily at China and India, boosting those relations.
There are many indications that western-imposed sanctions on Russia have lost their bite. There are clear indications that those sanctions have begun to hit the European economy hard, particularly the food economy and energy availability. Since Russia introduced its own package of counter-measures, including a ban on food and agricultural imports from neighbouring and other EU nations, last August, countries in Europe, particularly those neighbouring Russia, are feeling the pressure.
"It is likely that there will be a considered re-think about these sanctions when ministers from the European Union meet at the end of July", said Ashok Sajjanhar, former Indian Ambassador to Kazakhstan, who has worked extensively in Russia and Ukraine. The sanctions imposed against Russia by the United States, EU, Australia, and Canada have "pushed Russia towards China" particularly, and towards the east and Asia generally, Sajjanhar said. "Witness the $400 billion energy deal Russia and China signed last year," he said. Chinese President Xi Jinping's visit to Moscow for the 70th anniversary commemoration ceremonies for Victory Day was "also very significant," he said, "as was the Indian President's visit and high level participation. It indicates a new level of cooperation developing," Sajjanhar said.
Citing Russian Prime Minister Dimitry Medvedev's statement, that "Russia should be grateful to the West for the sanctions," a senior Russian official said it (sanctions) had "stimulated attempts to produce locally, not only in agriculture, but also industry, manufacturing and defence."
"Now, the situation is rather healthy, psychologically also" said Sergey Karmalito, senior Counsellor at the Russian Embassy in India. "Let's see where the sanctions will be by end-July," he said, referring to the scheduled EU ministerial meeting.
"No one who is trying to impose sanctions against Russia or to exert any other methods of pressure on the country will ever force us to abandon our position of principle on key issues," Karmalito categorically said.
According to the German daily newspaper, 'Die Welt,' the sanctions imposed by the EU will cost Europe 100 billions euros and endanger over two million jobs.
Die Welt cited research results of the Austrian Institute of Economic Research, and said "the fall in exports, is currently a reality." According to the research they quoted, the German economy is likely to lose €27 billion and see its GDP contract by 1%, while Italy will lose over 200,000 jobs and 0.9% of GDP and France's losses will amount to 150,000 jobs and 0.5% of GDP.
"The West's position is well known. It was clearly articulated at the recent summit of the G7; if the Minsk agreements are implemented, sanctions against Russia may be softened or even lifted," said Karmalito. "As President (Vladimir) Putin has repeatedly stressed, we were not the ones who spoiled relations, and the main condition for restoring them is respect for Russia and its legitimate interests," said Karmalito, who was very critical of "western hypocrisy and duplicity" in this regard.
"The 'red lines' on Ukraine should not be crossed," by the West, Karmalito said, referring to humanitarian activity and Russia's rotational (1200) peacekeeping forces in Transdniestra, among other issues.
He said it was not only China, but also India with which trade ties were on the rise, particularly since sanctions were imposed.
"Dealing with China is easy for Russia, because of the long boundary," Karmalito said, making it easy for locals to trade in goods easily. "Our relations with China do not affect India, but are on equal terms with India," he clarified. "China has become politically, economically and socially a different country over three decades of economic growth," he said. Providing Russia with Most Favoured Nation (MFN) has also helped.
But, "we have similar proposals also for India," Karmalito said, pointing out the boost in import of Indian agricultural produce into Russia and the growing defence relationship.
All rights reserved by Rossiyskaya Gazeta.