Delegates frame future plans for BRICS and SCO Youth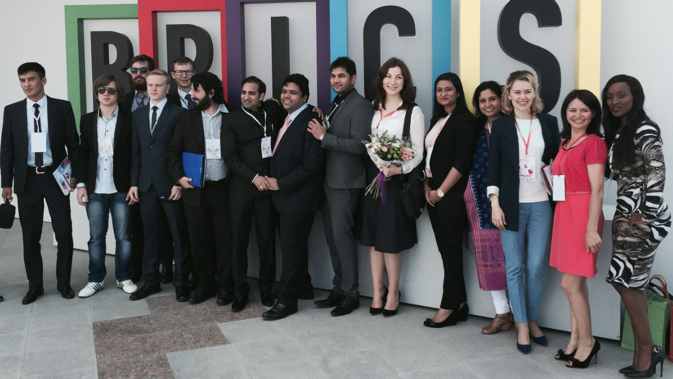 This forum was established to promote linkages among youth in the fields of Business, Education, Politics, Humanitarian issues and Science & Innovations within BRICS nations. Source: Press Photo
Youth delegations from member nations of BRICS and the SCO met over four days at Ufa, venue for the recent summits of leaders from these nations, and discussed at length ways to promote linkages between youth in a range of areas from business to education and science and technology.
Indian delegates at the first BRICS and SCO Youth Forum, which concluded in Ufa, Russia, on Wednesday, sought the establishment of a BRICS and SCO Business Club to promote Business and Employment opportunities for youth from the member countries.
Delegates also discussed designing of a BRICS (Brazil, Russia, India, China and South Africa) Leadership and training programme to facilitate education and cultural exchanges between BRICS and SCO nations at the First joint Youth Forum, which extended over four days at Ufa.
"We suggested that leaders be appointed for these Business Clubs and the Exchange Programmes in each country, who can then coordinate with counterparts in other countries, and help facilitate these programmes. Also, it was a proud moment for our entire delegation to have addressed the member nations from the Congress Hall from where our Honourable Prime Minister made his address in the recently held BRICS Summit at Ufa, Russia", said Malvika Shastri, representative from the BRICS International Forum.
This forum was established to promote linkages among youth in the fields of Business, Education, Politics, Humanitarian issues and Science & Innovations within BRICS nations. The other members of the delegation were Ganita Bhupal, Gaurav Aggarwal, Rohit Singh Saroha and Manoj Chaudhary.
The organizers of the Forum are the Russian Youth Union (RYU) and Government of Ufa, Republic of Bashkortostan and the Civic Chamber of Russia and Rossotrudnichestvo. The four-day Forum saw lively interaction between young delegates active in areas of social activism, business, politics and diplomacy from various BRICS and SCO countries.
"The discussions held at the Forum would help create a road map for the development of promising areas for youth cooperation within BRICS and the SCO space," said Tatiana Seliverstova, head of International Cooperation and Innovation Activity of the Russian Youth Union. She added that India is currently one of the most lucrative markets for business and, along with the BRICS International Forum, they would soon be organizing a Business Forum in India to boost business and trade ties. She invited all participating nations to attend it.
"Russia is currently presiding in BRICS, so we need to make maximum use of this in order to create as many joint projects as possible. Within the framework of the forum, we gather active young people from these countries who are involved in social activism, business, politics, and diplomacy," said Pavel Krasnorutsky, chairman of the Russian Union of Youth.
Russia stressed that the special focus at the Summit will be young entrepreneurship within BRICS and the SCO. Also, it was proposed in the final resolution to establish a BRICS Centre for Expertise and Innovation.
Work is on to hold "Youth Exchange Years" between Russia and India in 2017-18, similar to the Russia-China Youth Exchange Years (2014-2015).
The four-day exchanges saw participation from a wide range of youth, from young students to entrepreneurs, from countries like Kazakhstan, Kyrgystan, Tajikistan, Uzbekistan and experts from Japan, Bulgaria, France and Germany, apart from the five BRICS nations.
All rights reserved by Rossiyskaya Gazeta.