1. Engaging the West
Would Joe Biden overload or re-reset U.S.-Russia relations?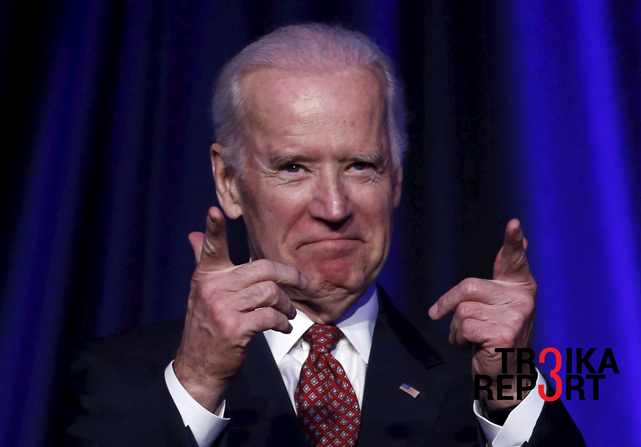 U.S. Vice President Joe Biden at the Green Jobs Conference in Washington, April 13, 2015. Source: Reuters
Recent media leaks about U.S. Vice President Joe Biden possibly seeking the Democratic presidential nomination have raised eyebrows – as well as hell – among foreign policy watchers and makers in Moscow. If this outspoken critic of Russia became the next U.S. president it would probably doom bilateral relations to the revival of tensions and rhetoric of the worst period of the Cold War.
How seriously would this jeopardize the chances of the current Democratic favorite Hillary Clinton, and what kind of challenge does it pose to Russia-U.S. relations?
Russian experts approached by Troika Report warn against jumping to conclusions based on Biden's verbal legacy. Here is what Fyodor Voitolovsky, deputy director at the Moscow-based Institute of World Economy and International Relations of the Russian Academy of Sciences, told Troika Report on the possible widening of the race in the U.S. pre-election maneuvers:
"If in September he announces that he intends to run, then Biden will be participating in the campaign as a competitor to Hillary Clinton. In this case, it will sow seeds of divergence within the Democratic Party. But I do not think that Russia is at the top of their priority list."
Yet the Kremlin in particular has reasons to be slightly alarmed. During his 36 years in the U.S. Senate, wrote The New York Times, Biden made himself visible by demonstratively tearing apart and to pieces the tenets of political correctness. Moreover, in the last decade he has often featured on media radars as an ardent and consistent critic of Russian President Vladimir Putin.
Back in July 2009, Joe Biden sent shock waves throughout Moscow's corridors of power by stating in an interview with The Wall Street Journal that due to its faltering economy Russia had no choice but to accept the supremacy of the United States and make concessions on key strategic issues, namely, abandon its leading role in the post-Soviet regions, make deep cuts to its nuclear arsenal and, in general terms, accept the status of a minor nation subordinate to America.
Sergei Prikhodko, the Russian president's counselor on international affairs, responded by pointing out that this denigrating rhetoric contradicted the spirit and letter of the visit to Moscow by U.S. President Barack Obama, and asked who was in charge of foreign policy in Washington.
Nevertheless, the emergence of such a heavyweight in the presidential nomination race would make things complicated but more stimulating.
Yury Rogulyov, director of the Franklin Roosevelt Foundation for U.S. Studies at Moscow State University, had this to say to Troika Report:
"I think the Democrats may go for Biden since Clinton's campaign is a bit boring. She does not face any competition within the party. It makes it difficult for Hillary Clinton to maintain the attention of the people and the media focused on her throughout a lengthy campaign. If Biden enters, it adds intrigue to the outcome of the race."
Hillary Clinton has said that, if elected, her policy towards Russia would be based on limited engagement with elements of containment. Outsider Republican candidate Donald Trump, meanwhile, claimed he would be a better talking partner for Putin than the incumbent president. Against these signs of flexibility, Biden's phobia of any "reset" in relations with Russia does not seem to be a positive driver.
Here's the opinion of Fyodor Voitolovsky on these contrasting approaches:
"I think Hillary Clinton was closer to reality when she proclaimed a policy combining limited engagement with limited containment. As for Biden's rhetoric, as a rule, the words pronounced during the campaign have little in common with real politics after the elections. I doubt Biden's rhetoric and attitude (toward Russia), if he is elected, would remain so hard-line."
This assessment is shared by Yury Rogulyov. When asked whether the entry of Joe Biden would spell doom and gloom for bilateral relations, or whether this is an over-simplification and an over-emotional forecast, he replied:
"Some analysts call Biden a very pragmatic politician. It means that he is not so much ideologically driven. As for Russian-American relations, it should be recalled that Joe Biden was one the few who opposed the decision by President George W. Bush to withdraw unilaterally from the Anti-Ballistic Missile Treaty signed in 1972. I believe that his attitude towards Russia will be more pragmatic than ideological."
So, would Joe Biden ratchet up the rhetoric or reset relations with Russia? What may seem a straightforward calculation is complicated by the fact that it was actually Biden who was the very first to spell out the concept of a "reset" between the U.S. and Russia. Feel the intrigue.
2. Globally speaking
Destabilized Turkey would become a headache for Russia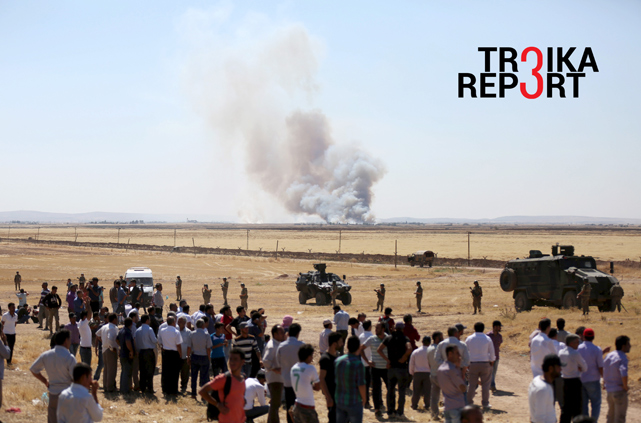 Smoke rises in the Syrian town of Kobani as seen from the Turkish border town of Suruc in Sanliurfa province, Turkey, June 25, 2015. Source: Reuters
The double strike by Turkish armed forces on Islamic State (ISIS) militants and Kurdish paramilitary formations in Syria in late July has the potential to jeopardize the regional status of this Eurasian country, the only Islamic state in NATO, while heating up the debate on the dos and don'ts of the global war on terror.
As a side effect, it could bring havoc to Turkey itself, threatening to rupture the exponential growth of cooperation Ankara has enjoyed with Russia over the last decade.
At official level, the casus belli for the attack on ISIS was the suicide bomb that killed 32 people on July 20 in the Turkish town of Suruç on the Syrian border. The explosion killed supporters of the Kurdistan Workers Party (PKK), declared a "terrorist organization" by Ankara for calls to establish a Kurdish state. The PKK is directly linked to the People's Protection Units (YPG), the Kurdish self-defense groups that are fighting ISIS militants in Syria.
The ensuing police and military operations ordered by President Recep Tayyip Erdoğan caused a lot of concern. The sweeping police raids across Turkey, justified by the urgent need to hunt down terrorists, netted more than 1,300 suspects, but six out of seven of the detainees were affiliated not with ISIS but with the PKK. No less suspicious are the statistics for sorties carried out by Turkish fighter jets in the period between July 23 and July 26: While they bombed only three ISIS targets, the number of PKK and YPG targets totaled some 400.
Why are Kurdish paramilitary troops being targeted by Turkish air strikes? Viktor Nadein-Rayevsky, a senior research fellow at the Institute of World Economy and International Relations at the Russian Academy of Sciences, provided an insight into the complexities of relations between Ankara and the Kurds:
"Before 2002, the Kurds were in a different position than today. The Kurdish language was forbidden just like the language of any other ethnic minority. Singing Kurdish songs could get you into jail for 10 and even more years on charges of propagating 'separatism.' Under Erdoğan, the Kurds were allowed to have their own television, radio, newspapers. It was a very important step forward."
"But then Erdoğan stopped the reforms and revived the nostalgia for the Ottoman Empire, promoting a trend that was labeled 'Neo-Ottomanism.' It was not a good idea. For the Kurds, the times of the Ottoman Empire are associated with a ruthless regime. It was no less insulting for the Arabs."
According to Nadein-Rayevsky, things have changed for the worse since the parliamentary elections on June 7. The pro-Kurd Peoples' Democratic Party (HDP) won 13 percent of the vote, deprived the ruling Justice and Development Party of a majority, and basically took the steam out of Erdoğan's drive to reform the Constitution and turn Turkey into a U.S.-styled presidential state.
Distressed, Erdoğan struck back, suspecting that the rise to prominence of HDP is dangerous given the new realities in the region: Syrian Kurds were granted autonomy by President Bashar al-Assad while Iraqi Kurdistan enjoys status of an almost sovereign territory with many attributes of statehood.
It was also a double strike. HDP leader Selahattin Demirtas came under the scrutiny of the security services. Kurdish public organizations are now treated as potential traitors with covert sympathy for what are seen as terrorist tactics practiced by the PKK (hostilities have claimed the lives of 40,000 people in the last 40 years, both Turks and Kurds). Concurrently, Turkish air forces bombed YPG positions inside Syria.
These developments fuel speculations that Erdoğan is not in fact waging a full-scale war against ISIS, despite the official pronouncements. It gives weight to claims that Erdogan's previous benign neglect attitude toward ISIS was motivated by the pragmatic calculation that Islamic radicals were doing the "dirty job" serving several strategic goals of his government.
Ankara is seeking, firstly, to weaken the rule of Bashar al-Assad, possibly paving the way for a pro-Turkish regime there, and, secondly, to prevent Syrian Kurds from following their Iraqi relatives and forming another proto-state that would magnetize and appeal to their Turkish kin.
Despite the formidable military potential of Turkey, which can boast of having the second largest army within NATO, it is up against too many odds. The population's patience already wearing thin with the slowdown of the economy, and Erdoğan has seen his personal popularity rating nosedive from 71 percent to less than 38 percent.
The endgame might see the carving up of the whole region. With an enhanced sense of national unity, the Kurds will influence the post-war agenda by demanding a fair solution to their plight. The emergence of a united Kurdistan now seems a more plausible scenario than before Erdoğan's all-out offensive.
Moscow has reasons to be worried. Russia has a stake in cultivating mutually beneficial economic ties with Turkey, with two mega-projects hanging in the balance: the Mersin nuclear power plan, to be built by Rosatom, and the Turkish Stream gas pipeline, to be constructed by Gazprom. A thoroughly shaken and destabilized Turkey is not what Moscow wants. It has much to lose if Erdoğan's policy of neo-imperialism leads Russia's southern neighbor up a dead end.
The Turkish offensive shows the limitations of the global war on terror. It is still a double-edged sword that can be used as a pretext and a smokescreen to crush dissent and opposition at home. Remarkably, President Erdoğan has just paid a visit to China, where he could not but discuss the issue of Islamic separatists in the Xinjiang Uygur Autonomous Region. However, there are indications that the Chinese are not eager to make use of established Turkish methods of dealing with such internal challenges.
3. Going Eastward
Should Moscow bet on pacified Afghanistan after Taliban splinters?
Supporters of a Pakistani religious group 'Jamaat-ud-Dawa' offer funeral prayers for Taliban leader Mullah Mohammad Omar at a mosque in Islamabad, Pakistan, Aug. 1, 2015. Source: AP
World powers and regional actors are watching developments in Afghanistan with keen interest following the announcement of the death of Taliban leader Mullah Omar. Signs that the Taliban movement is on the brink of disintegration are puzzling not only the United States, which is uncertain how to deal with the new realities on the ground, but also Russia and China, who fear new security challenges might undermine their integration projects in the Eurasian region.
For the U.S., it is a matter of choice: whether to keep its military contingent in Afghanistan or withdraw. For China, it is about whether the radicalization of the Taliban and the infiltration of Islamic State (ISIS) militants can jeopardize its Silk Road mega-project. For Russia, it is about finding a solution on how to effectively seal the borders of the Central Asian post-Soviet republics against Islamic radicals and drug trafficking.
Moscow looks on with apprehension and a dash of hope at the split of the Taliban. For Russia, not to mention China, a calmer and pacified Afghanistan would no longer present a hotbed of terrorism with the potential to spill over to Central Asia, Russia's soft underbelly. Yet, long after the Taliban was ousted from power only to continue its war of terror, Afghanistan is still at crossroads.
Despite President Ashraf Ghani and Chief Executive Abdullah having reached a power-sharing deal almost a year ago, the local establishment is fragmented and infighting is rife. Now this tug-of-war has been "complemented" by internal strife in the Taliban after the belated announcement of the death two years ago of its leader, Mohammad Omar. This week, once the new emir, Akhtar Mohammad Mansour, was "crowned," his credentials were immediately challenged by the brother and son of the former supreme spiritual and military commander.
All this only adds uncertainty to the possible course of events since Mansour was close to the Pakistani authorities and originally favored a settlement to be reached through talks with Afghan government officials. After becoming the Taliban's top warlord, however, Mansour, strangely enough, reneged on his previous pledges. The much-expected second round of talks with Pakistani mediation was abruptly canceled. However, this might simply reflect the power struggle at the top.
This dispiriting setback happened at a time when some factions of the Taliban have openly declared their reluctance to lay down their weapons and vowed to fight on, while some field commanders have revealed their wish to join Islamic State.
This in particular rings alarm bells in Moscow because recently Russian security forces have tracked down, intercepted and destroyed in the southern Russian republic of Ingushetia eight new converts of terrorism who swore allegiance to Islamic State.
How serious is the danger of the ISISisation of Afghanistan for Russia? Is there a chance that Ghani's government and the moderate wing of the Taliban (to which Emir Mansour is believed to belong) can strike a deal? Fyodor Voitolovsky, deputy director at the Moscow-based Institute of World Economy and International Relations of the Russian Academy of Sciences, had this to say to Troika Report:
"Afghanistan is one of the principal regions of instability that will have a dramatic impact on regional and global security in the next five years at least. There are many signs of instability in this country as well as in Central Asia and some parts of Pakistan. I think the main threat today comes not from the Taliban proper but from the penetration of ISIS activists into the Taliban movement and into Afghanistan itself. There is a threat of the radicalization of the Taliban under the influence of ISIS.
"As for direct talks between the Afghan government and the Taliban, I've been hearing about this since 2006. It was Richard Holbrooke who first suggested it. But the process still remains stalled. So, there is plenty of unpredictability and the danger of escalation of violence and terrorist activities remains."
— Is there a chance that the surge of unpredictability in the region might convince U.S. President Barack Obama to positively engage Russia to deal with ISIS in Afghanistan?
"Our American partners demonstrate a very low level of interest in such cooperation. They seem to be keen on distancing themselves from Afghanistan. The U.S. has signed a treaty with Afghanistan committing itself to providing security, and they will do something in this respect, but I do not see any prospects of U.S.-Russia cooperation in the region."
In any case, the split within the Taliban triggers off the process of its re-formatting, with the moderates offered a chance to be incorporated into the Afghan political mainstream. Should this happen, it would strengthen Afghan statehood and improve governance, restoring stability to this war-torn land. Despite clashing strategic interests and conflicting "pivots to Asia" by Russia and the U.S., it could be the chance for them to find grounds for mutually beneficial interaction.
All rights reserved by Rossiyskaya Gazeta.