Expanding BRICS: A multi-polar imperative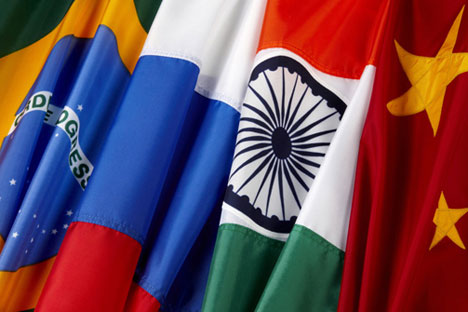 The issue of expansion of BRICS resurfaced with Russian Prime Minister Dmitry Medvedev stating this month that he does not rule out the prospect of an expansion. Once things within the organization are in proper shape it will expand.
As a platform to promote a multi-polar world order, BRICS has attracted attention of states throughout the world. Its emphasis on fairness and restructuring the global economic and political order has been received well across the globe. The current world order is 'anarchic', dominated by realism that is driven by a rationalist calculus. Hence, for any power dissatisfied with the current asymmetric nature of the global order or interested to improve its functioning, BRICS is an attractive model, providing an alternate voice. Add the economic weight of the five member states to their political clout and BRICS certainly emerges a cherished organization for membership.
Organizations evolve, remain stagnant or decay. Brazil Russia India China South Africa (BRICS) is evolving. Along with some multilateral groups like the G-20 and the Shanghai Cooperation Organisation (SCO), it has evolved to respond to the crisis in the current global order and to address it. BRICS expanded from BRIC when South Africa joined as a member in 2011.
The rush to join the BRICS began since its inception. In 2013 before his visit to India, then Egyptian President Mohammed Morsi said, "I am hoping BRICS would one day become E-BRICS where E stands for Egypt." In 2014 Argentine Foreign Minister, Hector Timerman expressed his country's interest to develop relations with BRICS. "We are interested in developing relations with BRICS in international politics… We are confident that it is necessary to build relations on a multi-polar basis," Timerman said.
Indonesia has expressed interest to enhance cooperation with BRICS. The Indonesian Ambassador to Moscow, Djauhari Oratmangun said, "All the BRICS countries are important for Indonesia, so we are very determined to increase our political, economic and socio-cultural development with BRICS member countries." Other countries like Nigeria and Iran might be suitable candidates to join the group.
BRICS leaders, however, have adopted a cautious approach on the issue of expansion. They realize any hasty decision on the issue would not only jeopardize the very structure of the organization but also affect its goals. Russian Foreign Minister, Sergei Lavrov observed that there has not been any deliberation on expansion among the group members. Earlier this month Medvedev observed, "The association needs to fine-tune its mechanisms and formats, which are numerous, including the New Development Bank (NDB) and the Contingent Reserve Arrangement (CRA), to name a few… This does not mean, however, that BRICS will not accept new members in the future."
In recent months, the organization has progressed substantively to 'fine-tune its mechanisms and formats'. The members have resolved nagging issues like the location of the NDB and its leadership.
The Bank has opened its office in Shanghai with India occupying its first presidency. It is developing a detailed plan for functioning and started the process of recruiting staff. Once the bank is fully operational and issues like CRA are settled, BRICS would be in a better position to admit new members. A new member can be admitted on the basis of consensus among existing members. There are certain developments in this regard. In July at Ufa, the BRICS summit coincided with the SCO and Eurasian Economic Union summits. Countries like Iran participated in the meetings.
Russia's deputy representative to BRICS, Vadim Lukov, said, "This (the expansion) might take a year or two, but this is an absolutely unavoidable process." He further observed, "There are a large number of countries that want to join BRICS, major developing economies."
In order to be representative, BRICS has to be inclusive in its structure. There is an argument that there is not a member in the body representing the Islamic world. Perhaps the membership of a moderate and developing country like Indonesia can fill this gap. Indonesia is the largest Muslim country in the world, without baggage of religious extremism. It would also serve another purpose: besides making the body diverse and inclusive, it would increase its weight as a centre of a multi-ethnic and pluralistic world. All the current members are multi-ethnic and pluralistic, and most of them suffer from problems of religious extremism. The addition of a progressive and moderate Muslim country would make the body 'multi-civilizational'. Similarly the addition of African economic power house Nigeria, the strategic and oil rich country Iran in West Asia, Argentina in Latin America and other suitable candidates from across the world would make BRICS a formidable center of multi-polarism. The expansion of BRICS is an imperative. It is the very philosophy of BRICS –promotion of a fair and just world order – that necessitates its expansion.
Dr. Debidatta Aurobinda Mahapatra is an Indian commentator. His areas of interests include conflict, terrorism, peace and development, South Asia, and strategic aspects of Eurasian politics.
All rights reserved by Rossiyskaya Gazeta.