Russia reacts to raised NATO presence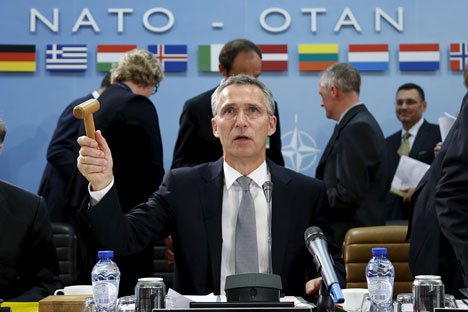 NATO Secretary-General Jens Stoltenberg.
Reuters
NATO will deploy a British military contingent in the Baltic States and set up two additional command centres in Central Europe to boost security along its eastern flank. Russian observers said Moscow was likely to respond to NATO's moves.
Defence ministers from NATO countries have announced plans to bolster the alliance's presence in Central and Eastern Europe to counter the threat from Russia. Simultaneously, they accused the Kremlin of targeting 'moderate' rebel groups instead of ISIS militants with its aerial attacks in Syria.
Inaugurating the NATO summit in Brussels on October 8, Secretary General Jens Stoltenberg welcomed the British decision to deploy troops in the Baltic countries and Poland on a rotational basis.
Stoltenberg also announced NATO's decision to establish additional command centres in Slovakia and Hungary (six such centres already exist in Central and Eastern European countries), as well as to increase the strength of its rapid-reaction force to 40,000 servicemen. He said the crisis in Ukraine and Russia's operations in Syria prompted the decision to "fortify the alliance."
The decision in Brussels provoked an expected reaction from Moscow, with Russian presidential press secretary Dmitry Peskov accusing NATO of concealing its actions to further expand the alliance to Russia's borders behind "fictitious pretexts of an apparent Russian threat." He also said the alliance's actions "will lead to retaliatory measures in order to create the necessary parity."
Alexei Pushkov, head of the State Duma Foreign Affairs Committee reacted sharply, calling NATO's decision to protect the Baltic States from Russia "a theatre of the absurd."
A 'tacit and concrete' response
Britain's Defence Secretary Michael Fallon said the number of troops deployed in the Baltic countries and Poland would number 100 servicemen. Despite the size of this contingent, Russian observers believe such measures constituted a challenge to Russia.
"In the context of a total war scenario (NATO's actions) do not represent a danger to Russia, but in a limited war scenario they certainly do," said Alexei Fenenko of the Institute of International Security Problems at the Russian Academy of Sciences.
Ivan Konovalov, director of the independent Centre for Strategic Affairs, said the increased NATO command and communications centres could represent a threat to Russia. According to mass media reports, 40 people will work in the centres (formally known as NATO Force Integration Units) and be responsible for training and solving logistics issues.
"Such structures are needed to quickly prepare a group for a particular purpose," said Konovalov. "Now, if there are eight of them, they will be in all the Eastern European countries that border the former USSR. Basically, such centres will help create formations rather easily."
Franz Klintsevich, Deputy Director of the Defence Committee in the Russian Parliament's Upper Chamber said though Russia would react to the new NATO command centres, it would not take excessive measures.
"Moscow's reaction will be very tacit and concrete, it will be kept within the framework of the existing military doctrine," said the senator, without specifying the exact measures. Analysts interviewed by RIR felt Russia's most likely response would be to increase its military formations in the country's western regions.
Russian campaign in Syria 'will have consequences'
The NATO defence ministers also discussed Russia's military campaign in Syria at the meeting in Brussels. Stoltenberg once again criticized Russia on behalf of the West, saying that Moscow is mostly striking not sites held by Islamic State (ISIS) radical militants but "other opposition groups."
Particularly harsh statements about Russia's campaign in Syria came from Pentagon Chief Ashton Carter, who predicted that Moscow's actions "will have consequences for Russia itself, which reasonably fears being attacked."
Carter then went on to predict that Russia "will begin to suffer losses in Syria" in the upcoming days, drawing a sharp response from Russian Defence Ministry spokesman Igor Konashenkov.
"In their evaluations of America's various military campaigns conducted throughout the world, never have Russian Defence Ministry representatives stooped so low as to publicly express their expectations of the deaths of American soldiers. Not to mention ordinary Americans."
All rights reserved by Rossiyskaya Gazeta.