Russia and Saudi Arabia talk Syria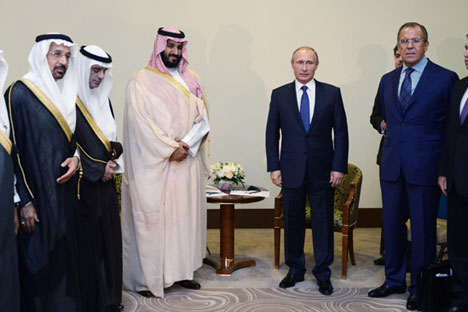 Saudi Arabia's defence minister, Prince Mohamed bin Salman (4th L), and Russia's president Vladimir Putin (3rd R), foreign minister Sergei Lavrov, and presidential adviser Yuri Ushakov (R) during a meeting in Sochi.
TASS
Russian President Vladimir Putin met with Prince Muhammad bin Salman Al-Saud, the Saudi Defence Minister in Sochi and held "candid" talks on the situation in Syria. The meeting saw an agreement on cooperation between the Russian and Saudi military and intelligence agencies, Russia's Foreign Minister said. Analysts spoke of the likely prospects of such a deal.
The Russian President Saudi Arabian Defence Minister met in Sochi recently, Russian Foreign Minister Sergei Lavrov disclosed. According to Lavrov, Russia and Saudi Arabia agreed to intensify cooperation between their military and intelligence agencies, to improve efforts to combat terrorism.
Lavrov also said Moscow and Riyadh have common goals. "The first among these is to avoid a terrorist Caliphate to triumph in Syria," he said. The second common goal with our "Saudi friends" is to achieve national reconciliation in Syria. "We discussed specific practical steps that could bring us to launching such a process," said Lavrov.
Saudi officials, speaking after the meeting, however, reiterated that their goals in this political dialogue are to create a transitional regime in Syria and to remove Syrian President Bashar al-Assad from power. Both sides said the talks were "very candid".
"One goodwill gesture is not enough"
Neither the Russians nor the Saudis gave any details about what these "practical steps" were. Ivan Konovalov, military expert and director of the Center for Strategic Trend Studies, said: "It is unlikely that Saudi Arabia, a country that has always been sharply critical of any actions made by Russia in the region, would start sharing, for example, some kind of intelligence information." In all likelihood, the Saudis have been forced to begin a dialogue with Russia after the "obvious successes achieved by the Russian led coalition [Iran, Iraq and Syria]", Konovalov said.
Russia getting militarily involved in Syria has dramatically changed the balance of power there, and "neither the US nor Saudi Arabia can continue pretending that nothing is happening", said Konovalov. He believes Saudi Arabia can put pressure on the 'moderate' opposition, and force them to unite with the government of al-Assad against the Islamic State (an organization outlawed in Russia).
"If they really do this, then such a step will most likely contribute to the speedier defeat of the Islamic State. However, in general, the goodwill of Saudi Arabia will be too little to have a serious impact on the outcome of this conflict. There are far too many external actors in this war," Konovalov said.
Favourable deal
Gregory Kosach, Arabic scholar and Professor at the Modern Oriental Department in the faculty of History, Political Science and Law, RSUH, said differences between Russia and Saudi Arabia remain. He pointed out that the Saudis insist on the full implementation of provisions contained in the Geneva-1 Protocol (obligatory removal of Assad from power, a transitional government, and a new Syrian constitution).
Once again, the Saudis have reiterated this position, "but the outcome of this meeting shows, and this is very important, that Russia is not linking its air strikes on Syrian territory with the Geneva-1 accords". "In other words, Russia has not undertaken to fulfill obligations associated with these positions," said Kosach.
It is important that all sides in the current imbroglio compromise, said Leonid Isaev, Arabic scholar and Senior Lecturer of the Political Science Department at the Higher School of Economics, and make it possible to conclude a favourable deal. The Saudis have come to understand that in this case, it is more reasonable to act in concert with the Russian Federation; they can provide coordinates of Islamic State units, and ensure that part of the Syrian opposition, which they support, will not be destroyed by Russian attacks. Russia would also benefit from such coordination in its fight against terrorism, said the Arabic scholar: "Now the moderate opposition acts as a kind of buffer between the IS and the forces of Assad. If we bomb these groups, it will only help the IS come closer to the areas controlled by government troops," Isaev said.
All rights reserved by Rossiyskaya Gazeta.