Russian Airbus A321 with 224 on board crashes in Egypt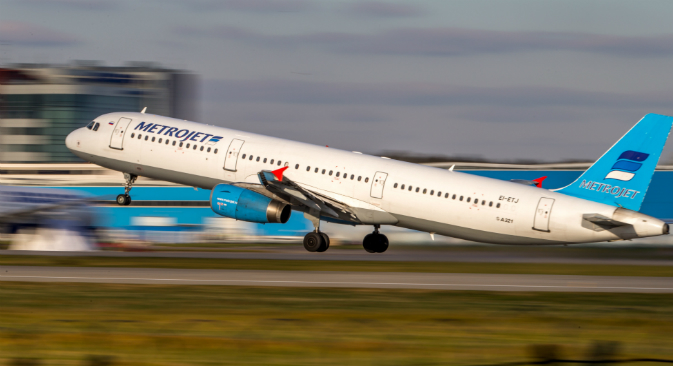 The plane vanished from radars near a mountain range in Sinai.
The Russian passenger plane that took off from the Sharm el-Shaikh airport to St Petersburg in the morning was carrying 224 people.
It was reported that the plane crashed in the central part of Egypt's Sinai Peninsula.
The Egyptian Embassy's consular department is checking the information about the Russian plane.
Egypt's PM says Russian passenger plane crashed in Sinai.
The civilian airliner that lost contact with air traffic controllers and was feared crashed in Egypt's Sinai has contacted Turkish air traffic controllers, Reuters reported on Saturday citing Ayman al-Muqaddam, the head of the central air traffic accident authority in Egypt.
Russian passenger plane was scheduled to arrive in St. Petersburg at 12:10 pm Moscow time, according to the Pulkovo airport.
The flight is operated by A321 belonging to Kogalymavia company.
Russia's Rosaviatsiya aviation agency has confirmed that the Russian passenger plane went missing in Sinai, the agency's official spokesman Sergey Izvolsky told TASS on Saturday.
"According to preliminary reports, the Airbus A320 belonging to Kagalymavia, Flight 92-68, en route from Sharm el-Sheikh to St. Petersburg has took off at 6:51 am Moscow time. At 7:14am it failed to contact Larnaca (Cyprus) and disappeared from radars. The plane carried 212 passengers and seven crewmembers," Izvolsky said.
A Russian plane that requested an emergency landing at one of closest airports shortly before disappearing from radars, a source in the Cairo International Airport said on Saturday.
The airliner was flying at 9,000 meters when the plane's captain contacted air traffic controllers and requested emergency landing due to radio station malfunction. Connection with the plane was lost after that.
Egypt rules out that the Russian plane could have been downed by militants operating in the Sinai Peninsula, Sky News Arabia reported on Saturday citing sources in security agencies.
Russian President Vladimir Putin has ordered Prime Minister Dmitry Medvedev to form a commission on Kolavia's plane crash in Egypt, the Kremlin press service reported on Saturday.
Putin has expressed his deepest condolences to the families of the victims of the plane crash.
He also has ordered Emergencies Minister Vladimir Puchkov to urgently send to Egypt rescue planes to assist at the Kolavia's plane crash site, the Kremlin press service said.
Black boxes have been found at Kolavia's A321 plane crash site in Sinai, Al Jazeera TV channel reported citing sources in Egypt's security services.
Bodies of at least 100 people recovered at crash site of Russian Airbus A321 in Egypt, Reuters reports.
63 men, 138 women and 17 children aged from 2 to 17 years were on board of the Russian aircraft that crashed in Egypt, Civil Aviation Ministry of Egypt said Saturday.
According to the reports, no survivors are yet found. Meanwhile, one of the black boxes have been found at Kolavia's A321 plane crash site in Sinai.
Earlier Egypt's Sharm el-Sheikh airport has handed documents on technical condition, pre-flight inspection, jet fuel volumes and number of passengers onboard the Russian plane.
According to the airport's administration report, all passengers and crew members were Russian citizens.
Updated at: October 31, 17:02 MT.
First published by TASS.
All rights reserved by Rossiyskaya Gazeta.