New government in Caracas threatens Russian interests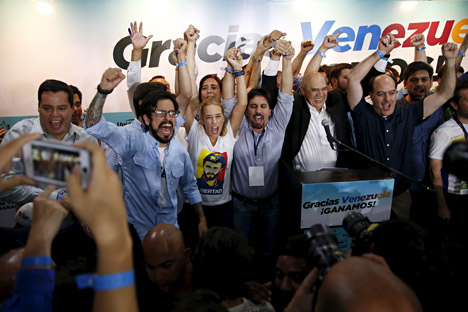 The opposition victory is not a direct threat to Russian interests in the defence sector, but it does call into question the two countries' trade relations.
Reuters
Former President Hugo Chavez's supporters have lost their majority in the Venezuelan parliament for the first time since 1999. The dramatic change in leadership could be bad news for Russia, with termination of oil contracts and loss of a substantial arms market.
A radical shift of power in Venezuela may have potentially serious consequences for relations between Moscow and Caracas, which has seen Socialists rule for close to two decades.
In parliamentary elections held on November 6, the Democratic Unity Roundtable (MUD), an oppositionist coalition of centrist parties, emerged triumphant, winning a landslide victory. While Socialist Nicolas Maduro, a friend of Russia, continues to remain president, his party's capability to influence decisions has been significantly reduced.
Venezuela today is Russia's second largest Latin American trading partner after Brazil. Trade relations between Moscow and Caracas primarily focus on cooperation in the oil and defence industries.
Active oil cooperation
Russia's state oil enterprise Rosneft, is collaborating on five joint oil production projects in Venezuela: Carabobo-2, Junin-6, PetroMonagas, Boqueron and Petroperija. According to PDVSA (the Venezuelan state-owned oil and gas company), in May this year, during Rosneft CEO Igor Sechin's visit to Caracas, the two countries signed contracts on development of deposits in the Orinoco River Valley, which many consider to be the biggest in the world, as well as other joint projects.
A big market for Russian arms
Venezuela is also an important buyer of Russian weapons. According to the Federal Service for Military-Technological Cooperation, in 2014 Venezuela's share in Russia's weapons exports was six percent (fifth in the world and highest in Latin America).
Venezuela's armed forces are almost completely, except for transportation aviation and the fleet, equipped with Russian technology. Venezuela buys Su-30 destroyers, the T-72 tanks, BTR-80A armoured vehicles, Grad multiple rocket launchers and other Russian military technology for its army. In February the TASS news agency reported that, by mid- 2013 both countries had signed contracts worth around $11 billion.
The opposition victory is not a direct threat to Russian interests in the defence sector, but it does call into question the two countries' trade relations. Having received a simple majority, the MUD may now introduce amendments to the government budget and will be able to launch parliamentary investigations against separate officials.
With the opposition in control, Parliament may also adopt laws on granting amnesty to political prisoners. The opposition now controls 109 seats, giving it the right to pass no confidence votes against the vice president or the ministers.
Meanwhile, if supporters of democratic reforms muster 112 deputies, or two-thirds of the legislative body, they will have the power to change the constitution and the composition of the Supreme Court and the Central Bank, though only with the executive branch's approval.
Analysts believe that the new parliament will want to annul PDVSA's contract with Rosneft on the development of hard-to-recover oil reserves, having called it "a forced deal." Also, the opposition has always said Venezuela is not under military threat, meaning that future military expenditure may be reduced and closer relations with the U.S. established.
First published in Russian in RBC Daily.
All rights reserved by Rossiyskaya Gazeta.