Russia seeks to turn CSTO into universal organization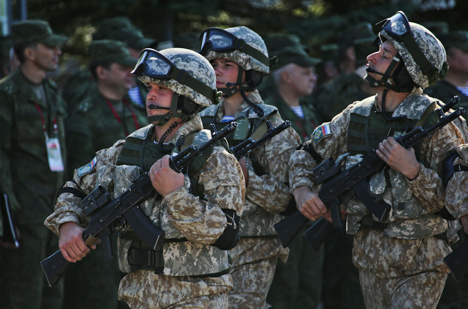 Russian troops during CSTO "Interaction-2015" drills.
mil.ru
The CSTO will be capable of countering a broad range of modern challenges and threats, Yevgeny Lukyanov said on Monday.
Russia will take steps to transform the Collective Security Treaty Organization (CSTO) into a universal international organization, Deputy Russian Security Council Secretary Yevgeny Lukyanov told reporters on Monday.
"This country will actively use the potential of regional and subregional integration in the framework of the Commonwealth of Independent States (CIS) and the Eurasian Economic Union," Lukyanov said.
Russia will "also take steps to turn the CSTO into a universal international organization capable of countering a broad range of modern challenges and threats," he stressed.
The CSTO is a regional security group comprising six post-Soviet countries - Russia, Belarus, Kazakhstan, Kyrgyzstan, Tajikistan and Armenia.
Moscow also plans to boost cooperation with partners in BRICS (Brazil, Russia, India, China and South Africa) and RIC (Russia, India and China), the Shanghai Cooperation Organization, the Asia-Pacific Economic Cooperation (APEC), G20 and other international organizations, he said.
"Russia is ready to increase cooperation and build partnership relations with the United States and countries of the Euro-Atlantic region," Lukyanov said. "At the same time, we stress that the attempts to conduct bilateral dialogue from the position of force and by increasing NATO military potential and moving the alliance's infrastructure towards Russia's borders are unacceptable."
Russia's national security strategy was updated in late 2015 to take into account the deterioration of the international situation in recent years, he reminded.
"The US and its allies continued the line towards countering multipolar world order and the centers of power that are alternative to the West. The military and political unions and economic alliances oriented towards Washington are enhanced, and the policy of regimes unwanted by the US continues being conducted around the world," he said.

The strategy also took into consideration the high level of economic and information pressure against Russia over the past years due to its independent foreign policy course, Lukyanov said.
However, unlike the United States, "we do not use the Cold War era terms and do not divide the countries into the "good" and "bad" ones, and do not declare certain states or regions as enemies or national security threats," he stressed.
The national security strategy says Russia adheres to "open, rational and pragmatic foreign policy prioritizing the principles of the international law, mutual respect of nations, their cultures, traditions and interests."
Lukyanov also noted that Russia will further focus on the issues of disarmament and compliance with the non-proliferation regime. "At the same time, it should be understood that the country's national interests underline the need to support its own deterrence potential that guarantees sovereignty and Russia's territorial integrity," he stressed.
First published by TASS.
All rights reserved by Rossiyskaya Gazeta.