Will Russia and the EU mend fences and revive friendship?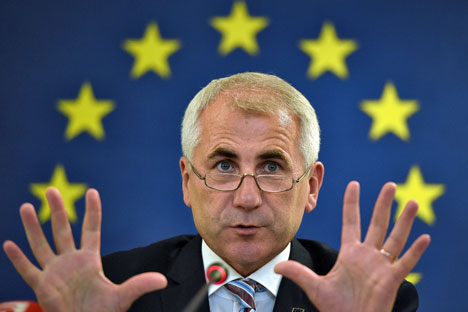 Head of the EU Delegation to Russia, Vygaudas Usackas.
Kommersant
The recent Gaidar Forum held in Moscow recently saw Russian and EU participants criticize policies of their respective capitals. Both accused each other of being unreceptive to the interests of their counterparts and acrimony prevailed despite assurances by both sides that they sought to cooperate.
A rash of mutual accusations tainted a panel discussion at the Gaidar Forum between Russian and European Union officials. Russian participants cited economic sanctions and political conditionality as impediments for constructive trade relations between Moscow and Brussels.
"Political conditions are primarily being imposed on us," said Anatoly Yanovsky, Russian deputy minister of energy. "We must decide if equal trade and economic partnership is possible between participants; one of which puts such conditions forward."
Vladimir Salamatov of the Russian Chamber of Commerce and Industry suggested that Gunnar Wiegand, the European external action service director for Russia, Eastern Partnership, Central Asia, Regional Cooperation and OSCE, practically "refused to listen" to the Russian envoy when the former touched upon technical regulations of Ukraine's trade with the Russia-led Eurasian Customs Union.
Political tensions have diminished the trust of Russian exporters to EU clients, speakers said. "I must admit that the number of requests the Russian business community makes to insure exports to Europe has increased exponentially," said Pyotr Fradkov, general director of the Russian Export Centre.
Stumbling block
The inadequately fulfilled Minsk Accords and the controversy surrounding Crimea makes up the bulk of the EU's discontent with Moscow. The EU refuses to recognize Crimea as part of Russia and has adjusted its trade and investment policies towards Moscow accordingly.
Russia's Ukraine policy makes the EU implement measures that negatively affect trade between Moscow and Brussels, opined Vygaudas Ušackas, head of the EU's delegation to Russia. Exports from Russia to the EU have diminished by 37.7 percent since 2014, said Alexei Likhachev, first deputy minister of economic development of Russia.
"The road from Vladivostok to Lisbon goes through Kiev," said Ušackas, while Likhachev referred to Minsk as the primary route to Europe for Russia.
Moscow's decision to introduce counter-sanctions undermined the Russia-led Eurasian Economic Union (EAEU), according to Ušackas. The diplomat questioned Russia's ability to combine its import-substitution policies with WTO and EAEU obligations.
"In relations between the EU and Russia we have the reserves, desire and will, but we also need a shared vision and naturally – mutual trust," said Ušackas. "Unfortunately, we do not have a shared vision yet and trust is severely damaged."
Hope for a brighter future
Rhetorical battles notwithstanding, the speakers acknowledged the need to promote dialogue between Moscow and Brussels, including in the trade and energy sectors. The EU remains Russia's main trade partner in spite of the economic sanctions and a recent decline in bilateral trade.
Russia still exports up to 70 percent of its hydrocarbons to the EU. Moscow and Brussels continue cooperation in the spheres of education and product safety standards. "We have not reached the point of no return with the EU," added Likhachev.
According to the speakers the Russian business community is interested in normalizing relations between Moscow and Brussels and keeps working with its EU partners.
"A barrier-free and comfortable business environment will eventually be designed," said Likachev. "The question is which generation of politicians will fulfill these expectations. I personally would not want to us to delegate such important problems to anybody."
The Gaidar Forum is an annual platform for officials, analysts and business elites to discuss Russia's role in the world. The forum was held in Moscow at the Russian Presidential Academy of National Economy and Public Administration from January 13-15.
All rights reserved by Rossiyskaya Gazeta.