India lauds Russia as BRICS Chair, ready to assume baton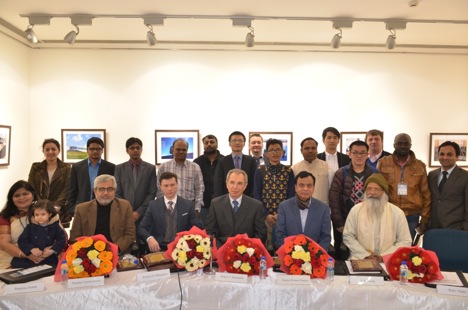 Participants of the international conference on "BRICS: Evolution from an acronym to a global player".
RCSC
Participants at a conference on the future of BRICS, held in the Indian capital, appreciated Russia's efforts to forge greater cohesion in the organization during its tenure as Chair of BRICS. India is set to take over the chair of the five nation group from Russia next month.
As it gets ready to assume the Chair of BRICS, India has appreciated Russian efforts as Chair of the organization comprising Brazil, Russia, India, China and South Africa over the past year. Participants at an international conference on "BRICS: Evolution from an acronym to a global player", which opened January 27th in the Indian capital, repeatedly lauded initiatives taken by Russia to cement the organization.
Leading experts on foreign policy issues, prominent public figures, graduate students and students of major universities in the country, including those representing BRICS countries attended the three-day forum, organized by the political science centre BRICS International Forum and the International Federation of Indo-Russian Youth Clubs.
"With the opening of the conference at the Russian Cultural Centre in New Delhi, we symbolically celebrate the upcoming February transfer of Chairmanship in the BRICS from Russia to India," said Poornima Anand, president of both associations that organized the event. "During the past year, Russia has successfully fulfilled its mission, actively contributing to the strengthening of international prestige and influence of this new geopolitical force, and India is ready to take up the baton at such a high level from her," she said.
During the three days of debate, conference participants are discussing issues like tasks of the BRICS Development Bank, increasing cooperation in the fields of education, healthcare, advanced scientific and technological research and innovation, as well as strengthening of cultural, tourism, and sports contacts.
"The main objective of the BRICS is to realize hopes and aspirations of the peoples, based on the principles of equality and justice," Raj Reddy, prominent public figure and Chairman of the Aurobindo Emmadi International Fund, told TASS. "The crucial thing for India is that this union assists in overcoming the continuing serious problems in health and education, as well as the eradication of poverty."
Nandan Unnikrishnan, vice president of the Observer Research Foundation think tank, in an interview with TASS, said "the BRICS is not only, and not so much, a forum for solving internal problems of its five constituent countries. The BRICS was created to change the format of existing global governance, to one based on the principles of equality and justice," he said. "This is the fundamental task on which our governments are working. Essentially, they are defending the common or similar positions on topical issues that today concern all humanity."
The chairmanship of BRICS passes from Russia to India in February.
First published in Russian by Euronews.
All rights reserved by Rossiyskaya Gazeta.