US benefits from sanctions against Russia: Foreign Ministry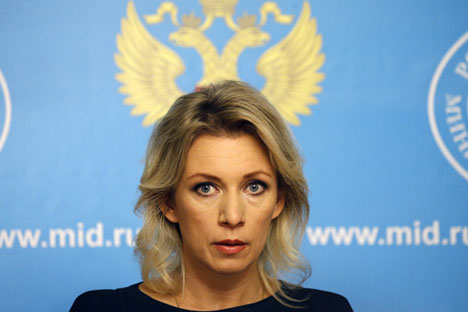 Russian Foreign Ministry spokesperson Maria Zakharova.
EPA
Russia was thrown back decades in relations with its natural partners in Europe while the US managed to develop trade cooperation with Russia, Russian Foreign Ministry's official spokeswoman Maria Zakharova said.
The European Union (EU) "has demonstrated the lack of its own voice and loss of identity," Russian Foreign Ministry's official spokeswoman Maria Zakharova said in an interview with "Argymenty i Fakty" newspaper published on Wednesday.
"I used to think better of European policy, I used to think it was stronger. It is clear that the United States has been pressuring them, but one should not bend under pressure," Zakharova said talking about West's sanctions against Russia. "The European Union lost from sanctions. The United States benefited. It was them who called for isolating Russia but Russia's trade turnover with them has grown at the same time. We were thrown back decades in relations with our natural partners while the US across the ocean managed to develop trade cooperation with us. Fantastic! Make your conclusions on who benefits from this," she noted.
"Sanctions were imposed on exclusively far-fetched political pretexts that have no true underlying reasons. Sanctions policy, from our point of view, is an absolutely ineffective, dead-end method, if we are not talking about the UN Security Council resolutions. Unilateral sanctions imposed with the aim of exerting pressure are the relic of what we want to leave in the 20th century. Apart from everything else, several European countries are suffering in this situation as it slows their economic growth," Zakharova went on.
Commenting on the EU's recent decision to lift sanctions from Belarusian president Alexander Lukashenko after 10 years in place, the diplomat noted that this additionally "creates the impression of sanctions policy's absolute foolishness." "On the one hand, they tried to politically pressure Belarus accusing it of all sins and saying it is non-handshakable. On the other hand, world leaders visited Minsk regularly. This dualism led to a dead-end," she explained.
"Several Western politicians think that sanctions are a wise and effective means", Zakharova said. "We all see how wise and how effective it is. No matter which way you look at it, the European Union does not get any points from this," she concluded.
Western sanctions, Russian response
The West, inspired by the United States, subjected Russian officials and companies to the first batch of sanctions, including visa bans and asset freezes, after Russia incorporated Crimea in mid-March 2014 after a coup in Ukraine in February.
New sectoral penalties against Russia were announced in late July over Moscow's stance on Ukrainian events, in particular what the West claimed was Russia's alleged involvement in hostilities in Ukraine's embattled South-East.
Russia responded with imposing on August 6, 2014 a ban on imports of beef, pork, poultry, fish, cheese, fruit, vegetables and dairy products from Australia, Canada, the EU, the United States and Norway.
The Russian authorities have repeatedly denied accusations of "annexing" Crimea because Crimea reunified with Russia voluntarily after a referendum, and Moscow has repeatedly dismissed Western allegations that it could be involved in hostilities in the South-East of Ukraine.
First published by TASS.
All rights reserved by Rossiyskaya Gazeta.