Seeking dialogue with Moscow, NATO moves troops closer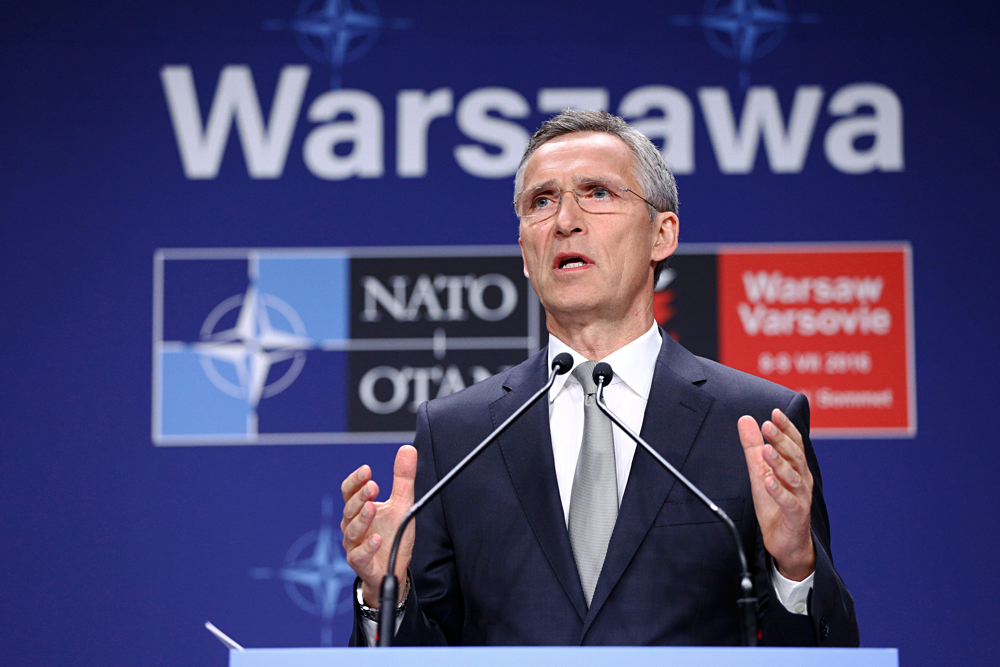 NATO Secretary General Jens Stoltenberg speaks at a news conference during the NATO Summit in Warsaw, Poland, July 9, 2016.
Reuters
NATO's actions have been described by Russian military analysts as "they want peace but are preparing for war." Moscow, however, will not be taking retaliatory measures against the alliance after its recently concluded summit in Warsaw.
NATO is set to deploy four additional battalions in Poland and the Baltic states, with a total of 4,000 service personnel being deployed on a rotational basis as part of the scheme.
While Moscow has expressed its displeasure at the decision, formally announced at the bloc's summit in Warsaw on July 8-9, the move is not technically in breach of the 1997 Russia-NATO Founding Act. Under that agreement, NATO undertook not to deploy "large military contingents" close to Russian territory.
The North Atlantic Treaty alliance member states also announced that the European element of the U.S. missile defence plan had entered the basic level of combat readiness. This means that U.S. naval forces on the Rota base in Spain, radar systems in Turkey and interceptor missiles in Romania have begun to jointly function to counter potential threats to the alliance.
Meanwhile, U.S. warships will continue to enter the Black Sea, a move which is likely to again provoke a negative reaction from Moscow. These issues and Moscow's displeasure will be conveyed at an official session of the Russia-NATO Council, which convened on July 13.
The NATO leadership has already declared its intention to adopt a number of "trust-building measures." These include activation of transponders (the friend or foe identification systems) aboard NATO and Russian warplanes, as well as signing an agreement for prevention of incidents in the air and at sea. If these agreements are reached, some key tensions in Russia-NATO relations would have been removed.
Relations so far are far from calm. U.S. President Barack Obama, writing in a Financial Times column ahead of the NATO summit, placed the threat to Europe's territorial security from Russia on a par with the threat posed by Islamic State militants.
Russia's Foreign Ministry spokesperson Maria Zakharova responded saying that "NATO was living in a politico-military fantasy" and "focusing its efforts to deter a non-existent 'threat from the East'."
The view from Russia
Vladimir Yevseyev, a military specialist and deputy head of the CIS Institute, said since the start of the Ukraine crisis, NATO has acquired a purpose that had gone with the breakup of the Soviet Union; that of the need to oppose Moscow.
"Politically, the non-existent 'Russian threat' and the real challenges from Islamic State militants will help the alliance to unite in the face of 'Brexit' and similar centrifugal forces in Europe," he said.
The outcomes of the summit are moderately negative for Moscow, Yevseyev felt: They could have been far tougher but they could not have been any softer.
"It is a compromise in a way. Formally, readiness to cooperate is declared, though what is being pursued for real is not so much a policy of containment as a policy of intimidation towards Russia. They want peace but they are preparing for war," said Yevseyev.
Viktor Murakhovsky, security expert and editor-in-chief of the Arsenal Otechestva (Arsenal of the Fatherland) magazine, said Russia would not be taking any additional steps in response to NATO's actions and political statements.
"The Defence Ministry is guided by the real military potential of our NATO partners rather than by statements from their leaders or politicians," he said, pointing out that the Kremlin would continue to work to develop the Russian armed forces through 2025.
"As part of this plan, new units are being deployed in the Western Military District and a large-scale rearmament of the troops with the newest weapons and equipment is under way," said Murakhovsky.
As part of the countermeasures already being taken, Russian Defence Minister Sergei Shoigu said in January 2016 that three new divisions (peacetime divisions, of under 13,000 servicemen) were being formed in the west of the country to counter NATO's decisions, officially adopted at the summit in Warsaw.
Will NATO reach Asia?
In the meanwhile, the United States and NATO may be eyeing Asia, Yevseyev warned.
"The U.S. administration realizes that in order to preserve politico-military supremacy on the world stage it is necessary not only to bolster its levers of influence in Europe but also to transfer them to Asia to contain the emerging threat from China," he explained.
Yevseyev went on to add that Washington had already started building 12 destroyers equipped with guided missiles to strengthen its naval groups in the Asia-Pacific region.
"Under the cover of deteriorating relations with Russia, the U.S. will gradually be moving into the Asia-Pacific region. This trend will become even stronger with the arrival of a new president, irrespective of who wins the election, Trump or Clinton," said Yevseyev.
All rights reserved by Rossiyskaya Gazeta.