Was Putin's visit to Berlin worthwhile?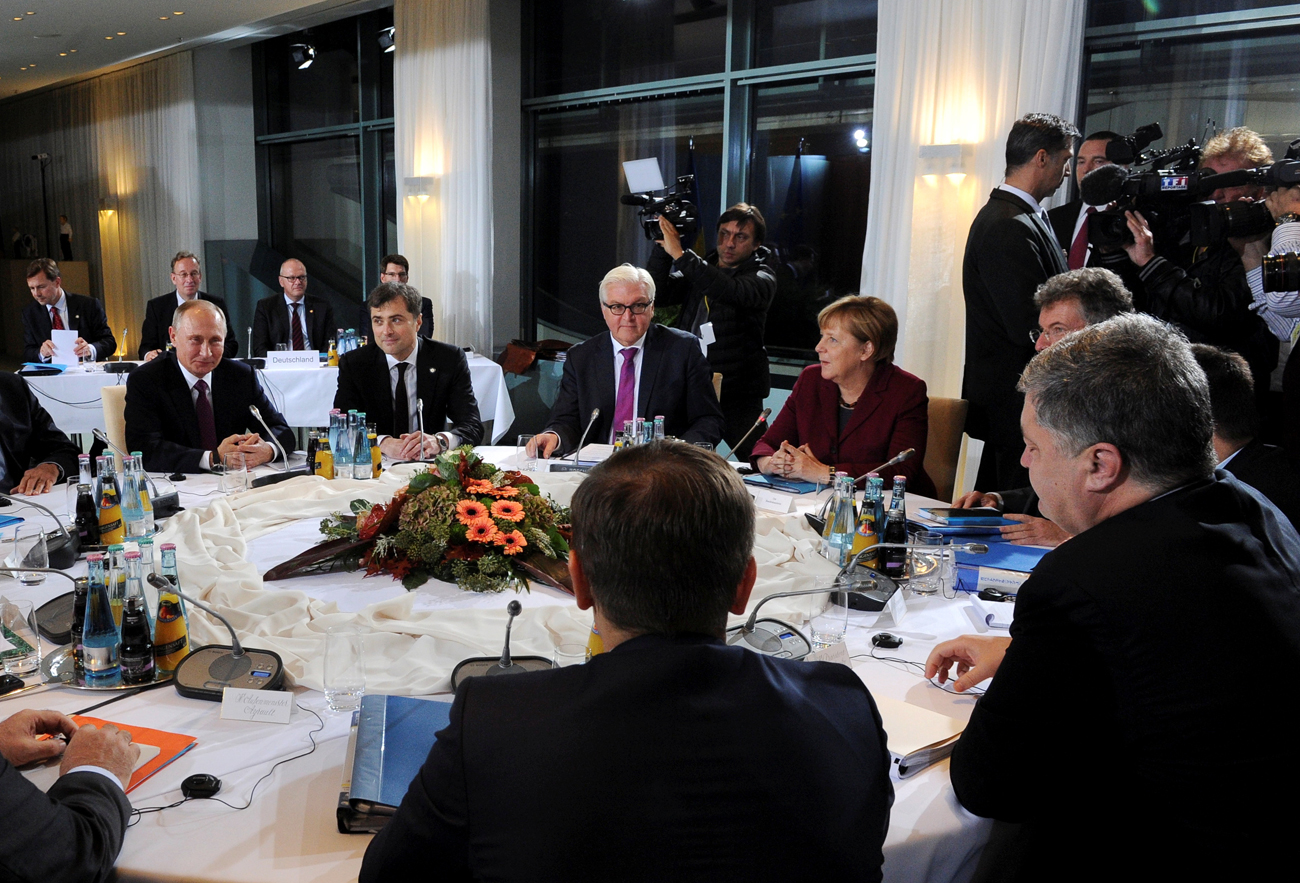 Russian President Vladimir Putin, German Foreign Minister Frank-Walter Steinmeier, German Chancellor Angela Merkel and Ukrainian President Petro Poroshenko attend talks on a stalled peace plan for eastern Ukraine at the Chancellery in Berlin, Germany, October 19, 2016.
Reuters
As widely expected, the meeting of the Normandy Four in Berlin on October 19 did not yield any breakthroughs to settle the crisis in eastern Ukraine. Russian analysts believe that the Normandy format is ineffective for bringing change, and that Vladimir Putin went to Berlin not so much to talk to Poroshenko but to meet the European leaders.
From the outset, the meeting of the leaders of Russia, Ukraine, Germany and France in Berlin on October 19 did not promise any breakthroughs. Russia and Ukraine have been accusing each other of failure to implement the Minsk accords. The Kremlin confirmed President Vladimir Putin's visit just a day before the talks. Earlier, the Russian president had expressed doubts about whether the meeting would be productive.
Kiev, too, was skeptical. Ahead of the meeting, Konstantin Yeliseyev, deputy head of the Ukrainian presidential administration, said that progress was unlikely.
"One should not think that a miracle will happen," he said.
No way out of Donbass deadlock yet
As foretold, no miracle happened. No documents were signed at the end of five-hour talks. An announcement was made stating that a new 'roadmap' to resolve the situation in Donbass would be drawn up within a month.
Despite the cautiously optimistic assessments from the participants in the talks – Putin said all the leaders were committed to the Minsk accords, while (Petro) Poroshenko stressed that there was no alternative to the Normandy format – analysts point out that fundamental disagreements between Moscow and Kiev remain.
"Russia's relations with Ukraine continue to be strained and if it had been about a dialogue with Kiev alone, Moscow would most likely have refused to take part in the meeting," said Sergei Karaganov, head of the World Economy and World Politics Department at the Higher School of Economics. Karaganov is convinced that Poroshenko cannot and does not want to fulfil the part of the Minsk accords related to elections in the Donbass and amnesty for separatists.
Timofei Bordachev, programme director at the international discussion club Valdai, agrees with Karaganov.
Ukraine is not set for dialogue. "The Ukrainian side is openly saying that it is waiting for a new president to come to the White House and expects that this president will be Hillary Clinton, which will make it possible to switch to a confrontation scenario once again," Bordachev told RIR.
To support Merkel, to make peace with Hollande
Analysts are convinced that Putin went to Berlin not to speak to his Ukrainian counterpart.
"This meeting is not about Poroshenko but about talking to the Europeans, and on a wide range of issues related not only to Ukraine but also to Russian-European relations and Syria," said political analyst Sergei Mikheyev.
Ukrainian pundit Mikhail Pogrebinsky told Kommersant FM radio station that one of Putin's aims was to support the German chancellor, who had organized that meeting.
"He decided to save Merkel from the part of an embarrassed organizer whose plan has flopped. He must want something [from Merkel]," Pogrebinsky said.
Mikheyev noted the importance that Germany has for Russia.
"Germany is the most economically influential EU country, and Russia has a lot of trade with it. That is why it is important to maintain relations and not to ruin them unnecessarily," he said.
Mikheyev also said it was important for Putin to talk to French President François Hollande after the Russian president cancelled his visit to Paris last week.
"The Normandy Four meeting is a good excuse for Putin and Hollande to meet, to clear the misunderstanding that arose between them," the pundit said.
Syrian issue
After the four-party meeting involving Poroshenko was over, Putin, Merkel and Hollande again discussed the bombing of Aleppo being carried out by Russian and Syria aviation. The German chancellor and the French president did not rule out the possibility of introducing new sanctions against Russia. Moscow said that the humanitarian pause in Aleppo had been extended and sought a separation of terrorists from the opposition.
Karaganov is skeptical about the prospects of a dialogue on Syria with the European leaders, but welcomed the very fact that the talks took place.
"France and Germany do not have real levers for influencing the situation in Syria, where the key role on the Western side belongs to the USA. But a discussion would do no harm – why not have it? One should not miss a chance to have a dialogue," he told RIR.
All rights reserved by Rossiyskaya Gazeta.