Nepal in SCO opens new opportunities: Tolstoy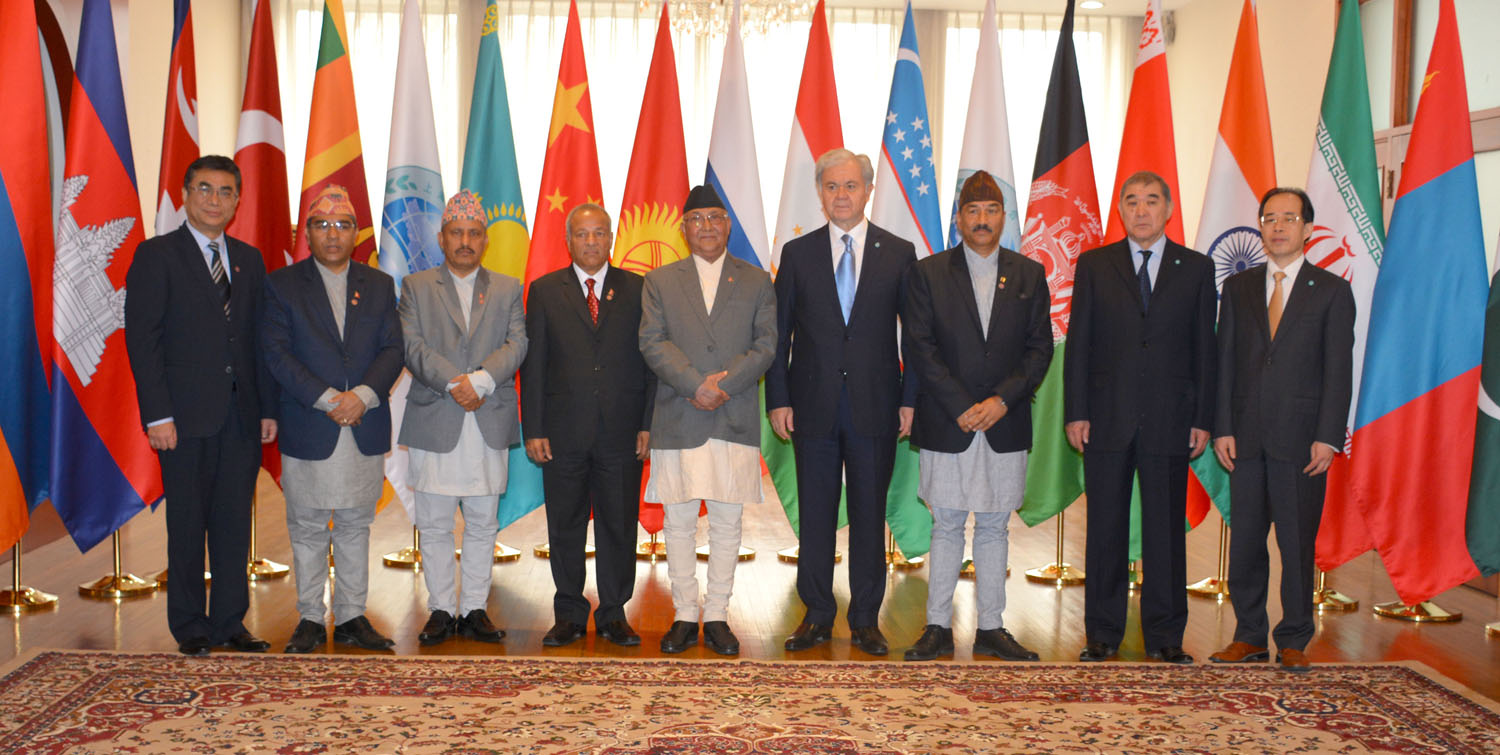 Prime Minister K.P. Sharma Oli of Nepal (5th left) at the SCO headquarters in Beijing.
rus.sectsco.org
Nepal's status as a dialogue partner country of the Shanghai Cooperation Organisation (SCO) will open up new vistas of cooperation with Russia and the organisation.
The participation of Nepal in the work of the Shanghai Cooperation Organisation (SCO) should open up new vistas and perspectives for all member countries of the organization, said Pyotr Tolstoy, the vice-speaker of the State Duma, during a meeting with a parliamentary delegation from Nepal.
Tolstoy said the trade and economic partnership between Russia and Nepal now lags far behind their political partnership, his press service stated.
"For us it is very important that Nepal has recently joined the SCO, and we hope that this will open up new opportunities, new prospects for cooperation in areas such as trade, energy, investment in all the countries of the Shanghai Cooperation Organization," said Tolstoy, quoted by his press service.
He noted that he was placing particular hope in the bilateral working group on energy.
Tolstoy also pointed to the progress in the strengthening of bilateral relations between Russia and Nepal.
"I mean the agreement that was signed in February 2015 in Moscow between the Russian Government and the Government of Nepal on the settlement of mutual financial obligations and the requirements associated with the transactions of the former Soviet Union," said the parliamentarian.
He said he was hoping for further harmonization of a few documents that are currently pending consideration in the Nepalese capital Kathmandu.
The Chairman of the Nepal Parliament Onsari Gharti Magar said that "political relations are very good, but in economic terms we really have something to work on."
She added that the recently adopted new Constitution in Nepal lays the groundwork for the federal structure of the country.
"Once again I want to express words of gratitude to the Russian Federation and the State Duma, for the support provided to us and to our Constitution. The Russian Federation is a multi-ethnic country, your Constitution is one of the leading constitutions of the world. According to our new Constitution, Nepal has been transferred to the federal structure of the state, so we have something we can learn from you, for example, the state system", concluded Magar.
Speaking of the necessity of bilateral cooperation at all levels, Tolstoy said Nepal recently hosted the 'Days of Russian Culture' festival. "We are ready to hold the Days of Culture of Nepal in Russia", he said.
Nepal has the status of an SCO partner country in dialogue, along with Armenia, Azerbaijan, Cambodia, Turkey and Sri Lanka.
Founded in 2001, the SCO includes Russia, China, Kazakhstan, Kyrgyzstan, Tajikistan and Uzbekistan. The procedure to admit India and Pakistan in the SCO was launched in 2015.
First published in Russian by RIA Novosti.
All rights reserved by Rossiyskaya Gazeta.