A very Russian New Year: Champagne and celebrations in Sochi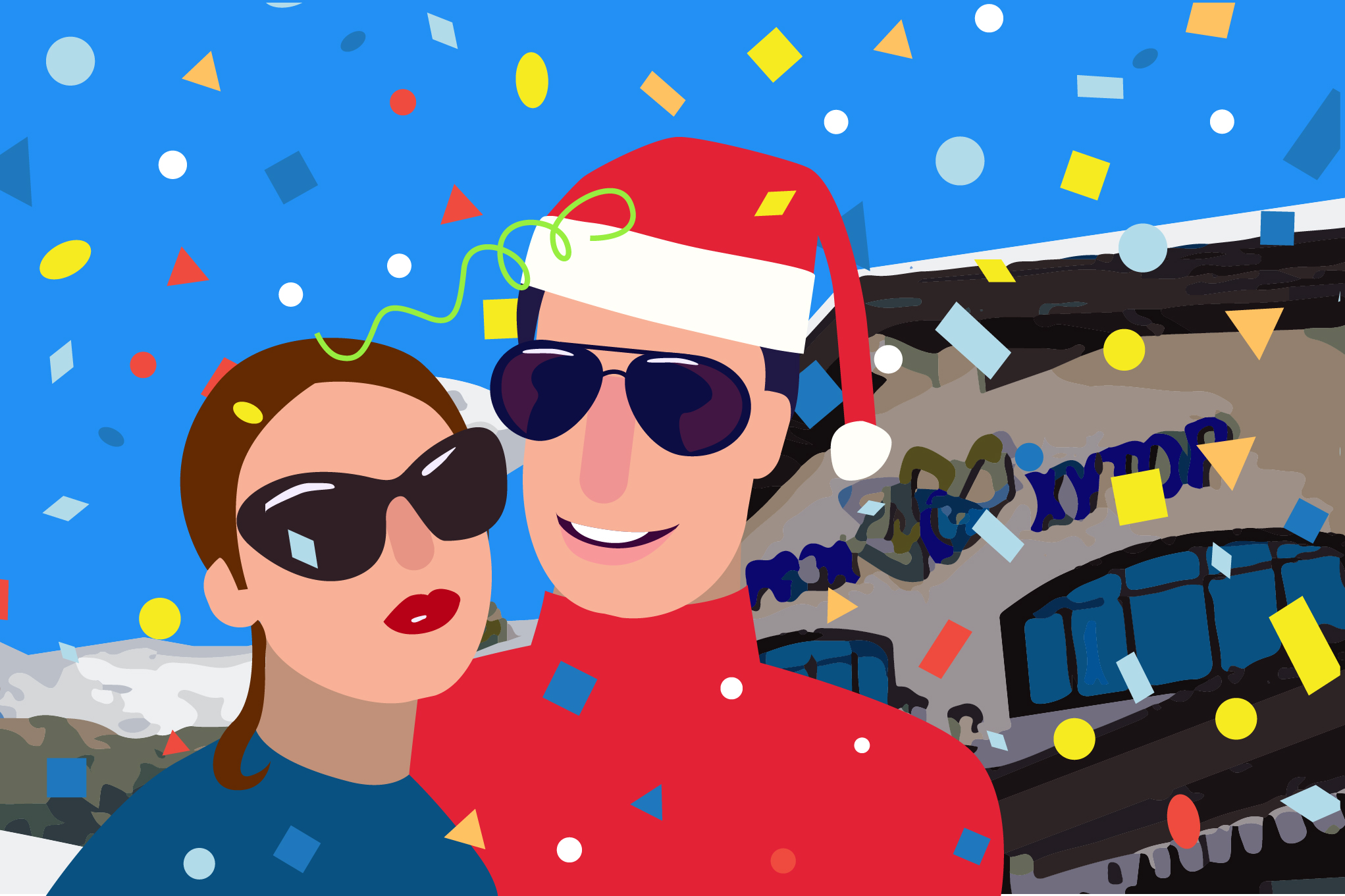 "My Russian wife and I usually celebrate the New Year in my hometown Budapest, but last year we decided to immerse ourselves – and me primarily – in a truly Russian New Year."
Alena Repkina
A Hungarian businessman explores the culinary and cultural intricacies of a real Russian New Year in Sochi's mountain resort of Krasnaya Polyana.
Although I am not a Russian or Muscovite by origin, I have spent more than two years living in Moscow and I have had a fair share of my local experiences over this period. I have been to an oligarch's son's farewell party before going to the army (worth a story of its own), and I have sung "dacha blues" while chopping wood in the middle of a country road at 3 a.m. for no apparent reason other than the numerous shots of moonshine that preceded this.
But all these experiences fade in contrast to what it means to celebrate New Year with the Russians, like a Russian. All festive effort in Russia is centered around the last day of the year. Russians work right up to the 31st with a lengthy holiday awaiting during the first 8-10 days of January. It's safe to say it's the most important of holidays in Russia. Russians are famous for their incredible feasts in general, but the New Year's menu truly tests the strength of the dining tables and the people sitting around it.
Sochi staycation
My Russian wife and I usually celebrate the New Year in my hometown Budapest, but last year we decided to immerse ourselves – and me primarily – in a truly Russian New Year. Not willing to give up our preference for snowboarding, we opted for a staycation in Sochi's beautiful, modern and in all possible ways positively surprising mountain resort, Krasnaya Polyana.
We arrived a few days before New Year, when the locals are still at work, so for four full days we essentially took possession of the empty resort, which was covered by fresh daily powder, overlooking the Black Sea under the bright sun.
By the 30th of December more and more people started arriving in the village of Roza Khutor, and preparations for next day's festivities were clearly visible, with stages being erected, decorations being installed and test runs for fireworks and firecrackers seen and heard more and more often.
Our idea of a true Russian New Year's Eve did not end with simply benefitting from the winter wonderland built around us and the festive atmosphere created by the locals. We tackled this holiday with a do it yourself and can-do attitude, with a firm commitment to making every effort of participating in and experiencing as many traditional items on the New Year list as possible.
Food and films
I quite like cooking in my free time so I took it upon myself to attempt to recreate a truly Russian festive table. I wouldn't say I slaved away for hours (and the ice-cold vodka shots definitely helped with the kitchen duties) but in the end I managed to present an "Olivier" salad, blinchiki with red caviar, vinaigrette salad, a platter of everything pickled, herring and salmon and a cheese platter – all with a striking resemblance to the real deal, of which I am still very proud.
A meal is not complete without entertainment and this is another area where we really wanted to go all out with being local. Nothing embodies Russian holiday-time television more than the classic Soviet rom-com The Irony of Fate. Unfortunately and very surprisingly, none of the TV channels were showing it that night, but we did find another classic with the beloved Soviet film character Shurik: Ivan Vasilievich: Back to the Future. Movies such as this one are a real trip back in time (and not only for Ivan) to an era of cinematography ruled by smart comedy, quality acting and plot twists, as opposed to the current times.
The main event
Films on New Year's Eve finish a little before midnight, just in time for that third (or fourth or fifth or...you get the point) bottle of Sovetskoye Shampanskoye to be popped open for when Vladimir Putin takes to the virtual stage – the TV screen of millions of households – and delivers his traditional New Year's address. I certainly didn't want to miss this highlight of the night, which turned out to be positive, uplifting and at times even humorous.
Once Putin raises his glass, it is a race against time down to the main square from our holiday apartment to get there exactly as the clock strikes midnight, raise our own glasses and firecrackers and wish everyone around us – friends and strangers – a happy and prosperous New Year.
The night, of course, doesn't finish here, in fact, judging by the deserted slopes in the resort on the morning of the 1st, it only starts at this point. There is no shortage of parties around the village in all the bars and hotels, where locals and foreigners can shake their booties and dance into the new year to tunes ranging from Kobzon and Pugachova to Leningrad and TaTu.
My memory of what comes after starts to fade a bit, but enough to say it was a wonderful New Year celebration filled with tradition, culture, food, dance, champagne and everything one could wish for – definitely to be repeated.
Andras Karpati, a graduate of the London School of Economics born in Budapest, is currently managing a real estate development firm in Australia. He spent two years in Moscow with his Russian wife in 2012-2014, teaching English and working as a freelance legal adviser.
All rights reserved by Rossiyskaya Gazeta.