'Visual Planet' photo exhibit at the RCSC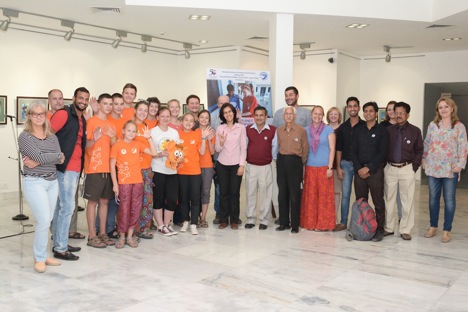 "Visual Planet—Deaf Geography" (India 2014—2015) photo exhibition.
RCSC
An exhibition of photographs showcasing activities of hearing impaired school children opened at the Russian Centre for Science and Culture.
A Photo Exhibition, "Visual Planet—Deaf Geography" (India 2014—2015), within the framework of the International Social Project "Visual Planet", opened at the Russian Centre of Science and Culture (RCSC) in New Delhi on November 12, 2014. The Photo Exhibition was organised by the RCSC jointly with and Visual Project and 31 CP Sports Club.
The photos displayed at the exhibition showcase activities of hearing-impaired (deaf) students at schools in Dudore, Pushkar, Ajmeer, Mussoorie and Rishikesh. The photographs clearly demonstrate how their disability has not been a handicap to express and display their talent, creativity and imagination.
Alexey Sukhopar, Managing Director of the Visual Planet, said the main aim of the project is to involve people with hearing disabilities in travel and sporting activities, to develop the Deaf Olympics Movement and exchange of experiences in the field of training and education for students from India and Russia.
Pradeep Kumar Gautam, Secretary-General Orienteering Federation of India, was Chief Guest for the event. Kajal Dhawan from the Confederation of Indian Industry, a dynamic person with an auditory disability and winner of the President's Merit Certificate was Guest of Honour.
A group of people and students led by Alexey Volkov, head of the expedition, and Julia Sukhopar, Development Director, Visual Planet, attended the event. Sukhopar recalled the excellent response received from various schools for disabled students in India and the unique experience of the team during the expedition last year and this year. She lauded the support and cooperation provided by the RCSC in organising the Photo Exhibit.
Arseny Starkov, Chief Consultant, Information & Culture, RCSC, welcomed the gathering, and outlined the objectives of the Project.
All rights reserved by Rossiyskaya Gazeta.