Art Camp at the RCSC in New Delhi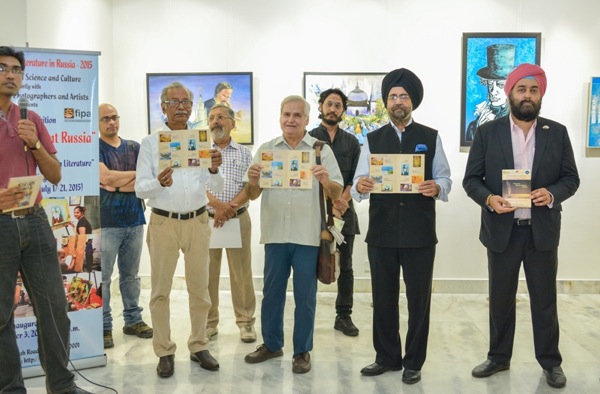 A month-long exhibition of paintings, entitled 'Indian Artists Paint Russia,' was inaugurated at the RCSC in Delhi, showcasing some of the best works from the 5th Annual Art Camp held earlier this year.
An Exhibition of Paintings of the best works from the 5th Annual Art Camp (held from July 17-21), was inaugurated at the Russian Centre of Science and Culture (RCSC) in New Delhi on September 3, 2015. The exhibition, entitled "Indian Artists Paint Russia", is based on the theme "Treasures of Russian and Indian Literature." The month-long exhibition, dedicated to the 'Year of Literature in Russia 2015,' has been organised jointly with the Forum of Indian Photographers and Artists (FIPA).
Participating in the inaugural function were S.R. Gohri, Senior Artist-Painter-Teacher, Niren Sen Gupta, former Principal, College of Art, Delhi, Chandra Sain Gora, Executive Member, Foundation for Policy & Governance, Tharminder Singh, Secretary, Indian Chamber of Commerce, Vimal Mehta, President, FIPA, Aakshat Sinha, FIPA Representative, Major Dalbir Singh, Secretary, AICC, and Purnima Anand, General Secretary, International Federation of Indo-Russian Youth Clubs.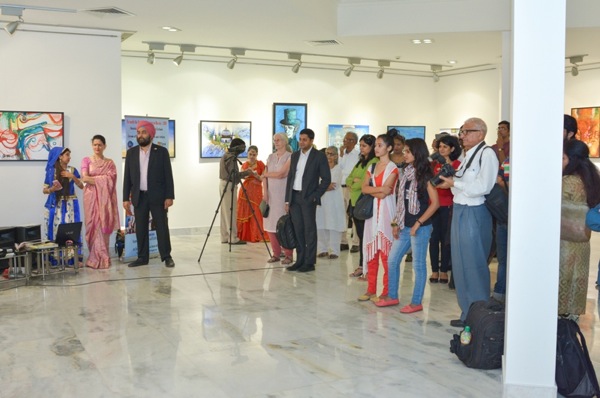 Source: RCSC
Fedor Rozovskiy, Director, RCSC, congratulated the artistic talents and their unique contribution to the promotion of bilateral cultural cooperation. Welcoming the guests, Arseny Starkov, Chief Consultant, Information and Culture, RCSC, spoke of the special efforts taken by participants of the Art Camp and the Painting Exhibition, particularly co-organiser FIPA, to make the project successful.
Gohri and SenGupta appreciated the creativity of the artists, whose paintings were lively and expressive. Mehta spoke of the successful conduct of Art Camps with the RCSC's support and encouragement, and suggested that the project be taken to other Indian cities in future.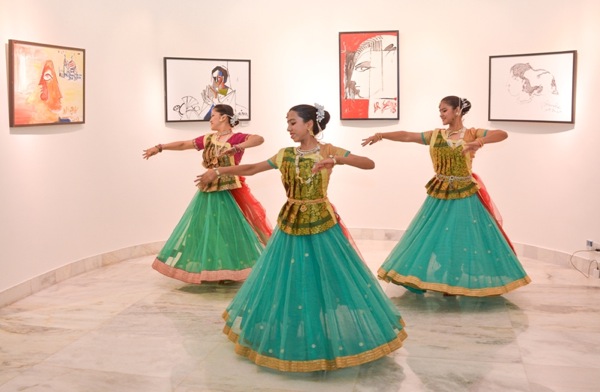 Source: RCSC
An important highlight of the exhibition was a performance of Kathak dance by disciples of Anu Sinha, noted Kathak exponent and Founder-Director of Krishnakala & Education Society. A Russian artist, Ms. Margarita, presented a dance item, much appreciated by the audience.
A Catalogue "FIPA-RCSC 5th Annual Art Exhibition: Indian Artists Paint Russia" was released on the occasion. Artists who participated in the Art Camp and whose paintings were displayed at the exhibition, were felicitated and presented with certificates.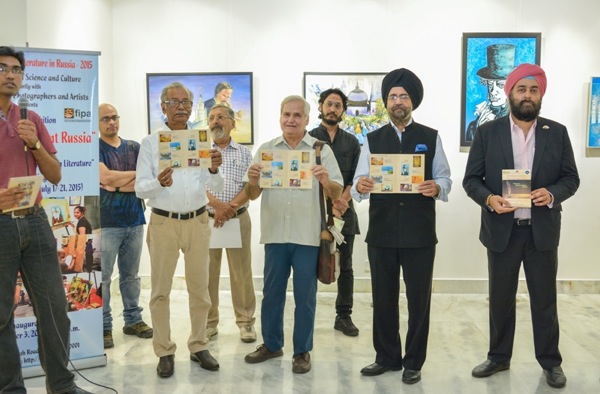 Source: RCSC
Askshat Sinha and Vimal Mehta were interviewed by All India Radio's Rainbow FM and Delhi Darshan on details of the Art Camp and Painting Exhibition.
All rights reserved by Rossiyskaya Gazeta.