Doping allegations: IAAF provisionally suspends Russia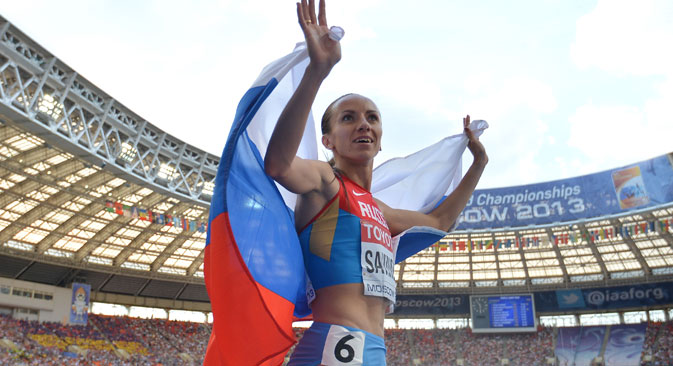 Mariya Savinova (Russia) after the final 800 meters race at the women's World Championships in Athletics in Moscow.
Ria Novosti/Ramil Sitdikov
Russia's track and field stars risk missing the 2016 Rio Olympics.
The Council of the International Association of Athletics Federations (IAAF) said it has provisionally suspended the All-Russia Athletic Federation (ARAF) with immediate effect. As a result, Russia's track and field team risks missing the 2016 Summer Olympics in Rio de Janeiro.
The IAAF has also banned Russia from hosting major sports events, including the 2016 World Race Walking Team Championships in Cheboksary and the 2016 World Junior Championships in Kazan.
"These sanctions can be lifted only if the Russian side makes serious changes. There can be no promise regarding Rio 2016," IAAF President Sebastian Coe said in a statement.
"Unless ARAF voluntarily accepts a full suspension, the IAAF is entitled to proceed to a full hearing on whether the provisional suspension should be made a full suspension," the IAAF said in a statement. "To regain membership to the IAAF the new federation would have to fulfill a list of criteria. An inspection team led by Independent Chair Rune Andersen, an independent international anti-doping expert (Norwegian) and three members of the IAAF Council who will be appointed in the next few days."
On November 9, the World Anti-Doping Agency (WADA) released a report alleging that Russia has for a long time been involved in "state-sponsored doping." On November 10, WADA suspended the accreditation of the Moscow Doping Center, which is being accused of destroying more than 1,400 samples.
Russian Sports Minister Vitaly Mutko has rejected the WADA accusations, saying that Russia is not the only country to have a problem with doping, and that its isolation would not resolve anything. He also declared Moscow's readiness to carry out reforms. "Russia is a sporting nation and its [anti-doping] standards should be considerably better than in other countries. We agree with this and are ready to take all the necessary efforts," he told R-Sport news agency.
Following the WADA report, President Vladimir Putin instructed the Sports Ministry to conduct its own investigation.
Read more: Russian sports facing Olympic ban over latest doping scandal
All rights reserved by Rossiyskaya Gazeta.