Medvedev Takes Financial Plan to Evian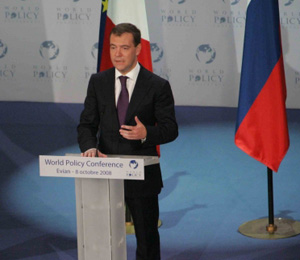 President Dmitry Medvedev pushed Wednesday for a larger role for Russia in global financial decision making at an international economic gathering in Evian, France, the same day trading on Russian stock exchanges was closed for two days after they suffered falls of more than 10 percent.
A day after Moscow grabbed a bit of the spotlight by offering to negotiate a $5.4 billion bailout loan with NATO member Iceland, Medvedev outlined five measures the international community should take to facilitate a global economic recovery and stressed that the European financial community had to include nonmembers during this time of crisis.

"What has been happening threatens now to undermine the stability of global development," Medvedev said at the World Policy Conference, a gathering of world leaders. "This multilateral meeting will make it easier for us to ensure the stability and competitiveness of our economies and create a new atmosphere for our relations."

While devoting part of his speech to Moscow's desire for a new international security framework, Medvedev stressed the need for cooperation between all global markets, calling the current financial difficulties "international in character."

"Russia will actively promote the process of healing the world financial system and not only within the framework of the Group of Eight," he said. "The G8 has already been unable to accomplish this."

Russia's Central Bank was absent from a list of institutions, including the European Central Bank, the U.S. Federal Reserve and the central banks of Britain, Canada and Sweden, that announced a coordinated lowering of interest rates Wednesday.

Moscow's MDM bank said later Wednesday that Russia would likely follow suit, Bloomberg reported.

Medvedev listed other BRIC countries, Brazil, India and China, as well as Mexico and South Africa, as nations that should be included in discussions and criticized what he called the "unipolar" economic model of the 1990s.

"Its mainstays - the International Monetary Fund and World Trade Organization - seriously discredited themselves at that time," Medvedev said.

As part of a plan for the revitalization of the global economy, Medvedev called for five measures: the systemization of international regulatory institutions; a correction of the "financial bubbles" created by miscalculated real yield investment rates; a strengthening of the risk management system; increased corporate disclosure and transparency; and the deregulation of international trade.

"There's a need to make the benefits generated by removing trade barriers and the free movement of capital available to everyone," Medvedev said. "Unfortunately, we are realizing this need now, by going through the crisis, experiencing a decrease in quality of life and business stability."

While Medvedev was calling for change on the world economic stage, the country's markets were frozen, with trading suspended for the 10th time in three weeks after the MICEX and RTS lost more than 10 percent during their first half-hour of trading.

The ruble-denominated MICEX Index fell 106.9 points, or 14.4 percent, to 637.9 points - its lowest level in 3 1/2 years - before regulators stepped in 30 minutes after it opened and halted trading until Friday.

The dollar-denominated RTS dropped 96.6 points, or 11.3 percent, falling to 761.6 points. At 11 a.m., regulators announced plans to suspend trading for an hour, only to extend the freeze until further notice.

MICEX CEO Alexei Rybnikov compared the Russian equities market's 67 percent loss this year to the 1929 stock market crash in the United States, Bloomberg reported."It's pretty much the same thing," Rybnikov said.

Tom Mundy, equity strategist at Renaissance Capital, said the regulators made the right call.

"With all the nervousness, I think the markets closing did make sense," Mundy said, noting that falling oil prices continued to undercut investor confidence. "Really, it's all about fear and about panic."

With the markets closed, Mundy said it was interesting that Medvedev went to France to make his pitch and that the country is talking about a loan for Iceland.

"I think there's quite a lot of politicking going on," Mundy said. "It's a strong geopolitical statement for Russia to be able to lend money to bail out a NATO member when no one else is able to. That is a sign of Russia's willingness to participate on the global stage."
---
Previous articles on the topic:

Russian president to promote new security treaty for Europe

Video blog of Russian President
All rights reserved by Rossiyskaya Gazeta.