Solzhenitsyn's Collected Works to appear over the next few years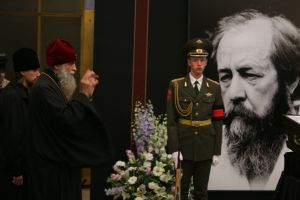 The great Russian writer and thinker Aleksandr Isaevich Solzhenitsyn, who died last spring at his home outside Moscow, would have turned 90 on December 11. Solemn ceremonies and events in Russia and around the world marked the date.
Solzhenitsyn left behind such an enormous body of work that, according to his widow, Natalia Dmitrievna Solzhenitsyna, it will barely fit into 30 volumes. Solzhenitsyn's entire Collected Works are scheduled to appear over the next few years. "And that still leaves the reminiscences, the personal notes, and a voluminous correspondence, which will take years to publish," Solzhenitsyna said.

"To the extent possible, all of this will appear on Aleksandr Isaevich's site, which will launch on his 90th birthday," Solzhenitsyna added. "To start, we will put the texts of some of his works there; these will be the reference texts, with the author's editorial corrections and comments."

Speaking of the 30-volume Collected Works, Solzhenitsyna stressed that her husband had assigned her the task of seeing its publication through.

Solzhenitsyna also said that in 2009 a previously unknown work, called Dnevik Romana (`The Diary of a Novel'), would appear. "That is the title Aleksandr Isaevich gave the work and it was not meant to be published. It consists of the notes Solzhenitsyn made while working on The Red Wheel. They fill two large notebooks - about 200 pages each. The first note was made in 1960, the last in 1991.

"These are very much working notes - an indispensable place for Solzhenitsyn to air his arguments with himself, his doubts, considerations, evaluations of the veracity of different sources, and his choice of artistic means. Since he wrote for himself in the years before he was banished, he encoded names and events. That is why I am now working on an explication of the text," said Natalia Dmitrievna.

Solzhenitsyna also plans to publish all the audio recordings of Solzhenitsyn reading his own works. She said that the Solzhenitsyn Prize, a non-governmental Russian literary award made possible by the Solzhenitsyn Foundation, would continue to be presented.
---
Read more:

One life in the last days of Alexander Solzhenitsyn

The First Circle: The dramatic story of a dramatic novel

End of an Era

Alexander Solzhenitsyn: What Can We Manage?

Literary Giant Solzhenitsyn Dead at 89
All rights reserved by Rossiyskaya Gazeta.