Discoveries on the eastern railroad (Part 1)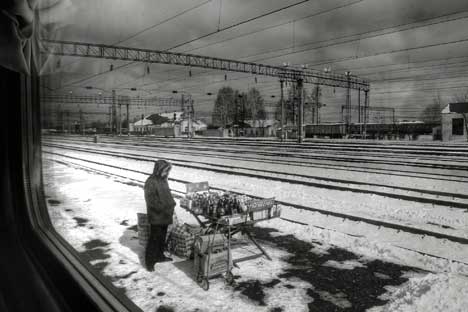 "I think I will leave this behind. I already have one and it's almost June," I said to Anya as I struggled to stuff the second sweater in my already over-flowing backpack.
"No!!!" she protested. "It will probably be cold especially on the train." I eventually obliged.

"You took an umbrella, right?" Even before I could answer, the look on my face betrayed my mistake.

"You're going all over Russia without an umbrella?" Anya asked.

"Well, I have no space in my backpack now. And I'm used to heavy monsoon downpours," I smiled, somewhat unconvinced myself.

I rushed to say my goodbyes to her and her family, but instead found myself talked into sitting down with my feet slightly lifted off the ground. Anya explained that this Russian tradition is followed to ensure that the person leaving has a safe and successful journey.

I was about 45 minutes away from Saint-Petersburg's Moskovskii Vokzal at Ploschad Vosstaniya from where my train to Nizhnii Novgorod was to leave in just under an hour.


Nizhnii wasn't my final destination; it was, in fact, the first stepping stone on my 10,000 kms long journey to Vladivostok in the far-east of Russia on the Trans-Siberian Railway (TSR). My tightly-packed itinerary would have made it extremely difficult, for me, to get back on track in time. Moreover, this wasn't Switzerland or the Euro-Rail, where if I missed a train some "Raj" would magically show up and we'd drive around in a red-convertible cooing, "Ho gaya hai tujhko to pyaar sajna..." This was Russia and the Rossiskaya Zhelezhnaya Doroga (Russian Railways) and things can get rough here.

Trains in Russia are almost always fully booked and the chances of successfully getting a seat on the next train, especially, for a long distance journey are next to nil. Even if such a seat exists, it would not be in the cheapest class, 'plastkartni', which in-turn would lead to a two-fold problem. Firstly, the next higher class, 'kupe', is about twice as expensive and secondly, as a woman travelling alone, it's much safer and smarter to get a plastkartni seat in a sleeper-wagon carrying 54 passengers rather than in a nicer compartment with 3 potentially very questionable characters! The only way to recover would be to take a flight (because those within Russia aren't always full!) but then one must pay an astronomical amount and strike certain cities off the itinerary.
On the metro to Ploschad Vosstaniya, the enormity of my decision of doing the Trans-Siberian trip had started to sink in. A few years ago, a friend had mentioned that it's the longest railroad in the world that covers about 1/4th of the Earth's circumference. The TSR, constructed between 1891 and 1913 under the orders of Tsar Alexander III and then Tsar Nicholas II, was Imperial Russia's attempt to link the rich but neglected lands of Siberia and Far-East to Western Russia and consolidate the `continent'. While it's true that without the TSR, Siberia and the Far-East would have remained wild and poorly-populated land-masses, it is also true that without the TSR, Russia may have lost these well-endowed regions to Japan, China or the British through the Indian subcontinent. Thus, if the TSR gave life to Siberia and the Far-East, it gave an important life-line to Russia as well.

The traditional Trans-Siberian route runs 9,288 kms between Moscow and Vladivostok, which even if you don't make any stops takes almost a week to complete! The two other sister lines are the Trans-Mongolian and Trans-Manchurian lines, which break off from the mainline at Ulan-Ude and Chita to head to Ulaanbaatar (Mongolia) and Beijing (China) respectively.
The route I had chalked out for myself was going to be slightly different. I was going to start from Saint-Petersburg and head straight to Nizhnii Novgorod, where I would join the main-line and continue on the traditional route to Vladivostok; this would total up to 9,967 kms, going from being next to Finland to being next to Japan!

Just like you can't know what India is all about by seeing only Delhi and Mumbai, you can't taste Russia in Moscow and Petersburg alone! Therefore, the TSR was my gateway to the largest country in the world and I was going to stop at 7 cities over the next 19 days to get a better idea of what she was all about (Plus, I have very little faith in my ability to just sit in a train for 7 days and retain my sanity!).

But how does one pick cities on the Trans-Siberian route? I would say that would be a matter of chance and taste. I decided on Nizhnii as my first stop because a friend had been there and loved the city. Nizhnii is on the banks of River Volga and is adorned by a magnificent Kremlin!

My next stop was to be Perm, a city that in the words of Lonely Planet's Trans-Siberian Railway, "most travellers could bear to miss". The truth is that Perm, itself, has perhaps little to offer a curious eye but about 80kms from Perm is located the ominous and only surviving piece of the Gulag* Archipelago, Perm-36, which is now a Museum to the victims of Communist terror. (*Gulags were Soviet forced labour-camps).

Next on the itinerary was Yekaterinburg. Recently in news as the host-city of the latest BRIC summit in June 2009, it is the undisputed capital of the Urals and a city one should visit even if not on the TSR. This was where Tsar Nicholas II was assassinated with his family in July 1918. The Romanovs are now Martyr-saints and there is a Church of the Saviour at the site of Ipatiev House, where the Bolsheviks executed their unsuspecting victims. Yekaterinburg's bloody history may have piqued my interest but I was very happy to discover that the city has a lot more going for itself!

After Yekaterinburg, my next main stop was going to be Krasnoyarsk in Siberia but to avoid a 2 day journey to Krasnoyarsk; I decided to break it into two one-day rides by making a short stop at Omsk. My motives of stopping at Omsk, probably won't sell it to potential tourists but I have to say that this was the city that surprised me the most!

Krasnoyarsk, even the locals say, lacks the dynamism of the more traditional stop, Novosibirsk, the capital of Siberia. But I picked it over the latter because a friend, who had been to Novosibirsk, said there wasn't much to see there. Krasnoyarsk, on the other-hand boasts of an attractive setting on the Yenisei River and is skirted by forested foothills. Krasnoyarsk's biggest attraction is the Stolby Nature Reserve, home to giant volcanic rock pillars, located around 20 kilometres south of the city centre.

Next stop was Irkutsk, the nearest big city to Lake Baikal. Baikal - the pearl of Siberia; the deepest lake in the world; an ocean in the making that over thousands of years will split the Asian continent! In hindsight, I can safely say that Irkutsk, on its own would never have attracted so many tourists (especially foreigners) had it not been so conveniently located with respect to Baikal. Baikal, on the other hand, is just an inspiration and when asked whether or not it lives up to the hype, it surely does!

Last and final stop - Vladivostok! But between Irkutsk and Vladivostok, one has to brave 73.5 hours on the train i.e. just under half the time taken to complete the entire Moscow-Vladivostok leg! If I was going to lose my sanity anywhere, it was going to be here!

"What can someone do on a train for 3 days?" That was the question I asked myself when the metro arrived at Ploschad Vosstaniya and I ran out to Moskovskii Vokzal. With about 20 minutes to spare, I managed to but some food and water for the journey and rushed to Platform 5, where Train 059AA gruntled and counted-down to departure. The ticket-checker matched my passport number and name to that on my ticket and welcomed me aboard. Still short of breath, I found my seat and was very happy to see that I would be travelling with a woman and two men in my little plastkartni `open' compartment.

"Zdravstvuitye!" I greeted them, breaking the first rule my friends had set for me - "Don't talk to strangers!"

As a woman travelling alone all across Russia, I had every adjective from crazy to brave thrown at me in the previous few weeks. But I didn't think of myself as crazy or brave. I had already travelled on long-distance trains (though not alone) to Volgograd and Murmansk so I knew exactly how to survive on trains. And Russians are extremely friendly and caring, and precisely such people would become my family over the next 19 days!


Trans-Siberian Railway Scenes


All rights reserved by Rossiyskaya Gazeta.