Discoveries on the eastern railroad: Nizhniy Novgorod and Perm (Part 2)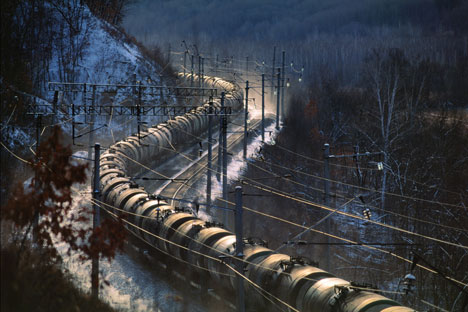 I stepped out of Nizhniy Novgorod's Gorky railway station and found myself standing opposite the most trusted sign of civilisation - a giant McDonald's `M' sitting on top of a mall. I had pictured Nizhniy as a small and, I dare say, `unhappening' city but this sight alone had raised the bar! Within the first 10 minutes, Nizhniy revealed she could not be conquered on foot. Later, I found a bus that would take me to the centre to Nizhniy's biggest attraction - the Kremlin.
Every layer of the city added to the excitement of getting closer to the centre. For a change, Lenin Square was not in the middle of the city. Lenin's statue looked more relaxed than in Petersburg and Moscow. And this time, Lenin wasn't alone either. To his left were tiny metal members of the proletariat, referred to as "reptiles" by the locals! The Kravinsky Bridge, spanning the Oka river, connects the two parts of Nizhniy while the Oka snakes below and surrenders her embankment to the bigger Volga.

The Kremlin's gates ushered me into the massive grounds that housed local government buildings and, more importantly, museums, cathedrals and war monuments. My personal favourite was the `Museum of People's Unity', a one-room miracle at the Ivanovskaya tower that retraced Nizhniy's steps through the Mongol invasions, the Times of Trouble and its rise to an important trade centre.
"How much is one student ticket?" I asked the supervisor. He looked up at me through his glasses and grey fringe, and said, "For our students, it's 20 roubles, but for international..." "...Nu ya vasha," I interrupted, showing my St Petersburg State University student card. No one can appreciate price discrimination more than students in Russia - even compared to prices for international students, students enrolled in Russian universities pay a fraction! "So where are you from?" he asked. This is my favourite question because it always leads to royal treatment. And it did!

I would have loved to explore all his suggestions, but, considering I was there for just a day, I had to stick to my itinerary and head to Flat 3, 214 Prospekt Gagarina. This is where Soviet Nuclear Physicist and Nobel Laureate Andrei Sakharov was imprisoned under internal exile from 1980-86 for criticising the USSR's invasion of Afghanistan. Today, the flat is the Sakharov Museum and has exhibits on his life, work and the support extended by Vladlen Pavlenkov of US-based `Freedom of Communications' to ensure that Sakharov's struggle was known to the world, and to lobby with the Gorbachev administration for his release.

I spent the afternoon walking about `Shvitsariya' (Switzerland) - a park nearby running at least a couple of kilometres along the Oka embankment. I snailed my way through the city and got to Gorky Square. During the Soviet period, Nizhniy was named Gorky after the Communist writer, Maksim Gorky, and in the middle of the Square is a small park with a statue of the city's former namesake.
Yamal was a big mistake! This could unarguably have been the Russian Railways' best train, with immaculate velvet cushioned seats, brand new fittings and linen that could turn the best of us into Sleeping Beauties! That's why Yamal was a mistake - any train after this was going to be a disappointment and I had five more to go before getting to Vladivostok!

14 hours later, I stepped onto Perm's soil. "Perm is a city most travellers could bear to miss." My first steps in the city saw me already echoing my guidebook's sentiments! I had expected Nizhniy to be small; instead, she surprised me with her size and energy. And now, when I thought Perm would be like the Nizhniy I saw, Perm was determined to be the Nizhniy I had initially imagined.

I checked into Hotel Ural on Lenin Street, the city's spine, and almost immediately started exploring. I didn't feel the city had much to offer a tourist except, perhaps, an attractive setting in the Urals and a lot of theatres and philharmonic concert halls! But the people factor was the unexpected winner. Everyone from the hotel staff to random people on the street was very friendly and ready to go out of their way to help! But there was bummer - Perm was freezing and my two sweaters were finally coming in handy! The lack of tourist attractions didn't bother me much. After all, Perm was just an excuse to go to Perm-36, the only surviving Gulag (Soviet forced labour camps) museum, located in Kutchino village about 80 km east. That's where I headed the next morning.


Lyubov Tretiakova, a co-ordinator with Perm-36, had organised my visit. She suggested which buses to take from Perm and even sent her car to pick me up from the point where the road to the museum branched off from the bus's route. Moreover, when I got there, she said she would drop me to the next village, 20 km away, from where I could get a bus back to Perm. Narrow wooden plank beds; single toilets shared by over 50 people; possibility to take the day off only if temperature dipped below -55˚C; worn-out shoes and gloves; electric fences; one-year old Larissa's grave - this was Perm-36.

On my way back, as the bus moved along the grassy hills sprinkled with yellow flowers, I remembered Lyubov mentioning that Perm-36 is primarily funded by the Perm regional government, which in turn must receive some funds from the Kremlin. It suddenly occurred to me that the journey from Nizhniy to Perm was a lot longer than the thousands kilometres I had covered a couple of days ago. It was the journey from Sakharov's exile for speaking against the government to the restoration of a former Gulag camp dedicated to the victims of political repression with support and funding from the very same government!

The West doesn't acknowledge this journey and I don't know what former Gulag prisoners think of it either. It's probably not enough. But, at least, like a foetus's first heartbeats, it is alive!
All rights reserved by Rossiyskaya Gazeta.