Independent directors try filming on donation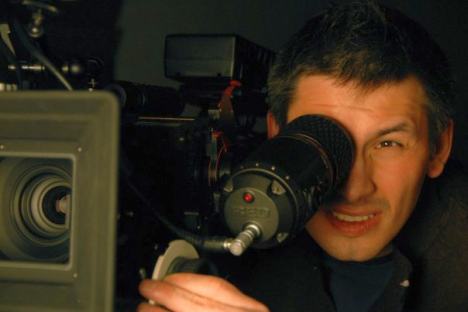 Yan Vizinberg directed "Cargo," which was made with a budget of about $500,000. The producers hope to raise enough money via Kickstarter, an Internet fundraising platform, to take it into distribution.
Why did you decide to make "Cargo" as a feature film rather than as a documentary?

This is a medium that appeals to me more, and we thought a feature film would generate more interest. Anything dramatized is more interesting to the general
public.
Read more about the film:

You were a reporter when you graduated from Boston University?

I actually went to film school [Boston University] intending to be a filmmaker but got a job at a news studio as a reporter for about three years.

Why are Natasha and most of the young women trafficked in the story — and their traffickers — Russian or Eastern European?

Obviously I am Russian and I am exposed to this part of the story, and it is easier for me to indentify with her. But she could have been from any country. I know there were a lot of questions at the showing [at George Washington University] about why there are more women trafficked from Eastern Europe. The area is not as stable and not as protected. People, and women especially, are trying to move to better places. These women are vulnerable and are easier to attack.

And why was Sayed, the driver for the traffickers, Egyptian?

I made the character an Egyptian Muslim to open that gap. For Sayed, all of these women are fallen and sinners and he doesn't separate between dancer or stripper or prostitute. We wanted to put these two together. If they were from the same culture it would not be that interesting. We wanted these two enemies to end up understanding each other.


His story
Nationality: Russian
Age: 36
Studied: Film production

An award-winning director and cinematographer with a decade of experience, Vizinberg has worked on television commercials for major international brands, such as Lufthansa, Bulova, the U.S. Army and DIRECTV.

He has also served as producer and director of photography on many film and documentary projects, including "Who Gets to Call it Art?", "Saints and Sinners," "Khachaturian" and "Moment in Time." "Cargo" is Vizinberg's first feature film.

He is also a co-founder of Persona Films, the New York-based production company behind "Cargo."

Born in Moscow, he splits his time between New York and London.
You chose to let the women speak Russian and use subtitles, even though you know the presence of subtitles can affect a film's chances in American theaters.

I hope when Russians see this they see she is Natasha; she is not Nicole Kidman dressed up pretending she can't speak English.

I could never identify with films where they would speak in English with a Russian accent; it's almost a circus, like comedy. For a U.S. audience, an accent adds flavor, but then the actors have to pretend and put on a fake Russian accent.

What do you want people to come away with?

We tried to make a drama in which two enemies come to a certain understanding.

We know that Sayed is going to take the bullet for her and that he will be changed profoundly enough to complete his mission. By the end of the trip, he is a different person. He is facing himself and he is not doing it for any other reason than the fact that he has become a shell of himself. Natasha made him face the situation and open up.

What do you hope will happen from your Kickstarter campaign?

Kickstarter allows you to raise awareness with your friends: You tell them, "This is what we are going to do. Would you like to help us fund it?" The people who donate money become soldiers in your promotional war. We have people donating $500. It is also a way to attract attention.

We are trying to raise $23,000, and we are hoping to promote the film with posters on bus stops, and book a theater for at least a week.

I think what is happening with filmmaking now is what has happened with music. Literally anyone can make a movie. Now the problem is getting to the audience. We are sort of in that marketing game before production begins.
All rights reserved by Rossiyskaya Gazeta.