United Russia takes first, but loses constitutional majority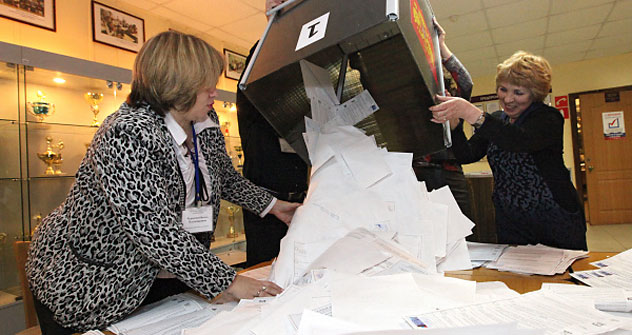 While the ruling United Russia party finished far ahead of rivals in Sunday's vote, its drop in popularity means it will have to form voting coalitions with political opponents for the first time since 2007.
At the time of publishing, the preliminary results of Russia's parliamentary elections (held on Sunday, December 4) released by the Central Elections Commission were as follows:
United Russia – 49.54%
Communist Party of Russia – 19.16%
Just Russia – 13.22%
Liberal Democratic Party – 11.66%
Yabloko – 3.3%
Patriots of Russia – 0.97%
Right Cause – 0.59%
Click to view the big image
This maintains the ruling United Russia party's leading position in Russia's lower house of parliament, the State Duma, but is much lower than the 64.3% it achieved during the last elections in 2007. The party can now count on approximately 220 of the 450 seats in the State Duma, down from the current 315. The remaining seats will be proportionally divided among the other three parties that crossed the 7% threshold.
Most importantly, Russia's ruling party has lost its 2/3 constitutional majority, which allowed it to alter Russia's constitution without the support of any other political parties.
"We will have to form agreements through coalitions and blocs [in the next State Duma]. This is democracy. Our partners from other parties have said they are prepared to do this, and that makes me very happy because it means our democracy is strengthening," commented President Dmitry Medvedev, who headed United Russia's party list, at party headquarters.
Free and Fair?
"We remember what everyone was saying before: [United Russia] has a constitutional majority, in all likelihood it will manipulate the elections to maintain its dominant position. [Instead United Russia] performed adequately; it represents roughly 50% of our population, pending final results. It's the result of real democracy in action, no matter what anyone says," said Medvedev.
"[These elections showed] the authorities and ruling party have clearly understood that…if they try to inflate their results, they will have the opposite effect and lose trust among the population," commented former opposition politician and Duma deputy Irina Khakamada.
Yet not everyone is satisfied. "Let's not forget that a number of politicians lost before the elections even started," commented Igor Yurgens, head of the Institute for Contemporary Development, a Medvedev-backed think tank. "I'm talking about P.A.R.N.A.S. and others." Yurgens was referring to the Party of National Freedom (P.A.R.N.A.S.), a coalition of opposition-minded politicians that was denied registration as an official political party by the Justice Ministry earlier this year.
"We have received thousands of calls from regional offices, confirming massive violations and fraud," the BBC reported Communist Party deputy head Ivan Melnikov as saying.
Police detained over 170 protesters with various political backgrounds in downtown Moscow throughout the course of the day.
The Next Five Years
This is the first State Duma to be elected for a term of five (instead of four) years following constitutional amendments passed in 2008. The next elections, scheduled for 2016, will have a lower threshold for entrance: five percent, which may clear the way for more parties to gain representation.
"In Spain, Greece and a number of other countries, ruling parties were voted out of office this year. We managed to maintain our leading position," commented Boris Gryzlov, one of United Russia's leaders and currently Speaker of the State Duma. The party has controlled the largest proportion of seats in the State Duma since 2003.
"United Russia remains the largest political force to make it into the State Duma. It performed adequately and in proportion to its political influence. The next Duma will reflect the real balance of political forces in the country," said Medvedev.
"But we'll only drink champagne once the final results are announced," he added.
Over 700 foreign observers were officially following the elections in Russia. Voter turnout was recorded at just over 50%, with two million absentee ballots filed by Russian citizens outside the country's borders.
All rights reserved by Rossiyskaya Gazeta.