Better Prokhorov than protests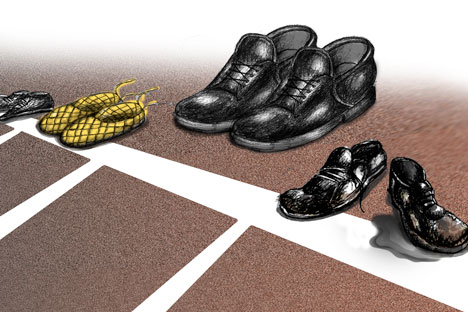 Prokhorov is ready for the race. Drawing by Niyaz Karim
Although Mikhail Prokhorov's candidacy may come to nothing, allowing him to run will make the whole political process seem more legitimate and get people off the streets.
After taking a break from politics following his scandalous withdrawal from the Right Cause party, billionaire Mikhail Prokhorov has decided to seek the Russian presidency. Politically, the announcement of his decision came at the right time––right after rallies in Moscow, St. Petersburg and other Russian cities in which thousands protested against vote tampering in the Dec. 4 State Duma elections. Although officially the authorities insist that violations weren't nearly as significant as the Russian Internet is trumpeting (as a rule, bloggers are more politicized and opposition-minded than the average Russian), a substantial part of the educated "creative" class was insulted by the gross election fraud. Moreover, there is at present no political party that appeals to this segment of Russian society, which chief Kremlin ideologist Vladislav Surkov recently called "disgruntled urbanites."
United Russia does not suit them, as they consider it to be a party of functionaries. Many of the creative class cast a protest vote, either for Just Russia or even the Communist Party, although neither of these parties has a vision for Russia's development anywhere near the aspirations of the emerging middle class. Clearly, the tendency of people to vote for anyone other than the authorities is a clear symptom of an overall unhealthy political system. In this context, "disgruntled urbanites" really do need their own party to turn their civil activity into something more sensible and meaningful than rallies in frosty weather. And then, out of nowhere, Prokhorov appears.
The ambitious oligarch's attempt to avenge himself (he blamed his scandalous severance from Right Cause in September on the Kremlin, and on Vladislav Surkov personally) was so hasty that he apparently failed to complete the requisite formal procedures. Russian electoral legislation is quite stringent, and more than one self-proclaimed candidate has been mired in it. Furthermore, it is widely believed that in the last ten years, not a single independent candidate who wasn't more or less approved by the Kremlin or nominated by any of the parliamentary parties has managed to officially register and see his name on the ballot.
Prokhorov was supposed to file an official statement of intent to become a presidential candidate with the Central Election Commission by Dec. 10. At the time of this writing, there was no information that he had handed in his application, not even from the commission itself. Then, by Dec. 15 he is supposed to form a team of 500 people (officially, according to strict requirements), who will nominate him as presidential candidate. And yet despite difficulties, these steps are not impossible. Last week, another independent candidate, writer and oppositionist Eduard Limonov, gathered 500 signatures in the Moscow cold, as he had been denied meeting space at the last minute. The following phase is the hardest: by Jan. 18, a candidate that has not been nominated by a parliamentary party (Vladimir Putin has already been nominated by United Russia, Gennady Zyuganov by the Communist Party, Sergei Mironov by Just Russia, and Vladimir Zhirinovsky by the Liberal Democratic Party) has to collect 2 million signatures from across Russia. The Central Election Commission has extremely strict signature authenticity criteria, and there have been many occasions in Russian politics when independent candidates were rejected because signatures in their support were disqualified. Prokhorov claims that he has been busy for the last 10 weeks building an infrastructure to collect even 2.5 million signatures.
Let's assume that it will be easier for Prokhorov to overcome these obstacles, for the simple reason that the incumbents will benefit from his very appearance on the political scene. It will enliven the presidential elections, which many had until recently assumed Vladimir Putin would win by a landslide in the first round, leaving gloomy "extras" Zyuganov, Zhirinovsky and Mironov behind. Now it looks more intriguing, because a fresh new figure has been added to the group of "extras" – one who is capable of winning over most, if not an overwhelming majority, of protest voters. This will be enough to make the entire political process seem more legitimate – and therefore enough to calm down the protestors.
This does not even mean that Mikhail Prokhorov will succeed in preventing Putin from winning in the first round. But it does mean that many of the discontented will find that it's better to vote for "fresh" Prokhorov than support outdated Zhirinovsky and Zyuganov or, even more so, to freeze in the cold during street rallies.
Georgy Bovt is Moscow-based political commentator.
All rights reserved by Rossiyskaya Gazeta.