McFaul gets final "green light" on his long road to Moscow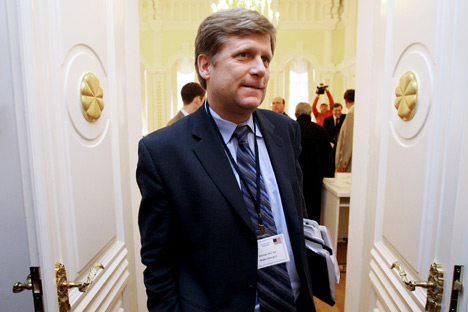 McFaul's candidacy is their sole opportunity to force the administration to agree to demands in terms of unveiling information about negotiations with Russia. Source: RIA Novosti
American lawmakers confirm U.S. ambassador to Russia.
After several months of political soccer between the Obama administration and its opponents on Capitol Hill, the pitch has finally been cleared for Michael McFaul.
A new U.S. ambassador is making his way to the Russian capital.
Previously, McFaul had been an adviser to the U.S. president and senior director for Russia and Eurasia at the National Security Council. He is considered to be one of America's prominent experts on Russia, and a specialist on the promotion of democracy. Finally, he is best known as the architect of the reset between Moscow and Washington--none of which endeared him to Republicans in the senate and house of representatives.
The confirmation was preceded by several bouts of bargaining between some U.S. senators and the White House.
The top adviser's nomination was blocked by U.S. Sen. Mark Kirk (R-Ill) who along with several colleagues, demanded the White House withhold anti-missile defense system related information with Moscow.
U.S. Sen. Bob Corker (R-Ten) used this issue to ensure financing of the nuclear laboratory known as national security complex "Y-12" in his home state of Tennessee from Congress.
"For certain U.S. senators, McFaul's candidacy is their sole opportunity to force the administration to agree to demands in terms of unveiling information about negotiations with Russia. This is their only chance, they simply will not have another one and they are planning to use it," one staffer familiar with the issue told RBTH.

Kirk and his colleagues also received assurances; the White House sent a letter last week to senators specifying that: "We will not provide Russia with sensitive information about our missile defense systems that would in any way compromise our national security." The Obama administration also assured the senator that "hit-to-kill technology and interceptor telemetry will under no circumstances be provided to Russia."

It is worth noting that the White House reserved the right to exchange secret information with Moscow "in the event...it will increase the president's ability to defend the American people."

Sen. Kirk withdrew his objections against McFaul's candidacy last week, and on Saturday, Senate Minority Leader Mitch McConnell agreed to confirm the ambassador.

Many harsh critics of the Obama administration's Russian dossier supported McFaul, however. Some said that McFaul, who served as the first representative of the National Democratic Institute in Moscow, would send Russia a strong signal fin support of human rights, transparency and the rule of law.
The new tenant of Spaso House, the Moscow longtime residence for the U.S. ambassadors, will most likely arrive in Russian capital imminently and present his letter of credence to the Russian president by the end of January 2012.

Sources confirmed to RBTH that McFaul, who is also a co-chairman of the U.S.-Russian Bilateral Presidential Commission's Civil Society Working Group, will be replaced with Thomas Melia, who currently serves as the deputy assistant secretary of state for democracy, human rights and labor.
Alexander Gasyuk is the Washington, D.C. correspondent for Rossiyskaya Gazeta.
All rights reserved by Rossiyskaya Gazeta.