Sharapova grinds out win over Kvitova, into Aussie final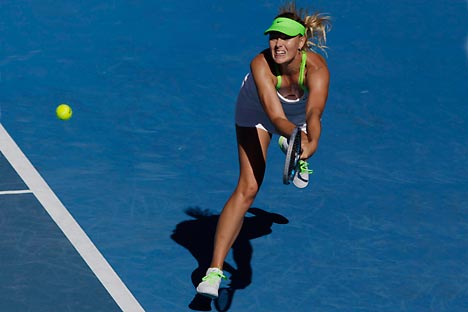 Maria Sharapova. Source: Reuters / Vostock-Photo
Maria Sharapova dug deep for a 6-2, 3-6, 6-3 semifinal win over Wimbledon nemesis Petra Kvitova on Thursday to set up an Australian Open final against Victoria Azarenka.
Maria Sharapova, seeded fourth in the Australian Open, has pushed through to the finals of the tournament after defeating Czech Petra Kvitova.
Kvitova hit a desperate last shot long to induce a squeal from Sharapova, the 2008 champion in Melbourne, who sank to her knees in joy.
"I felt in the third [set] that she had the advantage as I was always down on my serve, 0-15 15-30, but I told myself that I just had to hit out and play my game," Sharapova said. It vindicates a decision from the 24-year-old Russian to skip a series of tournaments in the run-up to the year's first grand slam to allow maximum recovery time for her ankle, which she injured late last year causing her to pull out of the season-ending WTA Championships in Istanbul.
History doesn't separate Sharapova from her opponent in Saturday's final, Victoria Azarenka of Belarus. Azarenka, the tournament's third seed, beat defending champion Kim Clijsters 6-4, 1-6, 6-3 earlier Thursday. They have each won three of the six matches they have played against each other.
Maria Sharapova said that tactics and aggression will help her to beat Azarenka in the Australian Open final. Sharapova has lost to Azarenka in their last two meetings on hard courts. Saturday's match will be the Belarusian's first appearance in a Grand Slam final. "I haven't had great success against [Azarenka] in the last couple of events that we've played against each other. I'd really like to change that," Sharapova told the official Australian Open website. "It will be important to tactically play right. She makes you hit a lot of balls and she's aggressive, as well."
Asked if she needed an aggressive mindset for the final, Sharapova said: "If I'm playing well, that's usually kind of how my game is. If I'm playing defensive or on the defense, then my chances are pretty bad."
Saturday's winner will also take the world No. 1 spot, but Sharapova insisted this was not a distraction. "For me, it's more about the Grand Slam win than the No. 1 ranking. That's just always been the goal for me."
This article first appeared at RIA Novosti.
All rights reserved by Rossiyskaya Gazeta.